In our business, one of our core values is making a lasting impression.
Want more articles like this?
Create an account today to get BiggerPocket's best blog articles delivered to your inbox
Sign up for free
But let's be honest…
Wholesalers make an impression, but it's normally it's not a good one!
As an industry, wholesalers have a terrible reputation. We're called swindlers, scammers, and perceived as individuals just looking to pull the wool over people's eyes.
That's definitely not the reputation we want to have.
In my business, our goal is to be different. We strive to deliver a refreshing experience for both our investor-buyers and our motivated sellers by actually caring about their individual needs.
My hope is that my fellow wholesalers out there have a similar heart because in this day and age — and with the power of the internet — you're not going to get very far taking advantage of people!
Guys, let me ask you this: How can we practically change the reputation of our industry?
I want to share with you all some things we've implemented in my business and I hope to further this conversation in the comments section below.
Ready? Let's do it!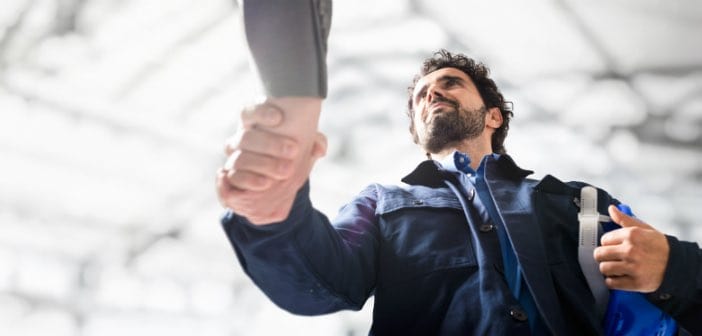 Why Should We Care About a "Wow" Factor?
The truth is, there are thousands of wholesalers out there. Just look around here in the forums on BiggerPockets!
So, what makes you different from the rest of us?
If you're not doing anything special and making a difference in people's minds, then all you are is just another fish in the sea.
In order to distinguish yourself, you want to come across as a "trusted advisor" in the minds of your buyers, so if someone is looking for their next deal, you'll be the first that comes to mind.
Your goal is to leave a lasting impression!
Related: 5 Ways to Be a Wholesaler Other Investors (Actually) Want to Work With
Some Things We've Done in Our Business
In my business, we try and do something called "reverse wholesaling," which simply means we track our investor-buyers' specifications and criteria and then do our best to match them with the inventory that comes in.
The key to this is asking questions!
Some things you may ask are:
What is your primary investment strategy? Flipping, buy and hold, lease options, etc.?
How much are you looking to make per deal on average, and what is your ideal rehab budget (a range is just perfect!)?
What is your preferred buying criteria, i.e. square footage range, bed/bath ratio, purchase price range, etc.?
What are your preferred areas? Do you do anything outside of Indianapolis?
What would be the one "wow" factor that would pretty make you buy the deal under any circumstances?
Once you know what your buyers are looking for, all that's left is match making — it's super simple!
Something you could do to take this to the next level is to offer added "ease" for your buyers.
For example, if our buyers would prefer, they can get notified of new property via text message.
For each of our properties, we also provide a very clean property presentation on our website that has all the comps, tax information, and average rental potential the buyer would want to know.
Obviously, we encourage our buyers to do their own analyzing, but we do our best to provide the most we can for them to make it as easy as possible.
You see, the goal in all of this is serving them as best as we possible can!
Listen!
What if we as wholesalers listened far more than we spoke?
As real estate investors, we like to play the game of who has "the bigger stick."
Some people go on and on about how many deals they've closed and how much money they make. Others will even go as far as lying about being bigger and badder than what they truly are.
And you know what, guys? This doesn't service anyone!
If you really want to deliver a refreshing experience and have a "wow" factor as a real estate company, you have to be more about the other person then you are about yourself.
If you do, there is a weird thing that happens where people will trust you and value what you bring to the table, simply because you valued them first!
In order to "wow" the crap out of people, you have to have a servant's heart — and it's not hard! The common experience with wholesalers is so terrible that the bar for exceptional service is WAY low.
Generosity
Guys, I can't stress this enough — being generous is one of the greatest investments you can make for your business.
If you're working with another wholesaler or another investor on a deal, don't be greedy! Make sure there is enough meat on the bone for everyone involved to make money. If you have a relationship with a repeat buyer, consider giving them perks like a discount or a "first glance" to your inventory.
Related: 5 Smart Strategies for Newbie Wholesalers to Find an End Buyer
If you lead with generosity, people will LOVE working with you, and though it may seem counterintuitive, the more you give, the more you'll get.
It's the whole concept of "sowing and reaping." If you sow generosity, you'll reap generosity.
It's just that simple!
Spontaneity is Golden
Have you ever randomly performed an act of gratitude?
What if you surprised your top buyers by letting them know how much you appreciate them by a gift card to their favorite restaurant? Or how cool would it be if you were able to send them a birthday or Christmas present? Who does that anymore?
If you do thoughtful things that other wholesalers don't, there is no question that you'll quickly become one of the "favorites" in your market.
The Key is Actually Caring
If you're talking to one of your buyers and they seem discouraged, be there for them! Maybe you can take them out to lunch or take sometime to really hear them out on the phone.
The thing is, if you're actually going to go the extra mile for people in your business, you genuinely need to care.
People only care what you know,when they know how much you really care.
So now it's your turn, what is your "wow" factor?
Comment below!