It's easy to forget about all the specifics when you're in the middle of a real estate deal. However, many neighborhoods and buildings have a Homeowners Association (HOA) with bylaws that every property or unit needs to follow. Before buying, make sure you've read through and identified any red flags that could stand in the way of your future vacation rental.
I sat down with Gerard Lester, our director of owner relations, to discuss exactly what vacation rental owners should look out for during their property search. Luxury neighborhoods and condo communities are popular choices for vacation rentals, which typically means there's an association of volunteers involved in maintaining the community through upkeep, amenities, and neighborhood regulations.
Below are our top five red flags to watch out for when dealing with a homeowners association. In addition to resting easy, you can anticipate creating a solid rental business with your home and take in the joy of sharing that property with others.
5 Ways to Thoroughly Vet the HOA of Your New Vacation Rental
1. Check the HOA bylaws and CC&Rs.
When you're considering a property in an HOA-regulated community, always make sure to read through the HOA bylaws and CC&R documents. Every HOA community has rules outlined in a document called the Declaration of Covenants, Conditions, and Restrictions (CC&Rs). These rules are maintained and updated by the HOA's board of directors, usually made up of volunteers elected by the HOA residents.
Often, the CC&Rs and bylaws are full of legal phrasing and references to local zoning laws, so it's a good idea to have your real estate agent and even an attorney review the material. Our team will look over the CC&Rs for every vacation rental property an owner is considering to check for potential challenges and look at ways we can work with the HOA to manage a short-term rental for an owner.
Related: 4 Tips From a Design Expert on How to Upgrade Your Vacation Rental for Better Returns
Many HOA bylaws place limitations on rentals under 30 days and often completely restrict short-term rentals in general. Since this is such a common occurrence, it's crucial to have someone review the HOA documentation to ensure everything is above board. It's never a good experience when guests have to sneak into a vacation rental and hide their presence from the property managers.
Also, with today's changing rental industry, local laws often affect HOA bylaws. Check the local legislation in your area to ensure there are no legal limitations or recent changes to the restrictions local HOAs can place on short-term rentals.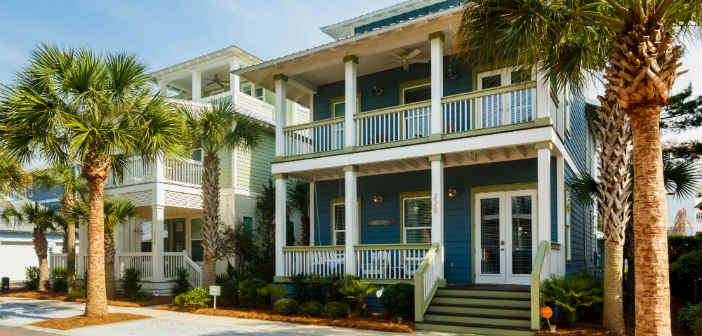 2. Make sure the HOA is stable.
Because the HOA is made up of owners from the HOA community or complex, it's important to do your research about how the HOA operates. If you find that a lot of people in the community are operating a short-term rental that's not in compliance with the CC&Rs, it's a sign of an unstable HOA. While it may seem like an opportunity to get in with a more flexible community, it's important to consider the stability of the HOA and how any future changes could affect your investment.
Ultimately, comparing and contrasting HOAs for each of your prospective properties is an important part of your search. You want an HOA that can work within reason with a vacation rental company. Some HOAs hold owners hostage with short-term rentals and only let them rent with the HOA as manager, and often the marketing is insufficient and the commission is much higher than working with a vacation rental management company.
Another key factor you want to look into is the financial stability of the HOA. Find out how long the association has been financially sound, whether or not there have been any recent assessments, and what the reserves look like. All of these elements will help you make an informed decision about how well maintained the community will be.
3. Always ask about the amenities.
Amenities are a significant driver for any vacation rental, which means any property you look at needs to have quality amenities that are well kept and accessible to guests. Some examples of popular amenities include pools, hot tubs, a full-service spa, pet-friendly policies, a fitness center, beach access, bike rentals, and more.
Consider how your property will stand out against other vacation rentals in the area and if the community amenities can be a selling point for your rental. Also, keep in mind that some amenities are restricted to residents only, so it's important to find out before purchasing a property if guests will have access.
I also recommend looking into what property improvement projects are needed and planned for the community. Consider the process for approval and timeline for execution, as these factors could affect future business. If major construction work or updates are happening during a peak season for short-term rentals, it could significantly impact your returns for that season.


Related: 4 Tips to Balance Out the Highly Seasonal Nature of Vacation Rentals
4. Consider the HOA dues and purchasing costs.
Turning your vacation rental into a success involves balancing your costs with the profit of a steady stream of bookings. Part of those costs includes HOA dues, so don't forget to factor them in when looking at your overall financial setup for the purchase. It's always a good idea to compare and contrast dues between multiple properties you're looking at and consider what you're getting for your money for each of them.
5. Get to know the HOA board and the community.
Making connections within the HOA board and in the community itself will give you invaluable insight into your investment. More than anything, simply meeting and talking with board members and local residents will give you a feel of how it will be to work with them in the future.
However, don't be afraid to ask important questions about issues that will affect your decision. Look at how long the terms are for the board and whether there is any pending litigation. This is an indicator of stability within the board and the HOA. As you're meeting with people, ask if there has been any discussion about restrictions on rentals. You don't want to purchase a property and then come to find out later that the HOA has been discussing restricting short-term rentals for the past few months.
Overall, working within the CC&Rs of any HOA board will give you and your future guests the most positive experience. Starting off on a professional foot with a management company by your side will help reassure the HOA that your properties will be managed well. With a bit of due diligence before purchasing, you'll be able to ensure your investment is set up for success.
Are you considering purchasing a vacation rental? What issues have you run into when dealing with a homeowners association?
Let me know your experiences in the comments below!