Podcast
BiggerPockets Podcast 015: From $80k in Credit Card Debt to 100+ Deals with Glenn and Amber Schworm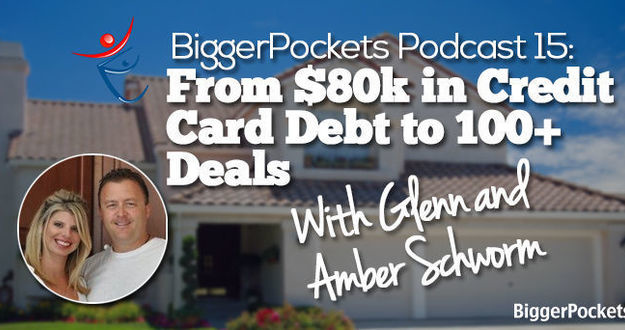 Starting out with nothing is not easy. Luckily – this week on the BiggerPockets Podcast we are talking with husband and wife team Glenn and Amber Schworm, who have successfully done just this and scaled their real estate business to over 100 deals! On today's show, Glenn and Amber share a ton of great tips and advice about flipping, wholesaling, and marketing for real estate investors – both new and seasoned.
Read the Transcript for episode 15 with Glenn and Amber Schworm
Listen to The Show on iTunes
Click here to listen on iTunes.
Listen to the Podcast Here
Podcast: Play in new window | Download
Subscribe: Apple Podcasts | Android | RSS
In This Show, We Cover:
How desperation (and $80,000 in credit card debt) forced Glenn and Amber to succeed
Using a mail-carrier to find deals for you
The mistakes made on the first flip that helped them prosper on over 100 other flips
Working with your spouse as your business partner
Creating systems and teams to build a bigger business
Tips for finding private investors to fund your real estate investing
The toughest thing Glenn and Amber ever have to face in their business
Tips for making money from wholesaling
Marketing for motivated sellers
Books Mentioned in the Show:
The BiggerPockets Book on Flipping Houses
Seven Habits of Highly Effective People by Steven Covey
Think and Grow Rich by N. Hill
The Four Agreements: A Practical Guide to Personal Freedom by Don Miguel Ruiz
Links from the Show:
BiggerPockets' Facebook Page
BP Podcast 010 : Flipping Houses 101 with J Scott
Do You Have the Mindset to be on Shark Tank?

Deals that Keep you Moving Forward….$20K into $85K in 5 days!
BP Podcast 012 : Wholesaling and Marketing with Sharon Vornholt
Tweetable Topics
Don't be afraid to ask. (Click to Tweet!)
You can read the books and go to the seminars, but in the end – it's a people business.(Click to Tweet!)
Behavior that is rewarded is usually repeated. (Click to Tweet!)
Invest in your people… they are your future. (Click to Tweet!)
Action equal results. Massive action equals massive results.(Click to Tweet!)
Learn More about Glenn and Amber
SignatureHomeBuyers.com
Glenn's BiggerPockets Account
Glenn's BiggerPockets' Blog Posts