Before jumping into this week's series of blog posts on how to dominate your local real estate market, I first want to take a step back and answer a question that I've been getting from tons of people who read last week's post. That post was the last installment on what final elements need to be added to your website so that it can turn into a lead generating machine.
I talked about how adding one simple video to your real estate website will strongly encourage people to hand over their contact details. It is all about building that relationship with the potential to get them to work with you some time down the road.
Today, I'm just looking to answer a question about having a professional-looking video and to show you what type of equipment you need.
Everything You Need to Take Professional-Looking Videos
First, all you need is a simple camcorder or a very well-made mobile phone, such as an iPhone. Today, even your mobile phone can have better video quality than high-dollar camcorders.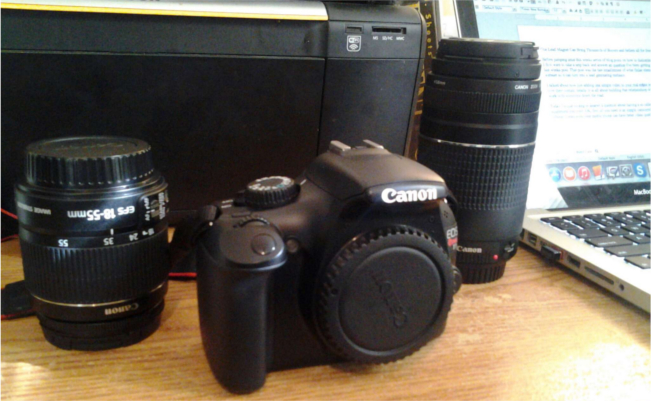 As you can see from the photo above, I have a Canon Rebel EOS T3 HD. It's an awesome camcorder that pretty much does everything that you need it to do. I always tell my clients to have something like this handy because down the road, I predict a lot more video-based marketing, so if you want to rank for search engines and to be found by buyers and sellers, you'll need to get on board.
Now, I took this photo with my cheap $99 Samsung phone, which for some crazy reason has great video quality and photos. So, in other words, you don't need to get too crazy about what you're using — as long as you're educating the potential leads about you and your business.
On Having a "Professional Look"
I used to think you had to look a certain way on camera, talk a certain way and have this awesome Hollywood background setting. This is coming from a guy who once had a YouTube Channel back in 2007 that had over 179 videos, 31,749 subscribers and videos that topped 3 million views, all on the subject of marketing.
Related: The Real Estate Marketing Mistake That Could Cost You Millions
I created those videos with the cheapest webcam on the market, which still sits right here on my office desk. My videos were shot right in this spot with back lighting and general poor quality. So what I'm saying is don't worry about being professional in your videos; just speak from the heart, and people will respect you.
Later on, when I get into real estate local video marketing, I will dive a lot deeper into that subject of videos — from making them to getting them to show up on the front page of Google for your targeted keywords like:
Shreveport Real Estate
Atlanta Homes for Sale
Dallas Properties for Rent
etc…
Thanks to commenter Ro from my last blog post for bringing this to my attention. I'm glad that the question was asked, and I'm happy to have filled the hole for those who were wondering about this also.
The Lead Magnet
I'm already 550 words into today's real estate marketing post, and I'm just starting to talk about the subject of the day, which is creating a lead magnet that will bring in tons of buyers and sellers — for free. When people hear that word — FREE — their ears seem to perk up, and they listen.
Now, to be able to dominate your local market with that brand new real estate website that you have, you first need to create something for free that will get the whole entire city on your radar. You see, I'm one of those guys who thinks completely out of the box when it comes to marketing a business in a given local market.
One thing I know is that in order to get people's attention, no matter what industry you're in, you need to create what I call "content that can't be ignored." So, the big fat question in the room is: what type of content is that, and how can I create something like that for my real estate company?
Let's get into the time machine and go back to my first blog post on BiggerPockets, which was "The Ultimate Guide to Real Estate Marketing: 10 Tools to Generate Unlimited Leads."
This post was over 5,000 words long and filled with tons of information that really got people sharing it, commenting, and linking to it. This is what you might call "Epic Wow" content; it just can't be ignored.
What we want to do is create something like this for our local real estate market. If you can create a piece of content that will be a lead magnet for your website, then you will start to gain tons of leads. Let's say that you create a piece of content with a title that is targeted to your local market.
Examples include:
Miami Real Estate | The Advanced Guide to Buying and Selling a Property in Miami, FL
Chicago Real Estate | Ultimate Guide for FSBO, Realtors, Brokers and Investors in Chicago, IL
New York Real Estate | How to Buy a House With Good, Bad and Ugly Credit in New York
What you do now is do a Google search for "your city + real estate" and see what comes up on the front page. Look, I've done thousands of these searches, so I can save you some time by saying that what you will find are the typical sites for real estate. You will see profile sites, YellowPages, Homes.com, Realtor.com, etc.
Take a second and ask yourself what would you rather read: a boring site like the ones I just listed, which don't have anything of value half of time or a site with titled as above and created specifically to be "Epic Wow" content.
You see, if you want to dominate your local real estate market, you have to start thinking outside of the box — and stop getting fined for having those bandit signs out over the weekend, which is dangerous. What you want to do is create amazing content like this that will force the entire city to start talking about it.
During all of this talking, thousands of people will be coming over to your website to read about your business — and you'll be receiving tons of exposure for free. Did I mention that all of these people will be potential buyers, sellers, investor, realtors, brokers, appraisers — and anyone else who is interested in real estate?
What I will do the second I finish putting that personal video on my website is start creating that "Epic Wow" content. This piece of content will become my lead magnet in my local city for years to come because it will be shared amongst thousands, and I will get that page ranked #1 in my local city for the search "your city + real estate," which gets thousands of searches every single month.
This means that I will start to get tons of people funneled through from the search engines reading that "Epic Wow" content — and viewing my awesome welcoming personal video, which will create more opt-ins on my website.
The reason why you keep hearing me talk about having your foundation setup correctly is because I know all roads lead back to your website. If your website is not completely done like it's supposed to be, then you're just wasting your time with any sort of marketing. It only takes me about 10 seconds of looking at your website to tell you whether or not you have something good — or whether you're completely wasting your time.
What Should I Write for My Lead Magnet?
Your post needs to be centered around your knowledge of buying and selling real estate in a creative way.
What I would do is create a number of titles that I will write about on the page, such as the following:
Introduction
How to Find Real Estate Deals
How to Find Motivated Sellers
How to Work With FSBO
How to Sell Your House Fast as FSBO
How to Buy on the For Rent Method
How to Boost Your Credit
How to Work with Realtors and Brokers
How to Save on Utility Bills
An Interview With the Mayor
An Interview With Local RE About Marketing
What You Need to Know About My Business
These are the subjects that I would like to talk about that will touch on all parts of the local real estate market in my community. I have a little something for all of the people — from FSBO and realtors, all the way to investors who want to learn how to find great RE deals in their local market.
Sounds crazy, helping other investors, but what you don't realize is that these people will become a part of your team down the road once we start talking about networking. Not only that: you're getting the mayor's opinions on the local real estate market, as well as his feelings on home ownership. His interview can be done using video, audio or just written content.
What I will do is make every title consist, keeping it 300 words or more, which will put you at an "Epic Wow" piece of content, which will consist of 3k words or more. This will grab the attention of those in your local market. Once completed, you will just need to make sure that it's formatted correctly for your website and to get it posted only on your website and nowhere else.
Related: The Viral Marketing Tool Most Real Estate Investors Overlook
Very, very powerful stuff if you know how to market it out to the community. Next week, I will show you how to get those posts out to the thousands of people in your city — all for free by doing something that I myself just implemented about a month ago. What I'm going to show you is "Epic Wow" content that I wrote about my hometown about a month ago that just went viral over less than 12 hrs and ended up being viewed by over 4,062 people over a 48-hour span.
The title of that blog post was, "I'm Living in Minden, La, Broke, Hating My Job, and Frustrated." I posted it on my website that night around 12:03 am going into Thursday morning. My website traffic shot up in the thousands over the next few days, which got me tons of phone calls — one from a potential mayor of the city. I just wanted to show you some stats to let you know that it doesn't necessarily take lots of money spent on advertising to grow your business — if you can utilize the powers of the internet with "Epic Wow" content.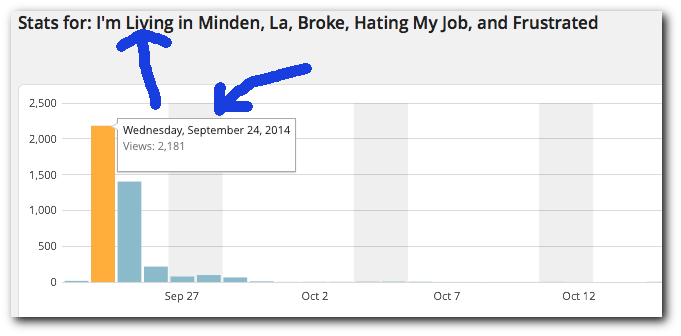 Over the next week, I would like for you to be working on getting your "Epic Wow" content together to be posted to your website next week. From there, I will be showing you the exact details of how to get that content in thousands of people's hands to start the buzz about your real estate website and business.
Comment Time: What do you guys think about this form of marketing?
Leave me a message below!
Note By BiggerPockets: These are opinions written by the author and do not necessarily represent the opinions of BiggerPockets.