If you're buying or selling an investment property, you'll need the right real estate agent.
Your real estate agent is your guide to everything from choosing the best property to navigating the negotiations process, and having the right agent on your side is key.
Some experienced real estate investors hold their own agent or broker license. But assuming that you don't have your own credentials, it's a good idea to work closely with an agent who's experienced at working specifically with investors, rather than solely with owner-occupants. If you're a relatively new real estate investor, this is especially important.
How do you wade through the sea of potential agents out there and select the one who's best for you? This step-by-step guide will help.
Get Referrals
The most common way to find a real estate agent, whether you're on the buying or the selling side of the deal, is by getting referrals.
Start asking other investors in your area. Put out feelers at networking events and investor meet-ups, or ask a question in the BiggerPockets Forums. You never know which other investors might have a great lead for you.
Related: Why Real Estate Agents Don't Work With Investors (& Why They Really Should!)
Do Your Due Diligence
Check Out Credentials
Once you've gathered some names, it's time to do some digging into each one. Every real estate agent must be licensed by the state in which they operate, and these licenses have to be renewed every few years. This ensures that agents are knowledgeable and up-to-date on current laws and best practices. It also enables you to do a little recon on them.
Contact your state's department of professional and occupational regulations to make sure an agent is licensed and in good standing. (For Georgia, where our team operates, you can check out this website.) You can also view any disciplinary actions that may have been taken against the agent.
Look for Experience
Buying or selling an investment property involves dozens of moving parts, financial considerations and potential bumps along the road. The longer an agent has been in the industry, the more likely he or she has "seen it all" and will be able to guide you smoothly and successfully through your transaction. Look for agents with 10+ years of experience to get the best guide for your deal.
Consider Your Particular Needs
You want to find an agent who specializes not only in working with property investors (since your needs are different than owner-occupants), but with your specific investing style, whether that's "buy-and-hold" or flipping houses.
An agent who also specializes in the neighborhoods you're considering investing in is an especially valuable asset, as they can alert you to trends and data to help hone your decisions.
Check Out Their Website
According to the National Association of Realtors' 2014 Home Buyer and Seller Generational Trends report, 89 percent of all home buyers surveyed used online websites to aid in their search, and 85 percent of sellers marketed their home online via a Multiple Listing Service website (or MLS). That means your real estate agent better know their way around the web.
Take a look at the agent's website—does it look professional, attractive, and well put-together? Are they active on social media like Facebook and Twitter? Do they have a blog, and do they update it regularly? The more online savvy they are, the better.
---
Find an Agent in Minutes
Match with an investor-friendly real estate agent who can help you find, analyze, and close your next deal.
Streamline your search.
Tap into a trusted network.
Leverage market and strategy expertise.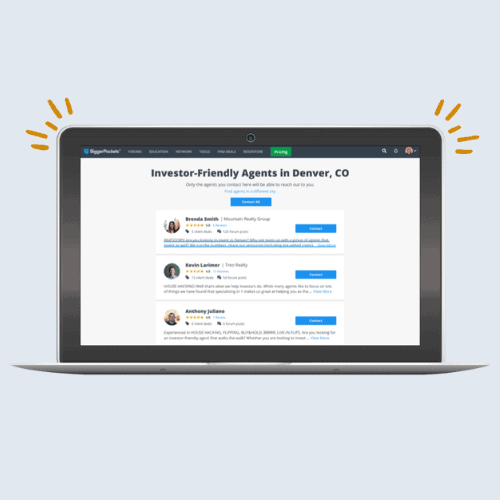 ---
Scope Out Their Current Listings
You can get a feel for how well an agent will represent your property (if you're selling) by taking a look at their current listings. Make note of how long each home has been on the market—the national average is 66 days according to Realtor.com, so if your agent is below that number, you know they're doing well. Also look at the listings themselves—do they have lots of pertinent information and plenty of high-quality photos that show off the homes in their best light? Would they entice you to arrange a tour?
Call Up Past Clients
In addition to checking out testimonials on an agent's website, you can also ask for the contact information of previous clients. (Any reputable agent will be more than happy to provide this.) Specifically, ask for the phone numbers of other property investors they've worked with.
Ask these clients what they thought about their overall experience with the agent. How satisfied were they with how long the process took? How did price negotiations go? Did they feel the agent truly understood their needs?
Related: The Epic Guide to Finding an Investor-Friendly Real Estate Agent
Get to Know Them
The next step, once you've found the agent you want to work with, is to make sure you've got chemistry. The two of you will be working together through an often confusing and stressful process, and you need to know you're in good hands and that you're both on the same page.
Call them up and ask them specific questions about their track record. How many homes did they sell last year? Do most of their listings sell for list price, or do they wind up selling for more or less? How many listings have they handled in the neighborhoods you're interested in? Let them know the sort of transaction you're looking to complete and see what initial words of advice they offer.
Make note not only of their answers, but also the way they answer. Do you feel they're genuinely taking the time to address your concerns, or that they're rushing through the conversation or brushing you off? If you leave them a message, do they get back to you in a reasonable timeframe? Do you get the sense that they truly value your business?
If so, this could be the beginning of a beautiful business relationship. If not, keep looking. You deserve an agent who will have your back.
Do you work with an investor-friendly agent? If so, how did you find them?
Let me know with a comment!
Note By BiggerPockets: These are opinions written by the author and do not necessarily represent the opinions of BiggerPockets.