There's a common narrative that gentrification happens like this: First the artists move into a cheap, blighted neighborhood. Then the hipsters start eying the neighborhood as it begins transforming from dodgy to edgy. Then the recent college grads come, eager to live downtown but unable to afford the high rents of established, chic neighborhoods. The young professionals follow, and the neighborhood drifts into the mainstream.
Whether that narrative holds true or not is open to debate, but perhaps there's a missing piece in it. Do gay residents have a role in neighborhood socioeconomic growth?
Gay neighborhoods have skyrocketed in value over the last five years, which is not a narrative. It's a fact.
Appreciation Around the Nation
Real estate nationwide has been kind to investors and homeowners over the last five years. Between June of 2011 and June of 2016, the average square foot of U.S. real estate appreciated by 23.8%. Fueled by employment growth, household unbundling, higher demand for rents, and artificially deflated prices following the Great Recession, real property has done well.
Urban real estate has particularly shone. Among the top 50 most densely populated zip codes, values have risen by an enthusiastic 36.75%.
Exceptional growth, by any standards. But in the words of Bachman–Turner Overdrive, you ain't seen nothing yet.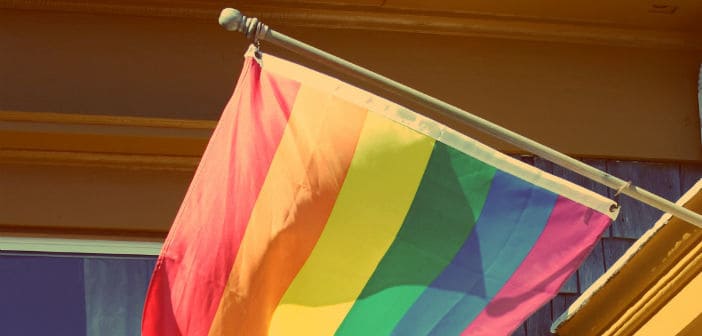 Enter: Gayborhoods
Trulia first noticed this trend in 2012 and started looking closer at zip codes with high percentages of gay and lesbian residents. While they followed up for a couple years with annual reports, they have not published recently, ignoring some impressive gains.
Using U.S. Census Bureau data, they identified the following five zip codes as having the highest percentages of gay men: 92262 (Palm Springs, California), 94131 (Noe Valley/Glen Park/Diamond Heights, San Francisco, California), 92264 (Palm Springs, California), 48069 (Pleasant Ridge, suburban Detroit, Michigan), and 94114 (Castro, San Francisco, California).
Below are the median square foot values (taken from Zillow, who's more open with this data), in June 2011 compared to June 2016, and the growth in value:
| | | | | |
| --- | --- | --- | --- | --- |
| Zip Code | Neighborhood | $/SF in 2011 | $/SF in 2016 | Appreciation |
| 92262 | Palm Springs | $141 | $225 | 59.57% |
| 94131 | Noe Valley / Glen Park / Diamond Heights, San Francisco, CA | $583 | $1017 | 74.44% |
| 92264 | Palm Springs | $138 | $204 | 47.83% |
| 48069 | Pleasant Ridge, suburban Detroit, MI | $123 | $187 | 52.03% |
| 94114 | Castro, San Francisco, CA | $682 | $1144 | 67.74% |
The average growth in value? A whopping 60.3%, which is enough to make any real estate investor swoon.
Lesbian Neighborhood Performance
While almost all of the top five lesbian neighborhoods were different from the top gay neighborhoods, they experienced almost identical growth. With an average appreciation in per-square-foot value of 58.9%, the growth in lesbian neighborhoods almost perfectly mirrors their male counterparts. (Interesting aside: the difference between the lesbian and gay zip codes is a far cry from the average 16% appreciation difference between men's and women's homes.)
Here are the actual numbers:
| | | | | |
| --- | --- | --- | --- | --- |
|  Zip Code | Neighborhood | $/SF in 2011 | $/SF in 2016 | Appreciation |
| 94619 | Redwood Heights / Skyline, Oakland, CA | $268 | $479 | 78.73% |
| 30002 | Avondale Estates, suburban Atlanta, GA | $114 | $150 | 31.58% |
| 02130 | Jamaica Plain, Boston, MA | $290 | $431 | 48.62% |
| 94114 | Castro, San Francisco, CA | $682 | $1,144 | 67.74% |
| 95446 | Guerneville, North of San Francisco, CA | $219 | $368 | 68.04% |
San Francisco Effect?
"Sure," the skeptics might say, "of course these figures are showing high appreciation. Several of these neighborhoods are in San Francisco, which has had plenty of help from Silicon Valley money."
Is the effect merely a statistical fluke, an outlier caused by San Francisco's techie invasion?
Fair question. Trulia compared each gay neighborhood's values to its metro area as a whole, to adjust for entire cities appreciating better than the U.S. average. Among the top 20 zip codes examined, 19 of them had higher values per square foot than their respective metro areas. The only neighborhood with lower average value per square foot (Guerneville) was off by a mere 2%.
Some neighborhoods' per square foot value was as much as 80% higher than the city at large.
Investment Opportunity?
A quick look over most of these zip codes should tell you that most of these areas are already "hot" and have thoroughly gentrified. The days of bargain basement prices in these neighborhoods are ancient history.
That said, neighborhoods shift in demographics and value all the time. Who's to say where tomorrow's gayborhood will be? If an influx of gay residents really is a harbinger for appreciation, then local shifts in gay demographics may be a bellwether to watch.
Whether gay residents have a role in the gentrification process may be too politically sensitive for most social scientists, but there's certainly a case that gay neighborhoods appreciate faster than their straight counterparts.
Any anecdotes about the gayborhood in your city? We'd love to hear from real estate investors who have watched neighborhoods shift demographics firsthand.
Let me know your thoughts with a comment.