Can you believe it? There are only a few months left in 2019. It feels like just yesterday we were popping champagne and ringing in the new year.
This summer, I officially fulfilled my one-year obligation to live in my primary residence, so it was time to start looking for my next house hack.
This article is not about that though. It is about my current house hack. It has been over a year, which means my first round of annual financial results are in. I measure the quality of a deal based on a metric that I coined "net worth return on investment." This is not a term approved by the SEC, but it's a calculation that tells you how much your net worth has increased based on your initial investment into a deal.
The formula takes the three main wealth generators—cash flow, appreciation, and loan paydown—adds them up, and divides the sum by the initial investment. I exclude the tax advantages, because they will be different for everyone.
With that being said, let's see how I did in terms of generating wealth from my second house hack. The house hacking strategy I used on this one was renting by the room.
Denver is an extremely competitive market. The traditional strategy where you purchase a duplex, triplex, or quad does not necessarily work here due to the high price points. Since the market took away that option, I decided to go with the more lucrative rent-by-the-room strategy.
I purchased a 5-bed/2-bath single family residence just outside of the city. I lived in one room and rented out the others.
Let's dive in to see how it worked out for me.
House Hack by the Numbers
Initial Payments
As I mentioned above, I purchased a 5-bed/2-bath single family residence just outside of Denver (about 15 minutes from downtown). The purchase price on the property was $343,000, and I financed it with a 5 percent down, owner-occupied loan. My down payment was $17,150. After closing costs, I was purchasing the property for a total of $20,000 and a mortgage payment of just over $2,000.
While overall the property was in good shape, it did need some rehab. I hired a contractor to do a variety of small updates, including installing exhaust fans in the bathrooms, replacing tiled ceiling with drywall, running electricity, and adding a closet to the fifth bedroom. These repairs, coupled with furnishing all of the common areas, ran me roughly $10,000.
After purchasing the property, I had $30,000 invested into the deal initially. Reading numbers in paragraph format can be confusing, so let's recap real quick in an easier format.
Purchase Price: $343,000

Down Payment: $17,150

Closing Costs: $2,850

Rehab: $10,000

Total Invested: $30,000
Cash Flow
Now it was time to get renters! There were four rooms I needed to fill. Two of the rooms were standard, no-frills bedrooms with a closet. One had a master bathroom, and the other had a garage attached with a private entrance. The one I was living in was (of course) a no-frills bedroom, as well. Below is my pricing breakdown for each room.
No-Frills Room 1: $700

No-Frills Room 2: $750 (includes carport)

Private Entrance Room: $800

Private Bathroom Room: $850

Total Rent: $3,100
Related: The 7 Drawbacks of House Hacking (& How to Overcome Them!)
With a mortgage payment of $2,000 and total rent of $3,100, I was making $1,100 over my mortgage—more than enough to satisfy my criteria. I set aside $400 per month for reserves. This includes vacancy, capital expenditures, and maintenance and brings monthly cash flow to $700 per month or $8,400 per year. So far, so good.
Below is a recap that's easier on the eyes.
Total Rent: $3,100 per month

Mortgage Payment (PITI): $2,000 per month

Reserves: $400 per month

Cash Flow: $700 per month

Annualized Cash Flow: $700 x 12 = $8,400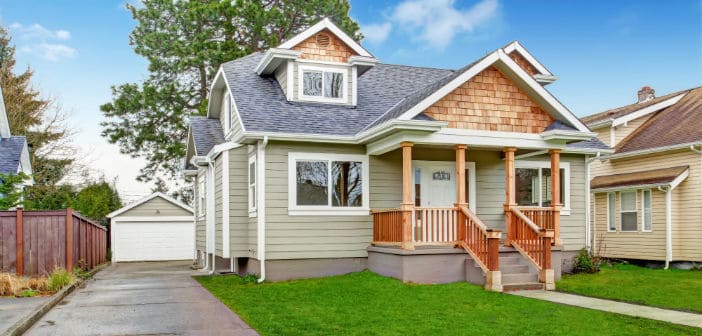 Appreciation & Loan Paydown
The appraisal at the time of purchase came in at $367,000 (even though the purchase price was just $343,000). Do you know what that means? It means that immediately as I signed the contract to purchase the property, my net worth increased by $367,000 – $343,000 = $24,000.
Now, I also added a fifth bedroom and made various other updates. Conservatively, after the updates and one year of appreciation, I would say the property is worth about $380,000. Therefore, total appreciation on the property is $37,000.
Purchase Price: $343,000

Appraisal: $367,000

Estimated Value After Repairs: $380,000

Total Appreciation: $37,000
In addition to the value of the property increasing shortly after purchase, I added value as the year went along. I was also paying down the mortgage. (Well, my tenants/roommates were paying down the mortgage.)
At the end of the first year, my loan amount went from $325,000 to $320,000—or a decrease of $5,000. With an additional $5,000 of debt paid off, that is another $5,000 added to my net worth.
Original Loan Value: $325,000

Loan Value After Year 1: $320,000

Total Loan Paydown: $5,000
Related: House Hackers—Want Great Tenants? Screen Like This
Net Worth Return on Investment
Alright, so those are the three wealth generators of house hacking—cash flow, appreciation, loan paydown. Again, exclude the tax wealth generator, because it differs for everyone.
I feel as though I did well in all three departments. Let's add them up to figure out what my total net worth return on investment was.
Cash Flow: $8,400

Want more articles like this?

Create an account today to get BiggerPocket's best blog articles delivered to your inbox

Sign up for free

Appreciation: $37,000

Loan Paydown: $5,000

Total Net Worth Increase: $50,400

Total Amount Invested: $30,000

Net Worth Return on Investment: $50,400 / $30,000 = 168%
There you have it! My net worth return on investment or how much my net worth increased based on my initial investment was 168%. I invested $30,000 and was able to generate $50,400 of net worth in one year.
Do you see why house hacking is so powerful now? I have yet to find a method of investing where you can see 100 percent-plus returns consistently without creating a second full-time job for yourself.
If there is one I'm unaware of, please let me know!
What's Next?
So, what now? Between the savings from my first two house hacks, I was able to pay off my student loans and am now in search of house hack number three. In fact, I have one under contract as we speak. It's a 6-bed/3-bath house that is just a couple miles south of house hack number two.
This one has two kitchens and two washer/dryer areas; therefore, it can essentially be a duplex. However, it is not zoned as a duplex, so I will pursue the same strategy I've been using—renting by the room.
The property is under contract for $390,000, and the monthly payment will likely be around $2,100. Rents will probably amount to $3,500 total, so I'll be making $1,400 over my mortgage while also living for free. I will set aside $400 for reserves and truly be cash flowing $1,000.
Who is going to manage my second house hack? I could… but I really don't want to. For that reason, I have negotiated a deal with my most responsible roommate/tenant.
The deal is that I will reduce his rent by $100 per month if he does all of the house maintenance. This includes mowing the lawn, shoveling the driveway, replacing the air filters, and fixing any small things that come up. He took the deal without much hesitation. The only thing I plan to do is fill vacancies.
Conclusion
Overall, I'm satisfied with my second house hack, and it should continue to perform even better when I move out and into property number three. Being able to rent my room out will add $600 to my cash flow, while I am only paying $100 in property management fees to my roommate—a net gain of $500 per month.
I have said this before, and I will say it again: I do not think there is a better risk/reward/work tradeoff than house hacking.
For the majority of the time, you are going about living your life like you would anyway. Occasionally, you need to get something fixed, fill a vacancy, etc. But this additional work is all for 100 percent-plus returns and putting yourself in a phenomenal financial position—one where you can likely achieve financial independence in five to 10 years.
I don't know about you, but I am certainly okay with putting the extra hours in now so I can save years of work later. Wouldn't you?
Are you considering house hacking? Can I answer any questions for you?
Ask me in the comment section below!