Real Estate Wholesaling: A Beginner's Guide to Get Started
If you want to become a real estate investor, but don't have finances to buy or hold, or the desire to fix and flip, real estate wholesaling might be perfect for you.
Your first impression of the term "real estate wholesaling" is probably wrong. When you think about wholesaling, you're probably thinking about retail wholesaling, where a wholesaler sells a high volume of a product to a retailer, who then sells the product in smaller quantities for a higher price.
In real estate wholesaling, the wholesaler acquires a contract from a motivated seller and finds a potential buyer to take it over.
In this guide, we'll show you everything you need to know about the basics of real estate wholesaling, including:
Feel free to jump down to any section you'd like!
Let's get started…
Page reviewed by Jamil Damji, expert panelist on the BiggerPockets On the Market podcast. Jamil Damji is an internationally renowned real estate investing/wholesaling expert with 18 years' experience. He is the Co-founder of KeyGlee, the #1 wholesale company in the world with over 75 franchises.
What is Real Estate Wholesaling?
Wholesaling real estate isn't a hard concept to grasp, and it could make you tens of thousands without ever buying or selling a property. So what is wholesale real estate?
Real estate wholesaling is when a person (the wholesaler) gets a property under contract and then markets that property at a higher price to an investor. An investor is still willing to pay the marked-up price since the wholesaler only targets homes that are under market value. This could mean that the home is in disrepair, needs an expensive upgrade, or has been neglected. Wholesalers are the matchmakers between investors and under-valued properties. They aren't agents or brokers and often don't carry a professional license. This makes wholesaling real estate one of the best ways to get into real estate investing without ever having to buy or sell a property. Even better? Real estate wholesaling requires your time, not money, so you can start from zero, no matter what market you're in.
Jamil Damji, who owns one of the largest wholesaling operations in the country, KeyGlee, explains it best. Jamil got his start when he accidentally wholesaled a property for $40,000 profit. Now, he's trying to help every aspiring wholesaler build higher-quality relationships with the buyers and sellers they're working with.
How Does Wholesale Real Estate Work?
The trick to wholesale real estate is to find motivated sellers who own distressed properties that have some value-add potential and are willing to trade this "potential" for speed and convenience. Often, these sellers are trying to sell it themselves to no avail, or don't think they can because of its condition. In other cases, the seller needs to sell their home quickly because they're relocating for work, divorced, or having financial challenges.
Initiating an Agreement
By initiating an agreement, you're offering to purchase the property from them. The terms of this agreement are outlined in a wholesale real estate contract, where you agree to buy their property during a set timeframe and specific minimum price.
Wholesalers rarely end up owning the property. Instead, the wholesaler is assigning the rights to buy the home from the owner. Once the wholesaler and the seller agree on the terms, they enter into a purchase and sale agreement or PSA. Once the wholesaler finds a buyer they assign their rights to purchase by drafting an Assignment of Real Estate Purchase and Sale Agreement.
When creating this agreement as a wholesaler, make sure the contract clearly states that you have permission to "assign" or "sell the contract" to an end buyer. Once you do, you're absolved from all responsibility as far as the property is concerned.
Example of Wholesaling
For example, Cameron and Raj are wholesale real estate investors, and Harry lives in a property he's been trying to sell for $190,000 for six months. Cameron and Raj know of several buyers looking for property in Harry's neighborhood, so they approach Harry and tell him that they can purchase his home for a minimum of $190,000 in three months. Harry agrees, and the men sign a contract stating Cameron and Raj can purchase Harry's property for $190,000. If Cameron and Raj can find a buyer above that contracted price, they can keep the difference.
The Pros and Cons of Wholesaling Real Estate
No real estate investing strategy is perfect. All of them have pros and cons.
Your upfront costs are minimal
Wholesale real estate investing doesn't require you to purchase the property. You don't need to own any property, have a real estate license, or even good credit! Your only upfront investments include your:
Marketing efforts
Time
Earnest money (depending on your contract)
You're assuming less risk
You don't fund the purchase of a property as a real estate wholesaler, so you don't have to worry about losing money on it. Your only investments are those mentioned above.
Wholesaling isn't entirely risk-free, however. It requires you to understand the legalities of wholesale real estate contracts, and what you can and cannot do. More on the legal stuff later.
You can earn profits quickly
You can turn real estate wholesaling into a lucrative business if you:
Educate yourself about best practices
Can identify motivated sellers and undervalued or distressed properties
Build a strong network of buyers, real estate investors, and connectors
Have buyers and investors in your network already ready to acquire a contract
If Cameron and Raj already had Jessica lined up to become the new property owner for Harry's home, they could close the deal and have their $10,000 in hand within 30 days or less! If they average one wholesale real estate deal per month at that rate, they'd gross $120,000 for the year.
You'll gain invaluable investment property knowledge
Real estate wholesalers must learn and use skills that help make other real estate investments. You'll learn how to identify deals, network, market, negotiate, stay organized, write contracts, and what legal documentation is needed to get a deal done. If you find an investor willing to help you get started, you'll also learn the tricks of the trade and what mistakes to avoid.
Your profits are less
Wholesaling can be easier and have faster turnaround times. It also has lower profit margins compared to other real estate investment strategies. BRRRR and flipping usually yield higher returns per property over a longer period of time
You'll lack a steady cash flow
Wholesale investors are (at least somewhat) at the mercy of the real estate market. You could go months without finding a motivated seller or the right property. You may also lose out on a deal if the buyer or seller has a change of heart or is unable to complete the purchase. Also, sellers in distress typically have other mitigating factors that often complicate deals making them harder to get across the finish line.
You're dependent on others
Being successful in wholesale real estate requires knowing the right people at the right time. This is especially true for your buyers. Your buyers list may be constantly changing, and many of them could get preoccupied with other investments. Market fluctuations also can affect your profit margins and buyer demand
Beginners often have unrealistic expectations
Wholesaling real estate isn't as easy as it first seems. Some wholesalers may boast about how much they make on social media, but what you're not seeing are the years of hard work and incomplete deals. People also often neglect to share the length of time they go between deals and the time and money spent on acquiring or finding the motivated seller.
Even if you get lucky and your first few deals are seamless with decent returns, you shouldn't expect that from every deal. Be grateful for those deals, but then get back to putting in the hard work, soaking up knowledge, and thinking long-term. You also need to keep a steady pipeline of potential sellers full in order to create a consistent wholesale business.
Wholesaling vs. House Flipping
Wholesalers and house flippers have a few things in common:
Both make a profit investing in real estate
Each usually involves value add or distressed properties
House flipping involves the selling of property, wholesaling involves the selling of a contract.
However, that's where the similarities end.
House flipping involves buying a property, making repairs and renovations to boost its after-repair value (ARV), then selling it months later for a profit. Since house flippers purchase property, they're responsible for paying property taxes, monthly mortgage payments, utilities, homeowners insurance, and other bills associated with homeownership.
Wholesalers never have to worry about these bills, because they don't purchase or rehab a property. While they may include earnest money in their contracts, wholesalers only need a fraction of the capital required for flipping houses.
Also, because wholesaling doesn't involve the timely process of making modifications to a property, the timeline from contracting to selling is shorter. House flipping often takes several months, while wholesalers who already have interested buyers can close a deal in around 30 days – sometimes sooner.
House flipping professionals can generate a higher ROI on average compared to wholesalers, but wholesalers can close more deals and make smaller, more frequent returns. Both investment strategies can be very profitable, depending on your skill set.
The Numbers of Real Estate Wholesaling: Is It Worth It?
Wholesaling houses may sound too good to be true at first. You get a property under contract, find a buyer, and then walk away with a fee. Can it really be that easy? Wholesaling real estate isn't just possible but profitable. So profitable that some investors focus on wholesaling as their entire investing strategy.
3 Ways to Make Money Wholesaling Real Estate
Here's how wholesale investors make a profit in real estate:
Contract assignment fees are the fastest, most common way for wholesalers to earn money, and it can be done at no cost to you. Assignment of contract is the method we've been referencing throughout this post. The process is as follows:
Find an investment property and a motivated seller
Agree on a purchase contract
Submit the contract
Line up a buyer
Assign the contract to the buyer
Get paid your assignment fee
For example, if you obtain a contract from the seller, agreeing to purchase their property for at least $135,000, and then you line up a buyer who agrees to pay $150,000, your assignment fee is the difference, or $15,000.
A double close occurs when two real estate transactions happen simultaneously. Basically, instead of agreeing to sell the contract, the wholesaler purchases the property from the seller at a discount, then immediately resells it to an end-buyer. The first close is between the wholesaler and the seller, and the second close is between the wholesaler and the buyer.
As with assignment of contract, check with a licensed real estate attorney before attempting a double close to ensure you're following your state's rules and regulations.
Double closings are often used in states that limit contract assignments or do not allow them. The cost of double closing can be substantially more so ensure your sale contract will cover closing costs and still have a profit left over.
The wholesale profit sharing method is usually the least desirable of the three. It involves the wholesaler teaming up with the buyer to share the profits or receive a stake in the property. Then, if the buyer flips the property or turns it into a short-term rental, the wholesaler will receive a proportionate share of the profits after operating expenses are paid.
You could make more in the long run using this method, but it also involves extra variables that many wholesalers prefer not to deal with.
How much money do you need to get started?
Technically, you don't need any money to start wholesaling. You're not purchasing property, so you're not assuming any financial risk. You're merely acting as the middleman. That said, there are a few costs associated with wholesaling real estate, including:
Earnest money and other fees associated with a contract
Marketing costs
Access to a network of motivated buyers and sellers
Real estate investor groups
Wholesale real estate coaching or mentorships
Real estate license (if you need or want one)
How much do wholesalers make?
Wholesale real estate investors can make anywhere from a few thousand to six figures per year, depending on their experience, business model, connections, and more. Since they don't receive a traditional salary, investors can find their yearly cash flow can vary greatly from year to year, depending on the market and countless other circumstances.
According to ZipRecruiteor, the national average salary for a real estate wholesaling is $77,905/yr. In California, the average is $85,349/yr, with the top 8% averaging just under $150,000/yr. The top 1% of wholesalers can make millions of dollars with an organized business structure.
How much should you expect to make per transaction?
The average wholesale assignment fee per transaction is around $10,000. If you close a deal every other month at that rate, you'll earn $60,000, which isn't an unreasonable salary for a new wholesale investor.
As a newbie, you should aim for at least $5,000 per transaction
How to calculate the maximum allowable offer (MAO)
If your buyer wants to flip and fix a property, you've got to figure out how much they usually pay for it. The MAO helps investors maintain their desired profit when determining their asking price. The formula is:
(ARV x .70, or 70%) – Rehabbing – Assignment fee = MAO
For example, Alex is a wholesaler who frequently makes deals with Jaoquin, a house flipper. Alex finds a distressed home with an ARV of $160,000, and Jaoquin estimates it will cost him $25,000 to rehab it. If Alex wants to make $10,000 as a wholesaler, he needs to figure out what his MAO is before approaching the seller.
($160,000 x .70) – $25,000 – $10,000 = $77,000
At most, Alex should offer to sell the property for $77,000, and then offer the contract to Jaoquin for $87,000 ($77,000 + $10,000 assignment fee).
Start analyzing your wholesale deal today
A good investment begins with a solid plan built upon solid math. Quickly and efficiently analyze a potential real estate investment using BiggerPockets' Wholesaling Calculator. We're here to help you maximize your profit while lowering your risk—no matter your strategy.
Is wholesaling real estate legal?
Short answer: yes, usually.
That said, there are rules and regulations you have to follow, and they vary from state to state. Look up the laws of your state before getting started. We also recommend consulting with an attorney, so you have a clear picture of what you can and cannot do. For example, since the seller is usually in a stressed or complicated situation, avoid language that can be misinterpreted when marketing the property to potential buyers.
Do Wholesalers Need a Real Estate License?
Short answer: no, usually.
In many states, you don't need a license to get started. However, you should consider getting one if you want to scale a wholesale business. It may help you establish more credibility when interacting with motivated buyers and sellers.
The reason why wholesalers don't need a real estate license is because they're not selling properties, they're marketing the rights to buy them. As such, they have a contractual interest in the purchase and sale agreement. Since their involvement is limited to a contractual interest, they don't need a license.
In some states, licensing can be a gray area. According to KKOS Lawyers, California defines a real estate broker as "someone who sells, buys, or negotiates for another with the expectation of compensation." Looking for buyers to acquire a contract can be considered negotiating, so you should consider getting a license just to be on the safe side.
Sound complicated? That's because it is.
How do you start a wholesaling real estate business?
Getting into the business isn't complicated. The process is as follows:
Educate yourself on the industry
Create a list of buyers
Secure financing
Understand contracts
Start looking for wholesale properties
Grow your business
1. Educate Yourself
Learn as much as possible about wholesaling real estate. If you know people in the industry, ask them for advice or see if they will mentor you during your first few transactions. Get a good idea of what to look for in properties and in people looking to sell or buy them. Also, because it's worth repeating, consult a real estate attorney about your state's rules and regulations. The more prepared you are, the less likely you are to make newbie mistakes.
So you want to become a real estate wholesaler? Great! Here's a 60-day action guide to wholesaling your first property.
2. Understand Contracts
One of your most complicated tasks as a wholesaler is understanding what needs to be included in a wholesale contract—and sometimes more importantly—what shouldn't be. Rules and regulations are different in each state, so consult with an attorney before getting started.
Here are a few items you need to include in your wholesale contracts:
Buyer and sellers names
Property address
Terms and conditions
Inspection period
Earnest money deposit (depending on your state)
Signatures and date
Include a Contingency Clause
Sometimes deals fall through. Even the most experienced wholesale real estate investors may fail to meet the terms of their contract agreement. What would happen to Cameron and Raj if Jessica backed out of the deal and they can't find another buyer in time?
Reduce risk by including a contingency clause. A contingency allows the wholesaler to get out of a deal if they're unable to meet the terms of the contract. However, merely putting a contingency clause in your contract isn't enough. Courts usually require you to put in a good faith effort to meet the clause. If Cameron and Raj signed with Harry, but didn't bother inspecting the property, they could be in breach of contract and risk a lawsuit. If their contract included earnest money, they'd lose that too.
3. Create a List of Buyers
Before you start searching for deals, you need investors who are looking to make them. You can find the perfect property to wholesale, but without a buyer in mind, you have little to offer a seller.
You can get connected with buyers by:
Joining networking groups
Attending real estate events
Interacting with other investors in the BiggerPockets forums
Joining real estate groups on LinkedIn and Facebook
Email marketing
Getting your friends, family, and followers in real estate for introductions
4. Secure Financing
Securing financing is hands-down the easiest step in the process. You don't need much to get started. We recommend setting aside some money for marketing, hiring a contract attorney, and joining real estate-related groups, but that's all you'll need.
5. Start Looking for Properties
Now that you know how to wholesale, have a Rolodex of prospective buyers, and starting capital, you're ready to look for properties.
Since "location, location, location" is the mantra of real estate, begin by looking locally for distressed properties in your market. Search for these properties on real estate sites like Redfin, Zillow, and Realtor.com. All of these sites use the multiple listing service (MLS), so they can get a little competitive, particularly in popular areas. Also, while it doesn't use MLS, don't rule out the Craigslist "Housing" section.
Search the public records in your area and look for cases where someone recently inherited a property they may want to just get rid of. Also, build close relationships with real estate agents. When deals fall through, owners can get distressed. If you have an interested buyer, that's your chance to come to the table.
6. Grow Your Business
The most successful real estate investors never do it alone. As you become more competent and confident in your processes, start building your power team. When chosen wisely, your wholesale team will make your business more productive and increase your profit margins.
Here are a few positions you should consider adding to your power team:
These specialists evaluate prospective deals, determining whether they should be acquired. They have keen knowledge of financing, offers, and exit strategies.
If your buyers are predominantly fix-and-flippers, your general contractor can determine what repairs are needed and how much they'll cost. This will help you calculate MAO. Sometimes, this falls under the duties of the acquisition specialist.
Selling specialists focus on building and maintaining your buyer list.
Processors focus on the contractual side of your wholesale business, bringing them from close to sale.
Your marketing manager focuses on building brand visibility through a series of ad and content marketing campaigns. Depending on your needs and marketing scope, it may be advantageous to work with a marketing team.
Your office assistant handles the daily tasks that are essential, but not your priority. These tasks can include: answering phones, checking the mail, and running various errands.
Agents have access to the MLS and can help you identify comparable home sales. They can also connect you with distressed clients who are having difficulty finding buyers. Find out more about the benefits of having an investor-friendly agent on your team.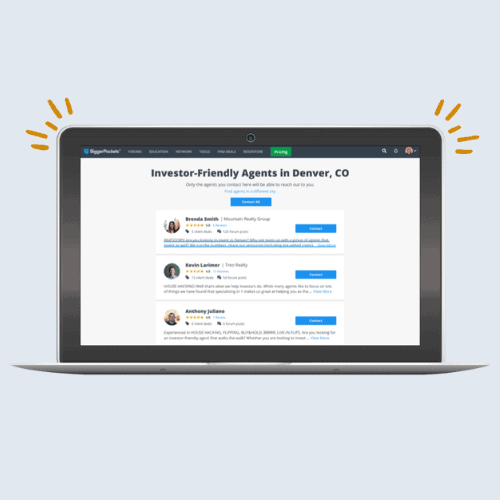 Find an Agent in Minutes
Match with an investor-friendly real estate agent who can help you find, analyze, and close your next deal.
Streamline your search. Tap into a trusted network. Leverage market and strategy expertise.
Tips for Becoming a Successful Wholesaler
Now that you know the basics, here are a few tips to help you thrive!
Build a website: Your website is your virtual storefront. It establishes your brand, thought leadership, and helps drive traffic and generate quality leads. Also, the National Association of Realtors found that 51% of today's home buyers find their properties online, so they should find you there too.
Have a positive mindset: Successful wholesalers see obstacles as opportunities. They're dedicated, consistent, and always rise to a challenge.
Take advantage of tech: You don't have to be a tech wizard, but you should use modern tools for your day-to-day, like the cloud, mobile-friendly applications, and customer relationship management (CRM) software.
Know fair market values: Pay close attention to how much money properties sell for in the neighborhoods you're prospecting. Knowing this will help you identify undervalued homes.
Know the value of your time: Savvy wholesalers know when it's time to outsource or delegate specific projects or tasks. When you build the right power team, you'll minimize mistakes, increase efficiencies, and close more deals.
Thank You!
Create your account password at Biggerpockets.com/signup or by clicking the link we sent via email.
Interested in more real estate investing guides?
Create a free BiggerPockets account to get access to additional resources, our 3x weekly newsletter, and 5 free analysis reports.