How to Transfer Property to your LLC without fearing Due-on-Sale
Attention all investors relying on conforming loans to fund your real-estate endeavors

Let's rip this band-aid off quickly:

Since Nov 2017, Fannie Mae allows borrowers to transfer property to an LLC, under certain conditions, without triggering the Due-on-Sale clause:

For two years (as of this writing), Fannie has allowed the transfer, but for some reason, it isn't well-known within the BiggerPockets (BP) community. To this day, there is still so much debate on BP about 'Due-on-Sale' risk when transferring title to an LLC. However, as long as Fannie owns your loan and if both the loan and the LLC meet the requirements for transfer, there is zero risk of triggering Due-on-Sale.

As for Freddy Mac, unfortunately, they don't allow transfers to an LLC as of this writing, but things can always change. And, if your loans are non-conforming (owned directly by a bank, private lender, or other investor), the info below won't help you because each non-conforming lender determines their own rules.

...so for now, this article only applies to Fannie-owned loans.

Whenever people talk about regulations, code, and rules, I like to see the source (trust but verify, right?). Look at Fannie's Servicing Guidelines, which are available on their website and updated regularly. Read section D1-4.1-02. Transfer requirements are few, straightforward, and easily satisfied.


Now is a good time to pause and celebrate the good news.
Here's how to get started with the transfer.
Obvious disclaimer: You own the risk for your property, LLC, and overall situation. Consult your attorney, Fannie, your Servicer, or whoever else you need. I'm not responsible for your decisions.

Step 1: Determine if your loan is owned by Fannie. https://knowyouroptions.com/loanlookup (this is a Fannie-owned site). See screenshots below.

Step 2: If the loan isn't owned by Fannie, then the remainder of this article won't apply. However, talk to your Servicer to determine who owns the loan and then ask them about an LLC transfer.

See the example below where Fannie doesn't own the loan:


Step 3: If Fannie owns the loan, check the closing date listed in the knowyouroptions results. If your loan closed before Fannie's qualifying date listed in D1-4.1-02, sorry, the loan doesn't meet the transfer requirements. If the loan closed after the qualifying date, that's good.
Here's an example where Fannie owns the loan, and it closed after the qualifying date, which means the loan is eligible for transfer:

Step 4: After verifying that the loan is eligible, make sure your LLC meets Fannie's requirements in D1-4.1-02. If it does, ask your Servicer for "a letter of approval to transfer property ownership to your LLC, per Fannie Mae's Servicing Guidelines section D1-4.1-02." Add that you "aren't requesting a release of liability and aren't requesting a loan assumption." The Servicer will tell you what LLC docs they require, if any.
(Sidebar: If Servicers follow D1-4.1-02 exactly and literally, then you
might interpret that they don't need to approve the transfer in
advance. However, if you complete the transfer without the Servicer's
approval, and if they issue an erroneous Notice of Acceleration, you might find it
more difficult and stressful to fight it at that time. I'm following a more risk-averse approach by seeking Servicer approval in advance.)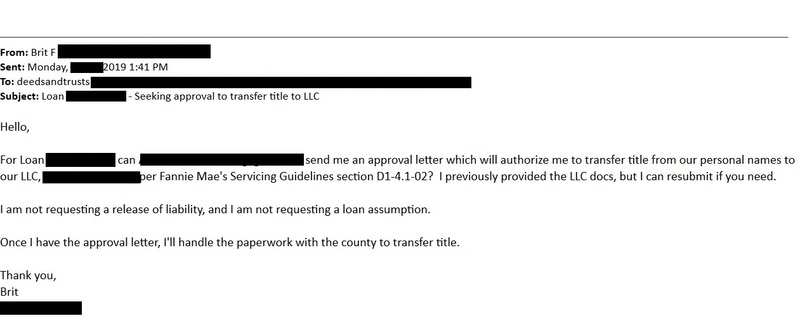 Step 5: Your Loan Servicer should validate the loan & LLC against Fannie's D1-4.1-02 requirements and issue the approval letter to you within 1-2 weeks.
Step 6: After you have the approval letter, you're done with the Servicer, and everything else is up to you and/or your team (unless the Servicer tells you otherwise)

Step 7: Get insurance in order, transfer title according to your county's procedures, make any other operational adjustments required for your business. Follow any guidance your Servicer gives you in the approval letter, such as sending copies of the recorded deed or paying a transfer fee.

Happy transferring.

Here's the challenge...you knew this was coming, right?

Not all Servicers are aware Fannie allows this. Some Servicers may refuse the transfer request and will adamantly steer you to refinance into a more expensive commercial loan that kills your cashflow.

In my next update(s), you'll see my strategy dealing with three different Servicers. One was easy, and two were difficult, including a top five mortgage lender by volume/market share.

Spoiler alert: I win.
Next Post: My Servicer Experiences during LLC Transfer (Part 1)