A Tale of Two Rental Markets: Metro Detroit vs. Milwaukee
Photo by Coasted Media on Unsplash
Whether you're a newbie or a mogul, all investors looking to have a slice of the world-famous US real estate market need help in comparing one rental market to another.
The investment opportunities may be plenty, but so are their variations in key details!
That's why we've created this ongoing series that compares popular rental markets, one article at a time. Chances are, these hotspots are on your radar and investment wishlist—where you'll need expert guidance to choose the right one.
We're using our 20+ years of experience as a property management company in Metro Detroit and other research points to write these comparative articles. All the information you'll see in this report is hard facts, but admittedly, we might be a little biased towards our home market (especially if it's a close call).
Nevertheless, the report will show you all the strengths and weaknesses of each real estate market. As a result, you'll have all the information necessary for making sound investment decisions.
The key factors we'll focus on are the expected returns from rental properties, the types of tenants to expect, and the kind of property management required. They are the three levers you'll need to pull when building a rental business portfolio, so we've emphasized them in our report.
Overview of Metro Detroit
Metro Detroit is unique from other metropolitan areas. In most places, real estate prices increase the closer you are to the main city center. But in Metro Detroit, property prices actually tend to decrease the nearer you are to the City of Detroit itself.
Assuming that income relates to property values, you can see the result in the income map below, where properties get increasingly more affordable the nearer you get to the main city:
Source: ProximityOne
But this doesn't mean that the City of Detroit is nothing but an affordable place to live in. Over the last decade, the city went through a significant transformation. The Great Recession of 2008 has been replaced by job and population growth downtown, with wealth flowing into surrounding suburbs once more. This influx influenced the real estate market, boosting property values and rental rates everywhere.
Should you want to learn about specific areas in Metro Detroit and the City of Detroit, we have an ongoing Deep Dive series that analyzes the investment potential of every city and neighborhood. So head over there to see all that Metro Detroit has to offer!
So, because of the unique situation of Metro Detroit, we're comparing it to other cities instead of other metro areas. We'll remind you of this whenever applicable.
Breakdown of Metro Detroit and the City of Detroit
The Metropolitan Statistical Area (MSA) of Detroit-Warren-Dearborn. The area consists of six Michigan counties: Lapeer, Livingston, Macomb, Oakland, St. Clair, and Wayne. Whenever we say "Metro Detroit," we're referring to the Detroit Tri-county area of Macomb, Oakland, and Wayne counties.
Metro Detroit covers a total of 3,888.4 sq mi (10,071 km2) with a population of over 4 million. Specifically, the City of Detroit occupies 142.89 sq mi (370.1 km²).
Here's a map that shows all 72 cities in the Detroit Metropolitan:
Source: Georgetown Public Policy Review
The City of Detroit still holds the title for being the largest city in Michigan, and Metro Detroit is the most populous metropolitan area in the state.
Detroit is separated into 11 main regions, as you can see in the map below:
These regions are further divided into 105 neighborhoods. We've listed their names below, along with hyperlinks to our published Deep Dive articles for more information:
Source: Loveland's Detroit Neighborhoods Map
Investment Areas in Metro Detroit
Now, if you're an out-of-state (OOS) investor, you need to understand how different the investment opportunities are between the City of Detroit and the rest of Metro Detroit.
To help you in the process, we've coined the term "Ring Cities" to describe the suburban cities surrounding the City of Detroit in a semicircle. These cities have the qualities that most OOS investors expect from a real estate market in the area:
1. Affordable housing stock
2. Strong rental cash flow opportunities
3. Significant buy-and-hold investment potential
Not sure if the area you're interested in is a Ring City? Not to worry, we've highlighted all Ring Cities in the chart below. Any names you see with hyperlinks are shortcuts to our Deep Dive analysis for more information on investment opportunities and potential:
In our experience as a property management company, we've met countless OOS investors that can't wrap their heads around how the market works here. That's because there's a lot of diversity between these different neighborhoods (and even from block to block within each area).
So, for all OOS investors, we advise you to conduct ample research before investing your money. Never invest blindly without a boots-on-the-ground evaluation of a property's surrounding area.
For example, even the property classes (A, B, C, or D) aren't consistent across the area. You can find a Class A property right beside a Class C one in the City of Detroit. Or you can invest in what you think is a Class A property, only to find out that it's actually a Class C or D when you get to the details.
Investing in the City of Detroit has its challenges, but it's not without great rewards. As long as you conduct your due diligence and do ample research, you can snag profitable opportunities in the city.
Alternatively, if you're looking for less investment complexities, consider buying properties in Ring Cities for the best opportunities with relatively lower risk.
Overview of Milwaukee
Let's head over to Milwaukee, another popular real estate market that attracts a lot of investors.
Milwaukee is the largest city in Wisconsin state, being the 31st biggest city in the United States. It's located on the southwestern shore of Lake Michigan with three primary rivers flowing through the city: the Menomonee, the Kinnickinnic, and the Milwaukee.
Milwaukee is the main cultural and economic center of the Milwaukee metropolitan area, categorized by the Globalization and World Cities Research Network as a "Gamma," having a GDP of over $107 billion.
Source: Google Maps


In terms of living costs (assuming that it relates to property values as well), NeighborhoodScout provides us with a heat map of the neighborhoods in Milwaukee:


Source: NeighborhoodScout
In general, the closer you get to the coast, the more expensive the living standards become, save for a couple of areas like Granville and the area of Wauwatosa.
The most expensive city in Milwaukee is River Hills, while the most affordable one is the City of Milwaukee. In terms of neighborhoods, Juneau Town is the most expensive neighborhood while Franklin Heights is on the other end of the spectrum.
Breakdown of Milwaukee Areas
Milwaukee covers 96.80 sq mi (250.71 km2), where only 0.68 sq mi (1.76 km2) is water. The city has a population of 577,222 according to the United States Census Bureau.
The overwhelming majority of the city (99.89%) is part of Milwaukee County, with two portions extending into neighboring counties. The part in Washington County is along the southeast corner of Germantown, while the part in Waukesha County is along the southeast corner of Menomonee Falls.
Even though some sources say that there are 210 constituent neighborhoods in Milwaukee, in reality, the neighborhood borders in the city are tricky to point out. This is because you can have neighborhoods within other neighborhoods in the area—making it difficult to standardize. The city government hasn't updated its map since 2000, which doesn't help the case.
For example, Beerline B is actually located in Riverwest. But some residents describe it differently, either regarding Beerline B as part of the adjacent Brewers' Hill or as its own distinct area.
Nevertheless, here's a list of known neighborhoods in Milwaukee to use as a starting point:
If you want to dive deeper, here is a very comprehensive map from The Squeaky Curd that outlines all the neighborhoods in Milwaukee. You can tap here for a higher resolution version of this map:
Keep in mind that, due to the nature of the system, neighborhoods in Milwaukee often change from time to time. If you're interested in investing in a particular neighborhood, we advise you to conduct thorough research, check out informational websites like HoodMaps, and ask a couple of locals to get the latest update.
Investment Areas in Milwaukee
Based on Roofstock, the City of Milwaukee is experiencing significant demand for affordable homes, and the lack of inventory is driving the property prices up.
Rental property isn't falling behind as well, given that the city is one of the top 10 in converting older commercial buildings into residential homes. There are also many millennials in the city, making up over 80% of Milwaukee tenants paying a median rent of $830. It doesn't stop there, either, as rental prices are increasing—creating an interesting situation for investors.
Not sure where to begin? Based on property prices, cash on cash return, and rental income, Mashvisor recommends the following five neighborhoods in Milwaukee to invest in:
1. Kilbourn Town
2. Schlitz Park
3. Haymarket
4. Halyard Park
5. Riverside Park
In general, millennials are attracted to the city because of the job opportunities, craft beer scene, emerging downtown area, and affordable cost of living. Choose the neighborhoods they're flocking to, set your rental prices right, and you can expect to get a good return on your investment.
Milwaukee is also a good place to flip homes. According to Clever, over 650 houses were flipped in 2020 with the median investment of $87,500 and median selling price of $149,900.
Comparing the Real Estate Scenes in Metro Detroit vs. Milwaukee
Now that we have the basics down, the following sections will give you more information on the key factors that contribute the most to a rental investment. You'll find details on rent amounts, house values, appreciation rates, tenant pool quality, property conditions, and quality of life within Metro Detroit and Milwaukee.
The images below shows you the rental properties listed on Zillow: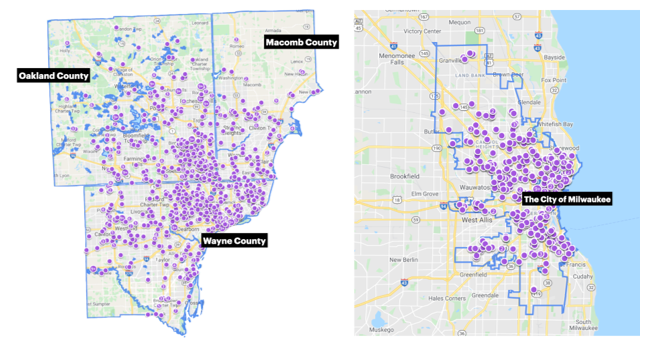 Source: Zillow
Keeping this in mind, let's dive into the key differences and similarities between the two areas. We'll focus more on the homes listed on Zillow and their respective rent-to-price ratios.
House Value and Appreciation
House Value. According to Zillow, the typical home value in Metro Detroit is $223,461. This number is an increase of 18.4% over the past year, and Zillow forecasts a further 11.2% increase for the upcoming year:
Source: Zillow
In Milwaukee, home values are around $168,748. This is an increase of 21.8% over the past year. Unfortunately, Zillow does have specific forecast growth for Milwaukee. But the current trend as seen in their chart does show some promise:
Source: Zillow
Looking at the current listings on Zillow for Metro Detroit, we see that most home values are significantly less than the $223,461 average. You can find the famous below-a-$100k housing stock which Metro Detroit is known for around the entire metropolitan area:
Source: Zillow
Lot sizes in the City of Detroit and surrounding areas are smaller than in the further-out areas, which explains the high housing and listing density that you see in the map near the city center.
NeighborhoodScout also provides an appreciation rate heat map where we can observe the general affordability of Metro Detroit properties (especially in the City of Detroit and the Ring Cities):
Source: NeighborhoodScout
But don't forget the pro tip we mentioned earlier! The diversity of Metro Detroit offers many sweet spots for rental investors to purchase affordable homes close to expensive, developing neighborhoods, where you can benefit from the bubble of rising prices expanding into surrounding areas.
Milwaukee's current listings on Zillow, on the other hand, reflect the typical home value of $168,748 quite evenly across the city. But the properties do get more expensive the closer you are to the center:
NeighborhoodScout also has an appreciation heat map for Milwaukee. The highest appreciating neighborhoods are the ones closer to the center of the city, such as E Center St / N Booth St, E Burleigh St / N Weil St, and W State St / N 21st St:
Source: NeighborhoodScout
Appreciation. In terms of appreciation rates, Bestplaces provides us with the following data:
- Metro Detroit home appreciation in the last 10 years is 29.8% (up by 8.2% YOY)
- Milwaukee home appreciation in the last 10 years is 72.5% (up by 19.6% YOY).
Both areas show great potential for investors looking for equity gains.
Comparing the rates to the rest of the nation, home values have increased by nearly 49% in the past decade. In the last two quarters alone (January 2021 data), there is an annualized increase rate of 9.3%. At this impressive rate, Renofi forecasts that average home prices in the US will reach $382,000 by 2030.
Average Rent
Based on the charts by Bestplaces, the average rent in Metro Detroit and Milwaukee are nearly identical, especially for studio units and one-bedroom homes. In general, Metro Detroit has higher rent compared to the rest of Michigan, while Milwaukee has lower rent than the rest of Wisconsin:
Source: Bestplaces
Current listings on Zillow for rentals reflect the same rent amounts for both areas:
Based on Current Listings on Zillow
Rent-to-Price Ratio
Whether you're looking at properties in Metro Detroit or Milwaukee, you can use the rent-to-price ratio to quickly estimate the potential cash flow of a property. It's not the only calculation you should use, but it's a simple indicator to help you scan multiple properties at once and narrow down the best investment opportunities.
Generally, you want the ratio to meet the "1% Rule," which means that the ratio of the monthly rent to purchase price should be at least 1%. Here's the formula:
Monthly Rent / (Purchase Price + Rehab) > 1%
Especially in large areas like Metro Detroit and areas with many neighborhoods like Milwaukee, this handy rent-to-price ratio helps you shortlist your rental property options based on the estimated return on investment (ROI).
Side by Side Chart
Now that we know the house value, appreciation, and average rent in Metro Detroit and Milwaukee, let's pull up some listings on Zillow to see the data in action.
Here are examples of similar three-bedroom properties in Metro Detroit and Milwaukee. Notice how they differ from each other in terms of rent amount and house value:
These houses are fairly similar, although the listing in Metro Detroit has a more favorable rent-to-price ratio and a lower purchase price. Plus, Zillow has forecasted that property values in Metro Detroit will grow in the near future. In contrast, while Milwaukee's appreciation rates have increased in the past decade, Zillow has no forecast for their future growth, and the listing above shows a lower rent-to-price ratio.
Quality of Tenants, Properties, and Living
We've discussed the financial viability of rental properties in Metro Detroit and Milwaukee, now it's time to consider the quality of tenants, properties, and overall life in the respective areas. These are important because they'll help you determine the following factors:
- Stability of rental income
- Necessary property maintenance and renovations
- Type of tenants you'll have to manage
- The kind of property management required
The data you'll see below come from various sources, including our experience as a property management company in Metro Detroit. They are meant to guide you when evaluating areas and choosing neighborhoods, but shouldn't be taken as definitive measures.
Let's get started by looking at an overview from Roofstock. These maps show the livability of Metro Detroit and Milwaukee neighborhoods, based on their schools, home values, employment opportunities, income levels, and other investment criteria:
Source: Roofstock
You can tell that most of the properties in the City of Detroit are Class C. These lower-class properties are more suited for experienced investors with the knowledge to navigate certain risks (e.g., tenant issues and property maintenance requirements).
Milwaukee has a similar situation as well, with lower-class properties the closer you get to the center of the city.
Tenant Quality
Average Income. In general, the average income, current unemployment rate, and overall job market in Metro Detroit are more favorable than in Milwaukee:
Source: Bestplaces
The stability and growth of your tenants' income directly relate to your revenue as a rental property investor. Only when they're financially secure can you charge higher rent and collect full rent payments each month. So prioritize the areas that meet the following factors:
- Strong and growing job market
- Provides citizens with good working opportunities
- Able to strengthen the local economy, allowing higher property values and rent prices
Between Metro Detroit and Milwaukee, the former takes the win on these factors.
Educational Attainment. Locals in Metro Detroit have higher educational attainment than those in Milwaukee, having more people graduate high school, some college, and hold degrees. This is surprising, considering that Milwaukee has a big population of young professionals starting their careers.
Source: Bestplaces
The higher the educational attainment of the tenant pool, the more likely you'll have tenants who are able to secure well-paying jobs that allow them to pay rent consistently.
Property Condition
Property Age. The median age of homes in Metro Detroit is 51 years old—younger than Milwaukee's property age of 66 years old. This means you might find more properties in Milwaukee that require renovations to bring them up to a rental standard (like updating electrics, plumbing, etc.).
Nevertheless, both areas do have older homes compared to the national average of 40 years old. Here's a breakdown of the property ages in each area:
Source: Bestplaces
Blighted Areas. Both Metro Detroit and Milwaukee are no strangers to blighted properties. But both areas are also combating the common problem with rehabilitation plans, reviving abandoned neighborhoods, and improving their respective housing stock.
The City of Detroit has a blight remediation program that has already demolished 19,000 blighted homes and rehabilitated 9,000 others. It has also announced that it sold $175 million in bonds to fund a project that will continue to demolish and renovate thousands more blighted homes.
Over in Milwaukee, the city experienced a spike in vacated properties due to the 2008 housing market crash, where millions of people defaulted on high-interest mortgages. There was also another increase in recent years, when local and out-of-state flippers left their projects as housing prices plummeted in 2018.
From the 7,400+ vacant properties logged in the Milwaukee Department of Neighborhood Service system, a significant 2,500 are still empty. And with COVID-19 coming around in 2020, foreclosures are expected to increase—growing the number of vacant homes in distressed neighborhoods.
Source: Milwaukee Journal Sentinel
Still, the city has around 15 programs in place to help homeowners rebuild and increase property values of blighted properties, rather than demolishing them. ​​"We chose the more expensive course in the short run, hoping, in the long run, we would be preserving more neighborhoods effectively," City of Milwaukee Fourth District Alderman, Robert Bauman, said.
They also have the "strong home loan program" to assist owners in making the repairs. It's one of the most successful programs of Milwaukee, with more than 50 homeowners using the program in 2018.
However, there's still a lot of work to be done to solve blight in Milwaukee's housing stock.
As a rental investor, you want to purchase properties in good repair and situated in up-and-coming neighborhoods—but this isn't the case with blighted properties. If you want to purchase one, you'll need to conduct a thorough inspection to budget for structural problems and evaluate the neighborhood's livability to make sure there's any profit to be made from the deal at all.
Home Ownership and Rental. More than half (61%) of the homes in Metro Detroit are owned rather than rented (27.7%). While it does make your tenant pool smaller, it also means that you can expect the properties to be in better condition. Homeowners usually take care of their homes more than renters do, as they have long-term living in mind.
In contrast, homes in Milwaukee are mostly rented (52.2%) rather than owned (36.9%). You'll have a bigger tenant pool, but it also means the properties might be in poorer condition. Renters tend to have lower levels of property maintenance, as they know that the property is not their own.
Source: Bestplaces
In general, pay attention to the condition of older and poorer properties in both Metro Detroit and Milwaukee. You can hire a professional inspector and a trusted contractor to help you determine the necessary renovations and upgrades before purchasing a rental property.
Quality of Life
Local Economy. The local economy of Metro Detroit was greatly affected by the recent pandemic. Small businesses and the leisure and hospital industry struggled, even with the resilience of the Motor City's automotive and manufacturing sectors.
Nevertheless, as vaccination rates increase and infection rates decrease, the City of Detroit is slowly transitioning to a post-pandemic economy. Economists at Goldman Sachs even predict that the economy will expand by 6.8% and unemployment rates will drop to 4.1% this year.
Here is some recent news that shows promise:
- Originally created to weather COVID-19, Detroit Means Business (DMB) formed by Detroit Economic Growth Corporation (DECG) and 60 other partners is now aiming to establish the city as a small business hub. They help business owners gain access to capital, address legislative issues that hinder business growth, provide relevant skills training, and more.
- Only a handful of the 50+ projects in the City of Detroit were put on hold due to the pandemic. In reality, most are moving forward—totaling more than $6.3 billion of investment for the city. There are also 12 new development projects that were announced in early 2020, adding another $170 million in investment.
- The American Rescue Plan Act (ARPA) is also helping the city's post-pandemic recovery, providing funds to fight poverty, support small businesses, and prepare the city for the next phase of economic growth.
Milwaukee experienced the wrath of COVID-19 as well, shutting down the economy for more than 16 months and dropping their GDP by 11.4% in early 2020. But with widespread vaccination and lower fatalities, Milwaukee is lifting restrictions and allowing its economy to grow once more.
An article by Milwaukee Business Journal gives us the following insights:
- A LinkedIn report said Milwaukee is part of the top 10 biggest gains in residents during the pandemic, where more than 850,000 jobs were added to the economy in June—particularly in the education, retail, and leisure and hospitality industries that were hit hard during the pandemic.
- Normalcy is back in Milwaukee, as the Milwaukee Bucks compete in the NBA Finals for the first time since 1974, the Milwaukee Brewers are at full capacity at American Family Field, and projects like The Couture are now moving forward. Consumer confidence has also risen to an 18-month high of 127.3, according to the Consumer Confidence Survey.
- Wisconsin Public Radio also said that the state saw noticeable boosts in their sales tax collections—as much as 10% to 15% more than last year. Locals are purchasing closer to home (or online), where counties were able to collect sales tax revenue.
Both Metro Detroit and Milwaukee are showing a strong bounce back after the pandemic year. This is great news for rental investors because it means that both locations are still attractive to those looking to move to greener pastures.
Safety and Crime. Both Metro Detroit and Milwaukee have higher crime rates than their respective larger areas (Metro Detroit versus Michigan and Milwaukee versus Milwaukee Metro). In terms of percentage, Milwaukee's crime rates are more than double of Metro Detroit's:
Source: Bestplaces
According to Neighborhoodscout, Milwaukee has one of the highest crime rates in the state and the nation. A whopping 97% of communities in Wisconsin have a lower crime rate than Milwaukee, and the city is listed as one of the top 100 most dangerous cities nationwide.
The City of Detroit also has relatively high crime rates. However, other cities in Metro Detroit are much safer. For example, Oakland Township and Huntington Woods are two of the ten safest cities in Michigan, according to SafeWise.
Nevertheless, remember that crime rates are localized for every neighborhood and city in Metro Detroit and Milwaukee. You can find properties that are deemed "unsafe" just a street away from a perfectly safe neighborhood, so it's critical to know and understand the specific neighborhood you're buying in.
Diversity. Here's a breakdown of racial diversity in both areas, versus the US average:
Source: Bestplaces
As a rental investor, your priority is to find a tenant base that is communicative and responsible enough to follow the lease agreement, pay rent on time, and take care of your property. Since the tenant pool in Metro Detroit and Milwaukee varies greatly, you must conduct a self-evaluation to decide what kind of tenants you want to handle—and where you want to invest in.
Liveability. The pros and cons of living in Metro Detroit and Milwaukee can be summarized as such:
Source: Bestplaces
Our advice is to look for neighborhoods that are in high demand by high-quality tenants. Check the characteristics of each sub-area, its tenant demographics, and property conditions. With the wide variety of investment opportunities you'll come across in Metro Detroit and Milwaukee, you must carefully consider all the factors with expert guidance.
Conclusion
We've come to the end of our comparative report between two rental markets!
If there's one thing to remember, it's that you need to rigorously evaluate each investment opportunity you see in Metro Detroit and Milwaukee—analyzing the strengths and weaknesses of each city and neighborhood-based on your investment goals.
Here's a recap of the information provided in this report:
In reality, markets are tough to compare from an objective point of view. It's up to your priorities, goals, and expectations as an investor to see which one market fits your criteria.
If you ask us, however, the points undoubtedly go to Metro Detroit. The real estate market here is filled with opportunities—especially with its wealth and revitalization efforts. The City of Detroit alone has come a long way since 2011 and we're only expecting it to grow massively in the near future.
As always, you must prioritize financial viability when purchasing investment properties. For rental investors, this means finding a balance of cash flow and appreciation for short-term gains and long-term success. And we can't help but remind you that there are many investment opportunities that meet this crucial requirement in Metro Detroit.
—
Glad to see that you're interested in purchasing a rental property in Metro Detroit and Milwaukee!
Should you have another rental market in mind, you can leave your suggestion in the comment section below. This is an ongoing series, so it'd be great to hear directly from you. We'll be sure to cover your request in one of our next installments.
Image courtesy of Coasted Media
---