Today starts the ball rolling on really getting our real estate business found online. Over the past two months, we have been talking exclusively about building our foundation when it comes to creating an awesome real estate website. It took about ten blog posts to get to where we are today, but believe me, it was all worth it.
If for some reason you missed those blog posts, then I would like to introduce them to you again below. If you have some time on your hands today or later this week, please take a good look at those before implementing any of my local real estate marketing strategies.
Company Search
When I talk to all small business owners, I nearly always ask them about their online presence. Many of them will pause for a moment and say something like, "I have a Facebook Business Page — is that what you're talking about?" The quick answer is yes and no. I'm not talking about having an online presence in the form of just being on one website; I'm talking about being everywhere.
What I'm looking for is whether I can find a real estate business on all of the top social media sites, citation sites, as well as on all of the most-used profile sites. This is called "being everywhere" online — having enough of a presence that your potential leads can find you.
Related: My Single Biggest Real Estate Marketing Discovery of 2014
For Example: If someone is on Twitter and they're searching for real estate companies in Dallas, TX, then I better have a profile on that site. Plus, if someone is looking for a Realtor in New Orleans and they're searching on Manta, then you better believe that I'm on there. As you can see, the only way around it is that if you want to dominate your local real estate market, you must "be everywhere" online.
I'm talking about any social media site out there at all; you want to be able to show up whenever someone searches anything that applies to you. I don't care that there are 500 sites out there where you can set up a profile. You will have to make it your mission to be on there. This is called building your online presence, which is the #1 thing that we will be talking about for the next couple of weeks.
My goal is to educate you on the importance of having an online presence over anything else online. I'd rather have this than to be paying for advertising in the search engines. What you have to understand is that thousands of people every single month are searching for some form of real estate online. Will you make the effort to get in front of those thousands of people, or just leave those leads on the table?
My goal is to help you dominate your local real estate market the smart way. This is the reason that I'm on BiggerPockets — to help educate those who are serious about their business and want to see growth. The way we will do that from day one right out of the gate is to start the process of bundling our online presence.
Before I can even get into SEO, email marketing, networking, building leads, generating traffic, using social media and all of those things, we must first start by bundling our online presence. No matter what a client tells me about how many leads they need, I always say, let's start with the online presence and work our way to the top.
Figure Out Your Existing Online Presence
What I would like for you to do is to Google your company name and skim through the listings and document the websites that have your company on. Now, some of these may be sites that you created yourself, such as your Facebook, LinkedIn or YouTube profiles. You may even see sites that have your information that you know for a fact you didn't sign up for, but they're there and ranking for your company name.
I say go through each listing until you reach the 100th result, and document the ones that have your accurate company name on them. I say to put these inside a spreadsheet, so that you can keep track of all of those links. Now, there are some tools that will do this for you automatically, but I'm just sharing the free way today so that you can participate even if your budget is limited. Like I said, it's my job to keep money in your pocket, so this is why I choose to do it like this.
The screenshot below shows a Google search for my company name, which to my surprise, turned up a number of things. For one, my website came up, which is the norm for SEO reasons. To give you just a brief tip on SEO, the reason my sites comes up before all of the other listings is because my site is already referenced on all of the sites that show up below on any given search. This means that the link to my site is passed through all of those other sites to give my website a leg up on everything else.
This may be a little confusing, so later on down the road, I will break it all down in details for you to easily understand it. For now, all you need focus on is the below screenshot, where you will see that everything is listed in the following order:
My Website
BiggerPockets
YouTube Video #1
YouTube Video #2
Facebook
Manta
And so forth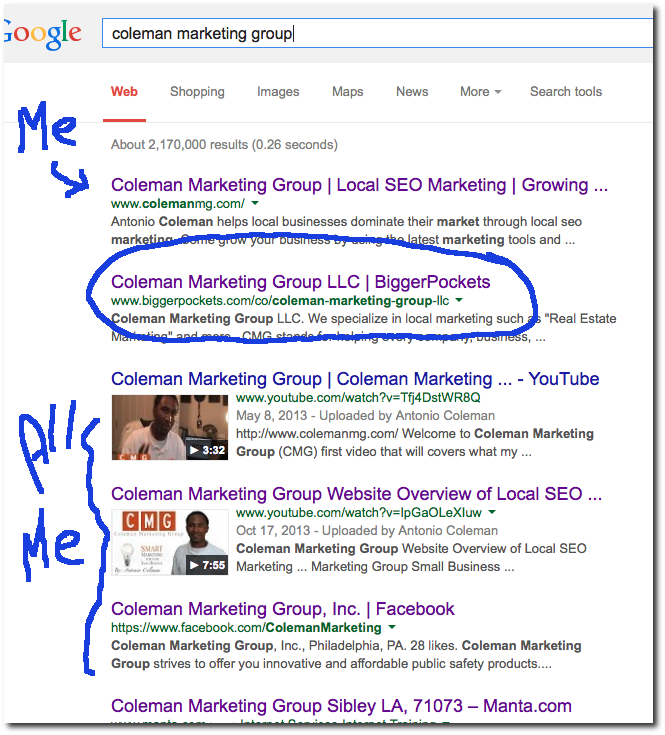 Most all of these I set up myself, and I produced all of the content for my personal pages, as well as the videos. My goal was to take up all of the listings on this page when someone Googles my business. This helps me get the first words in about who I am, as opposed to potential leads visiting a site that doesn't know my business model like I do.
Creating Online Profiles that Rank
Although many search results point to my profiles, I still have work to do. Before the year is out, my goal is to have my company profile on around 1,000 websites that will be ranked online for my company name. Not only that, I'll also input keywords that are centered around my city to be able to rank locally.
Related: The Real Estate Marketing Mistake That Could Cost You Millions
This mode of creating an online presence is extremely powerful when it comes to the real estate industry. Now you're able to create tons of profiles that will not only rank for your company name, but also for keywords like:
Dallas Real Estate
Atlanta Homes For Sale
Cleveland Realtors
The list can go on and on when you start thinking about building your online presence. You have to do the searches online, and if your business name is not taking up every spot on the page, then let's start thinking about building that online presence for your real estate company. This will be an easy and simple process, but it all starts by doing the research and getting the ball rolling.
Next week, I will go into more depth on the step-by-step process of building your online presence so that it ranks optimally, including what needs to be included in every profile that you create. In the meantime, I would love for you to do the search, come back here and post the number of profiles that you found your business on. Plus, I would like to know what your thoughts are on this marketing strategy as a form of building your online presence.
How many sites have you found your business on? Will you be expanding your online presence using this method?
Let's talk! Leave a comment below.
Note By BiggerPockets: These are opinions written by the author and do not necessarily represent the opinions of BiggerPockets.