No matter what you think of gentrification politically, it is a good thing financially to own property in an area that is appreciating rapidly. And it's always good to be in an area that is revitalizing rather than declining. As real estate investors, we always need to look for deals that make sense numbers wise, but we also want to look for areas that are improving and have a high likelihood of appreciating. In that regard, here are some things to look for.
Want more articles like this?
Create an account today to get BiggerPocket's best blog articles delivered to your inbox
Sign up for free
7 Ways to Discover if a Neighborhood is Up and Coming
1. Neighborhood Stats
As I discussed in my previous article, there are all sorts of websites with statistics on the crime rate, per capita income, vacancy rates, and virtually everything else for cities, zip codes, and even subdivisions. In my opinion, the best of these sites — at least the best free one — is City-Data.com.
Now, remember, we are looking for neighborhoods that are improving, not just ones that are good. So you want to look at the data as a film and not a picture. Where is the trend going? Luckily, many of these sites, including City-Data, have information from previous years.
So, for example, Grandview, Missouri is a small suburb of Kansas City. In 2008, Forbes listed it as the eighth fastest dying city in the county. But it has since stabilized. Looking at City-Data, you can see that the population has stabilized and the crime index fell from 515.2 in 2007 to 298.6 in 2014 (the national average is 287.5).
And, of course, there are paid sites that can provide even better research. Many brokerages release helpful reports for cities as well, particularly regarding commercial real estate. For example, here's Block's 2015 report for Kansas City.
I should also note that it is difficult for a neighborhood to improve without good schools, so that is key to look for. GreatSchools.org is the first place to check in that department.
2. Public Information
Speaking of schools, one of the best ways to determine whether an area is growing, other than the population trends you can find online, is to find out how many kids are enrolled in the local school system. This is a tip I heard from Dave Lindahl, and usually you can find that information by calling the school board.
You can also find current numbers for things like building permits issued by the local government (older data can be found online).
Related: How to Choose the Best Markets for Real Estate Investing
3. MLS Sales Data
Only real estate agents have access to the MLS, but even if you aren't an agent, you can simply ask an agent to provide you the information you need. Sites such as Zillow and Trulia have some of this information as well and are open to the public.
But the MLS is the best, as you can search by city, zip code, subdivision, or whatnot and find trends for things like the following:
Average Days on Market
Average or Median Sales Price
Average or Median Price/Square Foot
Total Sales
Again, we want to separate local trends from larger trends. The country as a whole has had a lot of appreciation in real estate over the last five years, but that has not been spread out evenly.
Using Kansas City again as an example, while property values in the city as a whole have gone up quite a bit, some areas were left out and some have raced ahead. One area in particular along Armour Blvd. saw several large housing projects that had previously been owned by out-of-state firms revitalized and property values around it shot up drastically:

Other zip codes, however, such as this one, have been mired in poverty for a long time. While it has seen a little upward movement recently, it has mostly been flat even despite the recovery:

It would be unwise to buy here expecting any appreciation.
Thus, it's important to look for information like this that can help make distinctions between the trajectories of various neighborhoods.
4. Homes Being Renovated or Built
There are all sorts of things to look for when evaluating the quality of a neighborhood, such as privacy fences versus chain link fences, whether the streets are clean, and even if people are out jogging or walking their pets at night.
But here, we're looking at the trajectory of a neighborhood, and in the regard, if you see a lot of homes being remodeled or repaired, that is a very good sign. The same goes for construction, although be forewarned — there is certainly such a thing as over-building, but that would be the topic of another article.
On the other hand, lots of vacant, boarded up, or burnt out buildings are a sign that the neighborhood is either declining or has already declined.
5. For Rent and For Sale Signs
Improving neighborhoods usually have low vacancy and an abundance of demand rather than supply. A lot of "For Rent" or "For Sale" signs should be a red flag.
6. Major Developments and New Businesses Opening
There's nothing like a major business development to turn an area around. Indeed, this is one of the most important things to look for (as are, in the other way, large businesses closing down). These new developments not only bring in a lot of jobs, but they bring in something like two to three support jobs (such as cashiers for retail stores that open nearby) for every high paying job. And all these people need somewhere to live.
Related: "Low Income" vs. "Bad" Neighborhoods: Yes, There IS a Difference. Here's What Separates Them.
In the example above of Grandview, Missouri, two very large developments were opened just South of it that helped breath life back into the city. In Kansas City, Cerner is currently building a $4.5 billion dollar office development purported to bring in a ridiculous 16,000 new jobs. The office development is the largest in the history of Kansas City and is being built where the abandoned Bannister Mall used to be. That area has been economically depressed since the mall left, but as you can guess, it is starting to revitalize.
It's important to get out ahead of these developments as quickly as possible, so pay attention to the local business news. And if your city has an economic development plan (for example, you can see Kansas City's here), that would be wise to read up on.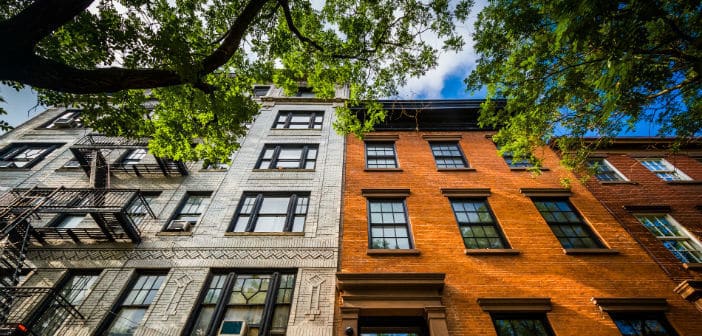 7. Talk to People
There's no better way to get a feel for a neighborhood than to talk to the people who have lived there a long time. Has it improved or gotten worse? Are people generally moving in or out? What is it with the kids these days?
Of course, don't just rely on one or two people's opinions. Some opinions have been jaundiced for whatever reason and are at odds with reality. But the Law of Big Numbers infers that if you talk to enough people, you'll get a good idea of which direction the neighborhood is heading.
And if you run into a bunch of people who just recently moved there, that might tell you something about the growth of that area as well.
What methods do YOU use to analyze neighborhoods? How are your local markets looking?
Let me know your thoughts with a comment!