The Real Estate Podcast
BiggerPockets' largest and longest-running podcast breaks down real estate investing strategies that work—from deep-dive interviews to coaching calls, news analysis, and more. Make your next real estate investing move with confidence…tune in to the #1 real estate investing podcast every Tuesday, Thursday, and Sunday.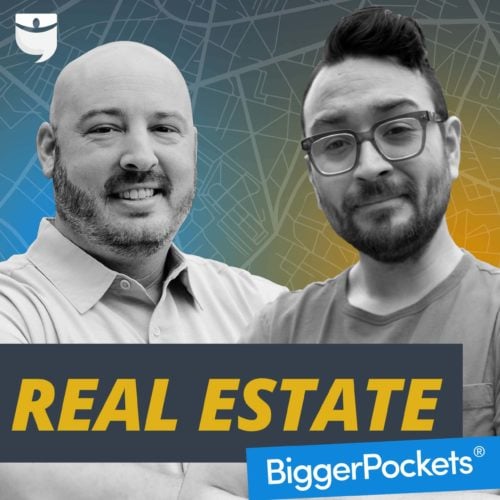 The Hosts
BiggerPockets' largest and longest-running podcast breaks down real estate investing strategies that work.
Posted 12 hours ago
The BiggerPockets Podcast
It's 2023 goal-setting time! For some investors, setting goals is a coveted experience where they get to center themselves and plan for the coming year. For others, setting goals can…
Podcast Episodes by Topic
Interested in listening to Real Estate Podcast episodes by topic? Check out common topics and popular episodes below.
Getting Started In Real Estate
Carousel
Henry Washington, a buy and hold investor who's built a sizable portfolio while working full-time, discusses how he changed his mindset as he prepared to start a family, how he…

Four years ago, Lee Ripma was new to real estate but vowed she'd be on the BiggerPockets Podcast someday. That day has come! In this episode, Lee traces her journey…

How much does it cost to buy a large apartment complex? Millions? Think again! On today's episode of The BiggerPockets Podcast, we're excited to welcome back Brian Murray to the…

When learning how to invest in real estate successfully, most people struggle finding four things: mentors, contractors, deals, and funding. That's why today we're excited to bring back Matt and…

What does true wealth look like? Is it simply money or something more? And how does one achieve that wealth? That's the topic on today's episode of The BiggerPockets Podcast,…
Episodes on BRRRR Investing
Carousel
Welcome back to another episode of Seeing Greene with BiggerPockets Podcast host, top real estate agent, and BRRRR master himself, David Greene. Today's episode touches on many topics that relate…

The BRRRR method can be taught by no one better than David Greene, author of Buy, Rehab, Rent, Refinance, Repeat, and adorably dubbed "Sir BRRRR" by co-host Rob Abasolo. While…

"Systems, People, and Positive Vibes" are what powers Shelby Osborne's business, and today she breaks down exactly how she's used those 3 forces to go from 0 to 51 units…

Whitney Hutten shares the incredible story of how she built a rental property empire out of a 401(k) account by leveraging the power of a team! In this episode, she…

In this episode of The BiggerPockets Podcast, we're excited to talk about two incredibly powerful strategies any real estate investor (new or experienced!) can use to grow their business: partnerships…
Episodes on Multifamily Investing
Carousel
Want to know how to analyze a multifamily property? Maybe you've analyzed duplexes, triplexes, quadplexes, or even ten-unit apartment complexes before, but what about the big deals? We're talking about…

If you own a single-family rental or a portfolio of single-family rentals, the world of large multifamily may seem scary to you. There are so many more tenants and units,…

On today's show, you'll meet Todd Dexheimer, who started investing in real estate while working full-time as a shop teacher at a Minnesota High School.

Most people begin their real estate investing with a small single family purchase. Some even start with a duplex or triplex. But today's guest on the BiggerPockets Podcast skipped the…

Even with no multifamily experience, Jamie decided he wanted to be a multifamily investor. In this episode, find out how he jumped in.
Episodes on Short-Term Rental Investing
Carousel
Short-term rentals have taken the world by storm. Over the past two decades, the bed and breakfast type business has fallen prey to the more scalable short-term rental model. Real…

You can build wealth with short-term rental investing quite easily. All you need is a great location, a solid property, a good strategy, some phenomenal cleaners…wait maybe it isn't all…

The short-term rental market seems to get bigger and bigger every day. This should come as no surprise, seeing that short-term rentals not only work for vacationers, traveling business people,…

We frequently talk about networking as a real estate investor: for example, talk to your mail carrier because they likely have seen opportunities in your neighborhood. But what if you…
Other BiggerPockets Podcasts
BiggerPockets produces multiple podcast shows about real estate investing and personal finance.