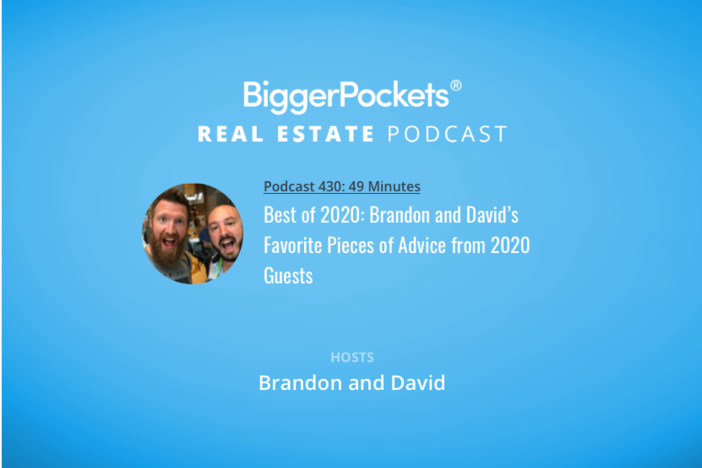 Another year of the BiggerPockets Real Estate Podcast is in the books! This time, we're joined by co hosts, David and Brandon, live from the Sea Shed in Maui!
We've had such a fantastic group of guests this year, so to help ease into 2021, David and Brandon picked their 7 favorite clips from the whole year. You'll hear from familiar faces like Tarl Yarber, Thach Nguyen, and other real estate rockstars.
This episode doesn't just touch on real estate, we also go into how many real estate professionals made personal growth a priority when accomplishing their goals, all while enjoying their life more.
If you're ready to expand your business, get more units under contract, or begin your first house hack, this advice will be crucial for your personal, business, and real estate success in the coming year. It has certainly helped out Brandon and David!
Thanks again for joining us this year, we look forward to interviewing even more amazing guests in 2021 (and beyond)!
Click here to listen on Apple Podcasts.
Listen to the Podcast Here
Read the Transcript Here
Brandon:
This is the BiggerPockets Podcast, show 430.
Intro:
You're listening to BiggerPockets Radio, simplifying real estate for investors, large and small. If you're here looking to learn about real estate investing without all the hype, you're in the right place. Stay tuned and be sure to join the millions of others who have benefited from biggerpockets.com, your home for real estate investing online.
Brandon:
What's going on everyone? Brendan Turner, host of the BiggerPockets Podcast, here with a special show, that's right. With David Greene, here in this t-shirt. What's up, David?
David:
What's going on, Brandon? It is awesome to be doing a show in the sea shed.
Brandon:
Sea shed.
David:
That's becoming a bit of a tongue twister.
Brandon:
Sea shed. Sea shed by the sea shore.
David:
Yeah. This is a cool way to close up 2020.
Brandon:
Yeah. Speaking of 2020, our show is actually about 2020, it's about the end of 2020. And so what David and I are going to be doing today is breaking down some of the best pieces of advice we've gotten all year from some guests. We'll be playing little clips and then talking about them. It should be a lot of fun. But before we get to that, let's get today's Quick Tip.
David:
Quick Tip.
Brandon:
Today's Quick Tip. It's end of the year, which means that a new year is beginning. If you're watching this in the future, ignore that. But regardless of when you're watching this, if you have not sat down and specked out what you want your year to look like, what's the outcome of the end of the year, what amazing things you want to get accomplished this year, don't just say, "Oh, I know. I should do it." Do it. Take the time to do it. Maybe today, maybe tomorrow. And if you can, go up for a weekend, take your spouse out, do it together with your spouse. It'll be, game changing, get you guys all lined up together, and you will never regret those moments. Anything you want to add on that?
David:
I have never regretted any time I did something intentionally. The best friends I picked, I intentionally chose them, the best businesses I started, I intentionally chose it. Everything that I didn't like about my life, I fell into because it was easy. So it's safe to reason that if you plan out your year and you intentionally pursue it, you're going to have a much better year.
Brandon:
That makes a lot of sense. Yeah, definitely makes a lot of sense. So let's get on with today's show. Again, today, we're talking about a recap of 2020, some of the best moments, some of the best clips. So we're going to just start here right at the beginning, it's a very good place to start. Palak Shah we had on the show back on, it was show 368 of the podcast. A former corporate executive, made good income, wasn't satisfied with the lack of freedom. If you remember that episode, we talked a little bit about risk-taking muscle in that show, but here's the clip we're going to play. Queue the tape.
Palak Shah:
One of the big things as a nine-to-fiver is you get so used to this cushy lifestyle where there's a paycheck coming in, you know you go to work at a certain time, you come back at a certain time, and then you get a certain amount of money every month and there's very little unpredictability, although you could get laid off any minute. But you just get used to this lifestyle and it's really hard to become a risk taker. Being that way for years and years, it conditions you to just be used to like these little vacations, like, "I get two weeks at this time and I get one week at this time."
It's really hard to do that, but what I learned is, taking risks, I always assumed actually that people are born with these abilities but that's a skill that can be developed. I probably read it somewhere, I don't know, but I call it flexing my risk-taking muscle. And in the beginning, I had to learn to be comfortable taking risks and assigning numbers to it so that I got more and more comfortable. In the last few years, I have understood that it's a skill set, you can develop it. So, just building a framework around it helped.
David:
That's really good. Did you have any advice for the listeners of some things that you did that helped you build that risk-taking muscle? Because I really do think that, and Brandon you might agree, probably the majority of people who want to get started in this and don't it's because of just that fear that encompasses the risk that's involved.
Palak Shah:
Yeah, that's a really good question. What I would do is I would make a spreadsheet and do the first column as, put all of the risks involved in a deal, and in the beginning… So we do BRRRR deals. That's what I work on.
Brandon:
BRRRR, okay, yeah.
Palak Shah:
In the beginning, for example, thinking about my very first BRRRR deal, there are so many risks that come to mind. And as a new investor, what one does is you just clump all of these together and put them in a big risk pot, and then it just seems like a massive daunting task but they can be broken down. So I would make a spreadsheet and build first column as all of the risks. For example, in a BRRRR deal, I would say maybe it's, what if I go over my construction numbers? Or what if the property doesn't appraise for what I want it to appraise for at the end? What if I don't get the rent that I want?
And so list all of them and then assign a dollar value to it that would be like the worst case scenario. So, for me, for example, in construction to mitigate that risk, we started putting 15% extra towards contingencies. So we say okay this is a risk, we can over construction. So let's start putting 15% and that mitigates that one risk. Moving onto the next one right, then you say, "Okay, what if it doesn't appraise for what I want it to appraise?" And having been in corporate and being a dabbler investor before, I know that a lot of people put 25% down and buy properties. So if I'm left with 5% in the deal, it's still better than putting 25% down and buying a property. If I don't get the rent that I want, okay, do I still want to invest in this property knowing that the worst case scenario rent is $100 less than what I'm expecting it to be?"
And assign dollar values to them and then decide if it's still worth pursing it, and then if the worst case scenario I always think, if the worst case scenario happens, am I willing to spend that money to learn what I'm going to learn from this deal?
Brandon:
Yeah. The idea of, it's really easy to accept the life that we're given. It's really easy to say, "Hey, this is where I've been. This is what I have." And majority of the world does that, they don't think, "How do I expand out that?" My question for you, David is, why do you think that is? And what's the first step in getting outside that?
David:
I think that risk inherently sounds negative, first off, we're conditioned to look at… When you say risk, what you're talking about is what you can lose. So it feels expensive. There's a price to pay to take risk. And I think what Palak here is pointing out is that certainty is sometimes more expensive than risk, that you being locked in that job at having comfort, making your 80K a year with your two weeks of paid vacation and no risk actually comes like, in some cases, a prison. If that makes sense.
Brandon:
It does.
David:
So it's expensive to go for certainty. Your ceiling comes down pretty low. It's not like you have limitless ability to move forward. You have to be at a certain location at a time. There's maybe things you want to do and that company isn't offering you that opportunity. So the first step I would say is understand that while risk is going to cost you something, certainty almost always costs more. If you look at the highest paying jobs, they're commission based. Why is that? Because there's risk with it. If you don't work, money's not just coming your way. It's easy to fall into that, I'm a house cat, someone's bringing me my tuna. But a lion loves the hunt. If you want to feel like a lion all the time, you have to accept that there's going to be some risks.
But I continually remind myself that certainty is actually more expensive than risk, so I don't just focus on the negative elements of risk.
Brandon:
This is one of the reasons I really like house hacking as well, because house hacking is a low risk way to get into your first deal. It's building up that risk muscle. It's a little scary, it is scary. It's not easy necessarily to go buy out your first property, buy that duplex, live in half of it, but you can do it. Partnership's another way, they're a fairly low risk way to do it. Even if you got 1% of somebody's deal, but you got to help out with every single aspect, it's a very low risk way to get that muscle going up. So people are struggling with that right now. Think about that, what is the smallest, lowest risk way? You can still take some risks.
David:
Oh, that's brilliant. Yeah. You got to get comfortable with the… It's like surfing, you don't need to go out there on a 40-foot wave when you're learning, but you do need to get into the water and get wet and feel what surfing feels like. So we start with smaller waves, but once you've got that down, now you naturally want to progress.
Brandon:
Yeah, that's totally true. All right. Moving on to the next clip of the day.
Justin Stamper:
In my opinion, the most important thing we can do right now, aside from be community, stick together, and quarantine so we can beat this, as an investor and a businessman, one of the most important things we can do is still continue to pay our vendors on time, and also pay our investors on time. Because I don't want to come out of this known as the guy that called his hard money lenders and asked for 12 months' forgiveness. I don't want that reputation. I want to be the guy that was, "Oh damn, when everything shut down, we did work for Justin and he still paid us."
I just put a new roof on a house last week. On the spot, $15,000 check. Obviously, I don't want to write that right now, but at the same time, I respect my roofers and I still want to do business with them.
Brandon:
Yeah. So I love that advice about reputation mattering so much more than even profit in this time. And now here we are almost a year into this COVID mess and we're still not all the way through it yet. We don't know what 2021 is going to hold. But I think that principle still applies, is that the integrity that you handle problems, it's like the fire, you're not like you're refined by the fire. The integrity at which you handle it is going to help you the next five, 10, 15, 20 years of your business. And I think that this year, I said this on the BiggerPockets Business Podcast that just came out, or I think it's either coming out now or just came out. This is a refining year for real estate investors and for business owners.
It refined who had the right systems, who had the right processes in place, who had the right integrity. And those people who didn't are going to struggle.
David:
One of my favorite quotes is that when the tide goes out, you find out who's been swimming naked. And the last 10 years or so, we've just seen the economy increases, increases, increases. You could make bad decisions and you're okay because the tide just keeps going up. And when something like this happens and it shakes, the tide will go down. And where I'm getting at with that is, your reputation doesn't seem like it matters as much when the environment is so conducive, the wind's always at your back.
Brandon:
When people are panicking and-
David:
What's that?
Brandon:
Are you saying like when people are all panicking and crazy, it doesn't matter about your-
David:
No, that's when it does matter. We've gotten away from that because it was so easy that your reputation didn't matter. And then once you see that little bump in the road now, it exposes if you're running a good business, if you're a man of your word or a woman of your word, if you have sound principles. So don't get lulled into that false sense of security, of a rising tide being all that matters, because at some point, it is going to change and your reputation and how you manage your business will become very important.
Brandon:
What do you think about the advice about not trying to catch a falling knife? How do we balance that, at the same time saying, we want to keep growing our portfolios, even in bad times, good times, we want to do whatever? How do you balance that? And how have you balanced that? How do you continue? Because we don't know if the knife has completely fallen yet, it may fall more, but if you always took the viewpoint of, well, there's risks, so I'm not going to do it-
David:
You'd never do anything.
Brandon:
… you'd never do anything. So how do you balance that?
David:
I think that analogy of you never want to catch a falling knife typically comes from a stock market perspective where prices are dropping, and the only way you make money is buying low and selling high. So when I think the knife could be falling, I don't look at it like, well, I want to wait so the knife goes all the way down, because we don't bet on appreciation to make money in real estate. You shift your strategy and you start buying properties where even if the value kept coming down, the profitability or the cashflow of the property would be good or over a 10, 15, 20 year window.
Like I caught a falling knife when I bought my first house in 2009. I bought it 195, it had originally sold at 565. It dropped down to about 180. I could have paid one 80 a couple months later, I didn't hit the bottom. Does it matter to me now that it's worth $475,000 again? But taking that big picture approach is a really big way. And then I just don't like investing in any asset where there's only one way that I win. It's why I don't get into forex trading and I don't make these quick and easy, quick, fast deals where I just got to buy low, sell high, that's my only option. What we like to do when we're investing is several layers of strategy that will be profitable for that deal.
Brandon:
Yeah. What's your thoughts on Bitcoin right now?
David:
I think that people are going to like Bitcoin because I think that we're in a sense ruining our currency by just printing more and more and more of it. That's one of the reasons that COVID, didn't shut down the economy like a lot of people expected. They just didn't factor in the fact that the government because keep pumping stimulus in. It probably should have went down and it didn't. I don't know about Bitcoin itself and I don't want to claim to be an expert in cryptocurrency, but I think things like cryptocurrency, maybe like baseball cards, other things that you might not have considered will gain value as we debase our own currency.
Brandon:
I don't think you're wrong. I'm thinking I might just take 10 or 15 grand, which to put it in perspective, I have a lot of money, I'm not like Bill Gates here, but it's not like life-changing money. So I'm not telling people… what I'm trying to say-
David:
It's not really a risk for you.
Brandon:
Yeah, I'm not saying go out and take your life savings and go buy Bitcoin. But I might take a small piece of my portfolio, a small piece of my disposable income and put that into like Bitcoin. And I might put into a few other things as well like gold, for example, potentially as a… It may go to zero.
David:
As a hedge?
Brandon:
What?
David:
As a hedge?
Brandon:
Maybe as a hedge, but also more of as a long gamble, if Bitcoin goes to 1,000X of what it's worth today, I'll be like, "Well, I'm sure I'm glad I did that," maybe a million dollars or whatever, but in reality, I don't think it's going to, and I may lose all of it. But if I do that across two, three, four different like somewhat crazy speculative investments and it's only a very small portion of my portfolio, I think that might be a fun way to… I'm a diversify within your basket kind of guy. I'm not like didn't put 10% of your money in stocks, 10 in real estate, 10 in cars, 10 and gold. I'm not that guy. I'm all real estate. But if I want to do 1% of my income in something else for the fact that it may shoot up, I may do it.
What I don't like is that Bitcoin is at the very highest it's ever been right now. And again, this show is coming out a few weeks after we're recording this, or week after I think, maybe it dropped again, but it's doing crazy good. That always makes me scared. It's the whole a taxi cab philosophy. Is when your taxi cab driver says to invest in something, that's when you should get out of it.
David:
Well, it's so confusing because on one hand you hear don't catch a falling knife, and on the other hand, you'll hear, don't buy something when it's at its peak.
Brandon:
I don't know. Yeah, so what do you do?
David:
We're not sure how it's going to fall-
Brandon:
You invest for sound principles on any guess, I think that's
David:
Or you'll drive yourself crazy trying to predict things you can't.
Brandon:
You will. You'll drive yourself completely nuts. All right. Let's move on to the next clip of this show. And this, by the way is Justin Stamper, who's a good buddy of ours here in the show. He's the guy from Zombie House Flipping, if you've seen that. He was on episode 375, that's where this clip comes from. All right. So for our next clip, we actually asked in episode 376, we went and talked to 12 real estate, just rock stars, people who were really good with finance and real estate, asked them their advice on what they should be doing during a recession or during the hard, difficult times.
And we're going to pull out one little clip here from our friend, David Osborne. David Osborne's a guy we've had on the show a couple of times, a New York Times Bestselling author of Wealth Can't Wait. He co-wrote Bidding To Buy that we came up with here at BiggerPockets recently. And here's what David Osborne said. I think is just so good.
David Osborne:
Write yourself a 10-year vision. Write at the top of the page, "It's 2030. My last 10 years have been amazing. My wife and I are getting on better than ever. My health and fitness is incredible. My kids are all doing amazing. My daughter's in college, whatever. Then get into business. You say 10 years ago today, we had this crisis, this coronavirus, the entire economy came to a halt. And I'm so proud of the way I led and the character I developed and the man I became through that time period. I made great decisions. I cut overhead quickly. I preserved cash. And then I took full advantage of the recovery. And because it was such a deep, sharp crash, that recovery was long and lasting, and there was a lot of money to be made. And that's what really made my fortune and helped me get to a whole new level."
And you remember that the worst thing about a boom is that every day you're in a boom, you're one day closer to a crash. Every day that you're in a crash, you're one day closer to a boom. And the great thing about right now is we're in a crash, so we're going to ride this thing out and then we're going to ride a big boom into the future. We'll be twice the people, twice the business people we are, twice the men we are or women, stronger fathers, stronger husbands or wives, whatever, and we're going to do all that. And the reason it's valuable to write about your future from today is it puts perspective on it.
In 10 years, you won't remember the pain and fear that we're living through today, you'll just remember the abundance that came from it, so good luck. Write your 10-year vision.
Brandon:
There. So David is basically saying here, of course, keep an eye on the long-term perspective. It's really easy to get caught up in like, "What am I doing right now? What's happening right now?" And honestly, as we go into 2021, we don't know what's going to happen. In 2020, nobody could predict what happened here. But when you have a longterm 10, even 15, 20-year outlook on your life, you realize like this will be a blip, but it's not going to be a life-changing, necessarily, blip for most of us, it'll be a life altering blip, but not life ending.
David:
Right. It's like what I said when I bought that house at 195 and it dropped to 180. I was kicking. Imagine the emotions I was feeling, "You're an idiot. Why are you doing this? You should have waited. You bought too soon. You don't know what you're doing." And that moment over that couple of months, that's how I felt. And I was thinking I should never buy real estate. Same thing happened on that very first deal where my tenant took advantage of me. We documented that in the BiggerPockets Podcast, I think 169, I went over that. I thought I sucked at being a landlord. I did suck at being a landlord. It felt like a terrible decision. Looking back, I have a house I bought at 195, it's now worth about 475 and it's cash flowing over $1,000 a month.
That was not a bad decision. Almost everything that I look at from an overall perspective, a longer term, it feels so much different than it did when I was in the moment. Think about the first house you bought, what the escrow process was like.
Brandon:
Yeah, it was crazy.
David:
Do you ever even think about it once now?
Brandon:
No. No, you just get over it.
David:
But in that moment, it's so big. So what I say, zoom out. What I love about Dave's advice is, he's talking about creating a vision that you can set your sights on and focused on that, and it creates the emotions like you just said, I became a much better person, I have a great relationship with my wife, I'm in really good health. So he has a setback about his health, he gets injured, he can't run, maybe he gains a little bit of weight. In the moment, it's easy to feel bad, but when you're constantly looking at the big picture, you're like, "Hey, I can bounce back from this. That was a three-month period out of a 10 year chunk of time. That meant nothing."
You stay in a healthier emotional state that keeps you excited and optimistic about moving forward.
Brandon:
Yeah. That's totally true. Yeah. I love that idea. You know me, we talk about the vivid vision all the time, this book by Cameron Harold, who I think it's coming on the show in a few weeks, which is pretty cool. But yeah, we talk a lot about this vivid vision about like, where do you want your life to be? If you're an artist and you have a paintbrush, what do you want to paint? Go and paint it. That's exactly what David Osborne is staying here. It's helped clarify for me a lot of things this year, having that vision. Because I had this clear vision, I think I was able to navigate 2020 better. And so my advice for everyone listening right now is if you don't have that, create that vision, do exactly what David just said.
David:
You sold me on it. I never was a proponent of that. I was much more tactical. Now after I'm seeing the changes in your own life that this is something I absolutely have to do. And while I'm in Hawaii, I'm working on that.
Brandon:
That's awesome, man. That's awesome. All right. Moving on to the next clip today. And that was David Osborne. The next one is Thach Nguyen. Thach was on episode number 395 of the BiggerPockets Podcast. You guys remember Thach. He was hilarious, amazing dude from the Seattle market, who I think it was up to $100,000 a month in passive income. The guy's just a beast when it comes to real estate. Awesome energy. Still door knocks, even though he's a multimillionaire, you probably remember that little thing. No excuse attitude. And he talks about a lot about paid off houses. Normally, we talked a lot about leverage, but he pays off a lot of houses and the peace of mind you get from that. So with that said, let's pull up the clip from Thach.
Thach Nguyen:
No. I accumulated the number of doors that I needed. So I know that if I have those many doors, I'll be getting 25 grand. Once I accumulated the number of doors, then I called it phase two, which is, I started to pay them off. Phase one, I accumulate it. Phase two, then I pay it off. Once I got that out of the way, now I am out of the rat race. Now I can go ahead and increase whatever I want, but I'm doing it because I want to do it, not because I have to do it.
David:
Yeah. That's cool. There's a lot of debate on whether or not you should pay off properties. Let's have that debate real quick here or this discussion. Let's say you could pay off a mortgage at 4% interest and then it's basically like you're making 4% of your money, which people say is stupid from a financial standpoint. But then the beauty of having them paid off is that nobody can come take it from you. Dave Ramsey all day long would fight for pay them off as quickly as possible or just buy them for cash.
Thach Nguyen:
That's right.
David:
How do you look at the debate and where do you find yourself in there?
Thach Nguyen:
Yes. For me is I've gone through this cycle now, this craziness going on right now, this is probably maybe the fourth or fifth time I've gone through some crazy stuff.
Brandon:
By craziness, you're talking about the coronavirus and the threat to the economy?
Thach Nguyen:
Yeah. The coronavirus. I've gone through the 2008 crash. But the bottom line is, you've got to have peace of mind at some point on this journey. If you always buy to keep buying and leverage to keep leveraging, borrow to keep borrowing, and you don't ever have it paid off, you don't really have the true peace of mind. I mean, why we doing all this for? Not to create more stress for ourself. I'm going to get older, I'm 50 years old, as you get older, you want peace of mind. So in my opinion, what I learned from my mentor is, figure out how much money do you need to live comfortably if everything was free and clear?
At that time, I say, "If I had 25,000, everything's free and clear, so I'll be very comfortable." He said, "Well, let's make that the first benchmark. Let's figure out how many doors you need to have, and let's get those paid off, out of the way, so that you can have peace of mind. Then after that, if you want, you can grow how much more passive income you want, but your house is free and clear. You know what I mean? You don't have to worry about selling right now, there's a lot of real estate. In Seattle right now, a lot are scared to shit right now or even just in anywhere through America, but in Seattle, we are the hot city right now. With the virus, can't nobody sell no real estate.
Well, imagine this go for two, three months. They're all going to go broke, let alone what they going to do? So I think at some point the peace of mind is worth a lot of money. So what I learned from my mentor is, figure out how much money I need to have to be out of the rat race, and then get that out of the way, get my house paid. I live in a big house in Mercer Island. This house is over $3 million, it's free and clear. And I get everything out of the way. After that, I go and invest and grow my net worth and grow my passive income because I want to, and it's fun now. It's not because I have to.
Brandon:
All right. So that advice from Thach, his idea of peace of mind, something like that just resonates in my soul so much. Just having that peace that no matter what happens, I'm okay. And I think this year was a good reminder of why leverage, leverage, leverage, leverage is not always the best advice. Sometimes it's okay to pass some properties, and I've been working at that this year as well and I hope to continue to because there's something nice about like, what are you building for? If you're looking for that peace of mind, why not relax a little bit and do that? What do you think on that?
David:
I think that's why you need to have your vivid vision. Because from my perspective, having paid off properties, it causes me anxiety. I've got about eight right now, and I'm constantly trying to figure out what do I need to do to get those refinanced, and where would I put the money? I don't have peace of mind because I've got this equity sitting out there that's not working for me. But my vision for what I want is much different then. That's just where he was basically saying, "Look, I want to take risk, but I don't feel comfortable doing that while I have a family and they need to be taken care of. So I'm going to earn the right to take risk by creating enough security on this side." I think that's brilliant.
He said you pay everything up, then you can do whatever you want. Then he goes and rolls the dice and he has a blast and he built an empire. He probably wouldn't have if he was constantly worrying, "Will my family not eat if I fail rolling the dice?" So having the vision will make it very clear whether you should leverage, whether you shouldn't, how to go about doing it, what type of property to buy. What we really see from people is saying, "Well, what are they doing so that I should go do it for myself?" But their vision is different than yours or different than mine than it doesn't make sense to follow what one of us is doing or what Thach is doing himself.
Brandon:
Yeah. That's 100%. Yeah. I think knowing yourself, knowing what you want and not just taking blind advice from some random person on the internet because they said to do this. You think about, what do you actually want? Now, there's a really good book out there called Lifeonaire, L-I-F-E-O-N-A-I-R-E. It's like millionaire with a life. I've mentioned it before in the show, but I really like it a lot because it's all about that. It's like designing a business and investment world, whether it's a business or you're a real estate investor, around your life rather than the other way around.
So you're not saying, "I'm going to do all this real estate stuff and then I'm going to fit my life in where it fits around that." You're saying, "What do I want my life to look like? And I'm going to build a business that supports that." And for many people, the idea of just having more freed off properties is such a powerful thing.
Again, if paid-off properties can give you that security you want, for some people, that's the opposite of security. They want to get that money working, they want to build faster, they want to grow faster. The more debt you use, the faster you grow, but it's the more risky you are, the more risk you have. So it's definitely a balance there. Again, that whole interview was fast for system like fire, he was just spitting so much good stuff on that show.
David:
If you ever run out of motivation, that's when to go listen to, it'll get you fired up again.
Brandon:
Yeah. 100%. All right. Moving on to the next clip, the next clip we've got, oh, our buddy, Tarl Yarber. Actually, I think was here earlier. Tarl actually was on show number 398 of the BiggerPockets Podcast. He's flipped hundreds of houses, but then he had not own any single rental properties. He had a big business, tons of stress, wasn't too happy. So he changed his business around when he realized some things don't work. He actually learned from Thach, the guy we just had on the show a second ago, he learned from him. And so he's going to share a little bit of that right now.
Tarl Yarber:
And even though we did more deals, more production in 2017 than we did in 2016, I made the same amount of money on both years, personally, me. My company made more money, but we had more overhead, more stress, more hours into it, and at the end of the day, I personally had the same reward doing less work in 2016, if that makes sense. So it was a wake-up call for me to go like, "Something's broken here, and I don't like this, and why do we keep doing this?" Because the thought of repeating another year of this sucks. Luckily, you guys just had Thach Nguyen who is on your guys' podcast recently. He's a really good friend of ours.
He had a little thing that he was doing and I went to it, to go hang out with him. It was that perfect crystal moment. I could have probably heard somebody say this 100 other times, read it in a book, and ignored it completely, and I probably did, but he said it at that moment. He said, "The key right now is most people build their business and then take their life and try to get their life to fit their business, whatever they have left over. Instead, why don't the people do it the other way around, where they figure out, what kind of life do they actually want to live, and then design their business to fit that lifestyle?"
I'm like, "What? You can do that? Why aren't we doing that?" It was that perfect… It was like, aha. My wife and I need to sit down for a second to figure out, what do we want our lives to look like? Because we never took the time to do that. If I didn't have those failures at the end of 2017 and I actually got what we really wanted on our business plan, I wouldn't have had time to even think about that stuff. We would have just been growing and going. I would have still hated it more. So that was the aha moment.
At that point, me and my wife sit down for three Saturdays in a row with white butcher paper out and we started mapping out what do we want our actual life to look like just next year. Let's just start with 2018, what do we want 2018 to look like? Because I've had a struggle with thinking long term for a really long time, because I was like, "I can't even think past six months or a month at times," and stuff. So we worked on 2018 and we said, "What do we want to do most? What would make us most happy?
Brandon:
The funny thing about this clip is that Tarl who's a friend of ours right after we recorded this episode with him like an hour later, I called him and I was like, "Tarl, you said on the interview we did with you and it's not on this clip necessarily, but you said your favorite thing in the entire world is diving, you love to dive. Why don't you come to Maui for the winter and come hang out and dive more often." And he goes, "That's a really good idea." And he took the advice he just gave and he built his life around it. And now Tarl is here, he's a block from me, just like Josh Dorkin is a couple blocks from me. And now you're right here with me.
David:
Also because of advice you gave where you said, "David, do you have some decision fatigue? Why don't you come to Hawaii and get away from it all, get some perspective."
Brandon:
Guys, you're out here. So it's interesting that Tarl came out here. And again, it's similar what we just talked about, this book, Lifeonaire, that I mentioned and building your life around it. Charles is a great example of that, he leads his life by his lifestyle at this point. What do he want his lifestyle to look like, and he builds his business around it. How are you doing that in your business, David?
David:
Well, I really didn't put a lot of thought into that until this trick. So getting away from it was a really big help for me. What I'm doing now is this is not something I would totally do normally, I'm looking at having the whole team make fisher boards. Riding out, these are the things that I like, being here in Hawaii, looking at condos. Maybe we'll do a show where I'm talking about what the experience has been like coming out here to buy property, has helped me to realize I want a couple of these, and then I want to get a property more like yours. So that's where I want to go.
What would I need to do so that my California businesses are still operating profitably and successfully if I'm out here more often? Now my mind's constantly looking at, what do I need? What do I have to change? What do I have to do differently? Who do I need to let fail a couple of times to let them grow? All this stuff that I was probably before this thinking more or less, I don't want to go through that, that sounds too painful. Well, now that pain doesn't seem so bad if it means that it gets to be in Hawaii more often. So, you're a man of influence, I'll tell you that.
Brandon:
A man of influence. I don't know what that means, but just stuff, it's good. How do you think this stuff applies to people who are just getting started? There's a tendency of people who are super successful, Tarl, Thach, you or I, we've got a lot of real estate, lot of cashflow coming in. How do you do this when you're just getting started?
David:
Well, I think a lot of people already have it, that's why they're listening to you and I on the podcast. They know that they want something different than where they are, but they don't know what that needs to look like. When I first joined GoBundance this came up a lot, David Osborn was constantly saying, "Well, what kind of life do you want? What are your goals?" Everything was about goal achieving. I'm like, "I don't know what goals I have. I just take the most of what I got and try to work with that." I didn't have a plan of where I wanted to go so I was very confused. It took me several years to get to even this point.
It's okay to take time worrying about that and thinking about it. It's a complicated process, you got to figure out what do you enjoy doing? What feels light to you? What's your superpower? What are the things that are currently draining you? It is a process to identify those types of things and label them out. So I think that the 90 Days Intentional Journal is a really great place to get started because you're going to write out your thoughts and what you want your life to look like. I think journaling and saying what you liked about your day is really helpful because you can start to analyze, "Well, this was awesome, this wasn't, I need more of that." And let it happen naturally. You have to be purposeful about it, but give it some time to play out.
And then once you identify, this is something I don't want, be really intentional about getting it out of your life, replacing it with something else. And I think it is a journey, it is not a one-stop, hey, I made a decision and it's all better. Let that go. That's hurting a lot of people, that's holding you back if you think, "Well, what's the one move I got to make to get that property under contractor to change my life?" It's a series of steps and it's a muscle that you have to build. But I would say for the new people, when I was new, I didn't even know what I wanted my life to look like. I just knew I didn't want to have to go back to being a cop.
I didn't know what I wanted to do, instead, it was a scarcity mindset. And that's changed from spending more time with you.
Brandon:
Oh, let's go, man. I will add this one thing, it's easy when people listen to stuff like what Tarl just said, like, "Well, I want to dive every day and hang out in Hawaii." And the phrase that we've been using a lot lately, it's the, you haven't have you earned the right to be able to dive in everyday? Have you earned the right to be able to go and move to Hawaii? And for many people you have already, and if you have, you need to start thinking that way. If you have not, it doesn't mean you can't start thinking that way like, what do you want, you just may not have that yet. Right now, Tarl was able to go diving in Hawaii for the winter, sound fun, so Tarl came out here. I was awesome, and we hang out like almost every day now.
But he had built up a business over the last five or 10 years to be able to be able to do that. So you might be listening to this in a different spot, still have the vision, start thinking, what do you want? What looks great? And then build your business, start working toward that point. I don't want people to miss the point here, just thinking, "Oh, once you get rich, you can do whatever you want." No, you should plant start working toward that right now, start with the end in mind. All right. With that said, let's move on to the next clip. Oh, and this clip is with actually my performance coach, Mr. Jason Drees from episode 403 of the podcast, a very popular episode of our show.
One of our first weekend mindset shows, and he really pinpoints the number one mistake that people make when they're set out to accomplish something. It's like a really simple shift that can totally change everything. Let's listen now.
Jason Drees:
There's two decision-making models, and these actually stem back from the Tony Robbins days. But the first decision making model is, "Okay, I'm going to get a property, decide, plan, commit. I'm going to decide on the target, I'm going to create a plan, and then I'm going to commit to the target." And they're getting stuck in the planning section because they're aiming for perfection. So they're going to decide, plan, commit. So they're never actually committing to the end target, they're trying to plan their way to a commitment. The other alternative is, decide, "Yeah, I'm going to get one prop, my first door, first duplex," commit. It's going to happen, absolutely. Do I know how? No, I don't know. So decide, commit, figure out how. That's where people need to go.
Brandon:
I love this point, I love this point that Jason makes today, is that so many people are what I say, they're interested in real estate, they're interested in success, but they haven't actually fully committed to it because they don't know all the pieces yet. They haven't put it all together yet, so they haven't fully committed to it, and therefore, they never take the steps needed to get to the point to committing to it. But I think he said, the first step is deciding, are you going to do this or not? Yes or no. Are you pursuing financial independence to real estate investing? Yes, I'm doing it. Are you committed to it? Yes, I'm committed to it. I'm doing it, no matter what, come hell or high water, I'm doing it. Now let's figure out how to do it there.
And it's just a different way of thinking because so many people just think, "Well, how do I do it first? I got to know the whole step." Have you found that true in your own life? Do you think you made that adjustment? Have you always been this way where you're just like, decide? Have you been the opposite or which model have you followed?
David:
I got very lucky when I was young that I got into basketball at a very high level, and I was athletic more than the average person, but not compared to the really good basketball players I was competing with. And I realized that my athleticism improved, my game improved from hard work. My brain made this connection between if I stick with something and put a lot of effort, magically, the results I get will come up. And then I just started applying that to everything else in life. And I think everyone needs that moment in their own life, what it is, "Hey, I didn't get good grades, and then I learned how to study and I did get good grades or whatever."
Because once you catch that momentum and that feeling, it starts to become very easy to say, "Hey, I'm going to do this and it's okay if I suck at it, I won't suck forever." I think if you've never had that experience where you think in your own head, either I'm good at it or I'm not, "Oh, I'm not good at real estate investing. I don't know anything, I shouldn't do it." But life doesn't work that way, it doesn't work that way for anything. It doesn't work that way for working out, learning a new skill, like snowboarding. There's no one that goes out there and crushes at snowboarding or surfing on their first time.
There may be people that pick it up faster than others, but a lot of that is like, "Well, what other things in your life did you do and learn and the synapses in your brain were connected?" So I think that's a big problem is, if you haven't had something to build on in your past that this can feel daunting and you think you're doing it wrong. And another point that they made that I really liked is the idea of perfection getting in the way, that's huge. And as a performance coach, I know Jason seizes this all the time. I struggle with this, I'm looking at houses right now, a new place for me to go buy.
I'm going to house hack in the Bay area, they're very expensive houses, it's run a million and a half. So it's a pretty big decision and it's easy to get sucked into, "Well, what's the perfect house. What's the very best one." And if I finally find the very best house, then the next question is, "Well, what if I wait, will a better one come out?" And you never get out of that. What I now do instead of thinking what's perfect, is I say, "Well, is it better than where I am right now?" Then move forward, "If I find a better house after this one, I'll buy it next year." That's such a healthier way to think, instead of, "Am I in perfect shape to go work out?"
No. But would it be better if I worked out than if I didn't work out? And if we all adjust our expectations with, is this better than where I am? Can I move the ball forward, as opposed to, can I get a touchdown on one play, progress starts to become a lot easier.
Brandon:
I love that analogy of moving balls down the field. If you're playing football, every play doesn't have to be a hail Mary, just continually drive that forward. And I think that's a big piece of commitment. I was 2019, 2018, 2017 was pretty satisfied with my real estate, I had a big portfolio, almost 100 units, and I'm like, "Well, what do I do next? I'm not really sure." And I was doing the podcast, I wrote a book, and it was good, but I was trying to make a plan on what I was going to do next before I was going into the commitment phase or even decision phase. I literally was one day I was just like, "You know what, I'm doing mobile home parks." I think I was with you that day, I think we were at a GoBundance Day and I was like, "I'm doing mobile home parks. This is what I'm doing."
And then I committed to it, I'm doing this no matter what, I was in. And commitment is oftentimes, it's not that we say we can be intentionally committed to something, but then commitment is reinforced by the actions that we then take repeatedly. So if you're committed to losing weight and then the next day you're going to McDonald's for every meal, and the day after that you're getting Pizza Hut for every meal. And you just continually eating fast food and junk food, you're not really committed, you're just desiring it. There's a huge difference between desire and commitment. So I decided I'm doing it, I'm committed to it, I started taking little action, moving the ball down the field. And as a result, I figured out the plan along the way, it's like jumping out of an airplane and building your parachute on the way down.
I figured out the plan, I made a lot of mistakes the first few months, and even in the first year, I did things that I wouldn't do again, hire people I wouldn't hire again. But each of those things taught me a little lesson and we learned what better ways to do things and what not. And because of that now, is why I think we have grown so much. So it's just a different model, it's the decide, commit, then plan model.
David:
Every good football player knows that the big plays come out of what you've learned on the smaller place. You run the ball, you run the ball, you run the ball, you start to notice that they're bringing their safety net to try to stop that run, that opens you up for the big play. Real estate investing is the same way, I'm analyzing deals, I'm making progress, I'm getting base hits, and then boom, because I'm in the game, an awesome deal crosses my path that I never would have see if I wasn't moving the ball forward. So just adjust your expectations. It's okay if you're not on your very first deal crushing, and it doesn't have to be perfect. In fact, if you're trying to be perfect, you're probably going to get passed up by everybody who's not.
Brandon:
Yeah, that's so true. All right. For our last clip of the today, we're going to bring in Amanda Young. Amanda Young was on show number 422, just a little bit ago. Amazing show, a single mom who lost her job, had no other options than to make real estate work. So let's hear from Amanda right now.
Amanda Young:
All my bills are paid through my rental income, my mortgage, groceries, gas. I do not live an extravagant lifestyle, my house is just a normal house, I drive an old beat up Toyota as a work truck. So if you're not extravagant then you can get to a point where you don't have to have a W2 income. And what happened for me was the W2 income was really holding me back in a lot of ways, I did not have time to devote to real estate. Real estate was my passion because between the time I bought my second rental and then started my flipping business, I did have to go out and get another W2 job, and that really hindered my business in a lot of ways, but I had to do what I had to do.
And then 2018 corporate America quit me. My boss at the time sat me down and she says, and Kristen, I love you. Thank you so much. But she sat me down and she says, "Amanda, this is not your passion, your passion is real estate. And you need to follow your passion. I have to let you go," because I was in a sales position, I didn't meet my numbers. So she let me go. But she says, "This is where you need to be. This is where you excel at, this is what you're passionate about. And one day I'm going to see you on TV." And actually, she saw me on TV. I was on the Discovery Channel for doing what I do.
Brandon:
That's so cool. I love that story because it fills into the whole episode. She was buying houses with sinkholes and problems. Remember that?
David:
Yeah. Sink-holed it.
Brandon:
Yeah. super cool niche. And she ended up being on Discovery Channel for that thing. This is such a powerful statement from her, this idea of, if you keep your expenses low, generally low when you're trying to build financial freedom, it's so much easier to get out of the rat race. In fact, I do this webinar, you do them a lot too, but we do these webinars every week for BiggerPockets, and a lot of times I have a poll that I pop up, I say, "How much money do you need to pay your bills, level one financial freedom?" I like to say this three levels. Level one is, I can pay my bills. Level two is, I can buy a jet. Level three is I can buy the New York Jets. So there's the three levels.
Level one, what do I need to be able to do that? Pay my bills. Some people say 3,000 a month, some people say 2,000 a month. But I would say a good chunk of them say 15,000 a month, 20,000 a month, 25,000 a month, just to pay your bills. And I'm like, "Man, the job is so much harder for those people than it is for the person that needs three grand a month." When I was 27, I hit three grand a month, I was able to quit my job. And because of that, I was able to go invest all my time into two things, BiggerPockets and my real estate portfolio.
And because I had that, I kept my expenses fairly low, and then I just creeped up from there, rather than make it expensive high, expenses is high with your job, and then always struggling and never be able to leave your job. There's a lot of advice I give people, but if you're listening to this right now, keep your expenses low if you're not yet at that financial freedom number, and then just scale with your cashflow rather than scale with your job income. And that's so hard to do.
David:
I'm so glad you shared that story though, because I would think looking back, if we said, "How did Brandon Turner become the legend?" That was a big component of it, is you made yourself a pivotable, you weren't weighed down, you could make adjustments, you could take risks. You learn faster than other people did. Amanda was one of my favorite interviews of the year, and her story reminds me of a scene in Batman. I'm a huge Batman fan, I love the Christopher Nolan movies. And there's a scene where they're all stuck in a prison, and let's say, that prison would not being financially free.
And the worst part of this prison is you can actually see the way out, you just climb up a wall and you can get out of there. So it torments you because you're looking at this carrot that you want so bad, but you're reminded every day, I can't climb that wall. And I think that's how a lot of our listeners feel. And the problem with getting out of that prison is you had to climb a wall and make a jump from one rock to another, and they would all tie a rope around their waist so if they miss the jump, the rope would catch them. That way they wouldn't die, it would hurt, but they wouldn't die. And nobody could make the jump. And Batman who's stuck in there, talk to an old man who told them about the one person that made the jump, and the secret was, they didn't use the rope.
The rope was actually weighing them down, what you thought was keeping you safe was preventing you from achieving your goal. So in order to escape, what he does is he takes that leap of faith, he gets rid of the rope. He makes the jump, he catches the rock and he climbs out of the prison. That W2 job, that security, for many people is their rope. They're looking up and they want to get out, they've tried a handful of times, but that security was too heavy and it kept them from making the jump. So what Amanda realized was, "Hey, corporate America fired me or corporate America left me," whatever that was, there's a funny way of saying it. So she didn't have that rope.
So she stumbled into this, and made it because she had to, she didn't have that thing weighing her down. You stumbled into being financially free because you had very low expenses. I don't think your plan was, I'm going to be a multimillionaire, but you just knew, "Hey, it would be smarter to not have expenses." So this is really about sharing how those people made it out of that prison so that more people can follow.
Brandon:
Yeah. And one piece, just tangible advice in there, I wrote this in the book, How to Invest in Real Estate, but I'll repeat it here. Our income is oftentimes like this creature, in fact, there's the movie, Fantastic Beasts and Where to Find Them, it's the Harry Potter spinoff. In there, there is this creature called like The Alchemy, and this thing will grow to whatever size container you put it in. So if they put it in a tea cup, it's a size of a tea cup, if you put it in a bus, it grows to the size of a bus. Our finances are just like that, they grow to whatever size container you put it into. So if you just make 10 grand a month at your job right now, if you're listening to this, you make 10 grand a month at your job, my guess is you're spending between nine and $10,000 every month.
You might have a few hundred dollars a month to set aside for savings, you have something, but everyone spends to what they make for the most part, it's very rare to find people who don't do that. But those who do, I find most of the times, follow this exact principle I'm going to say here, and that is, to find a way to shrink your container. And you won't even notice it. So if all of a sudden your container was only eight grand a month, you would spend eight grand a month, you wouldn't be cutting back, you wouldn't notice anything missing, you'd just be spending eight grand a month instead of 10. And then if you made that container seven, I wouldn't notice that either, maybe if you go down to like three, you would notice, or a four or five.
And maybe it has to happen slowly over time, but find ways to reduce your container. How do you do that? By having money spent from your direct deposit, if you have a job to direct deposit, have it sent to another account that you don't have easy access to, without online banking or whatever. Have it set to another system, pull more of it out into a Roth IRA, things like that, ways to divert your money so it doesn't land you're in your account. Who's the best at understanding this and forcing us to all do this? The US government. They don't tell you at the end of the year, pay us all the tax money.
David:
They take it as soon as it comes.
Brandon:
They take it when it comes in. And I've known numerous entrepreneurs, numerous entrepreneurs, in fact, most of them, who they make a bunch of money throughout the year, whether it's been a real estate agent, whether it's being whatever they do, and at end of the year, they spend all their money, they have no money for taxes because it's really, really, really hard to set that money aside every month. I've done it, there've been many times I've done it, I've spent the money I've set aside for taxes. And it's like, I had a scramble at the end of the year. So the government knows to take it away. So it's taking the same power, the IRS power, and putting it in your own hands.
And so that's just a good way to be able to limit that. So you limit how much you're spending now, so you can spend as much as you want later. It's just sacrifice, it's what investing is all about.
David:
Fantastic advice.
Brandon:
Thank you. I'm a fantastic beast, and now you know where to find me. All right. Well, we've got to begin wrapping this show up, this has been fun to recap some of our favorite clips and episodes from the year. Of course, there are dozens and dozens of more episodes we launched, over 65, maybe, or 70 shows. I think it was 65 shows this year because we did one each week and then we doubled up towards the end of the year. So a lot of episodes to go back to listen to. So if you are looking for something to do over this holiday break or in the new year, you want to fire yourself up, go listen to the episodes we just talked about or go find one maybe that you have not listened to.
David, what comes to mind for you if you had to pick one of your favorite episodes of the year? I know I'm putting you on the spot here and we're not looking at the whole list, but anything coming to mind as like, "Oh yeah, that was a really cool episode."
David:
Amanda Young's, the one we just heard was really, really good. Ben Hardy and Dan Sullivan.
Brandon:
Yeah. both of those were awesome.
David:
Those were both really, really good.
Brandon:
All right. I'm going to pull this up actually right now because I want to know some of these, I'm just scrolling through here some of the ones… There were so many good ones, Greg Gaudet, he was my partner here in Maui. He is awesome, and he had a great story. I love that episode. I mean, every one of these is awesome, AJ Osborne was amazing, Rick Jarman was awesome. Rick Jarman episode number… showing numbers, they came in on July 29th. He actually passed away just recently, and he was real estate old school on Instagram. Amazing guy, amazing dude, but sounds like he got the coronavirus and like hundreds of thousands of other Americans, didn't make it, which is terribly sad. So go back and listen to that episode, maybe that would be a great one to go check out and listen to.
And again, everything we talked about today, there's so many on here, I feel like I can list every one of these, but we'll keep them coming in 2021 as well. So thank you guys for being a part of BiggerPockets Podcast. If you haven't yet left us a rating and review, we'd appreciate that. And I'm going to let David take us out of here.
David:
All right. Thank you guys. Hope everybody had a great 2020, let's go crush it in 2021. BiggerPockets for the win. This is David Greene for Brandon, the fantastic beast Turner, signing off.
Outro:
You're listening to BiggerPockets Radio, simplifying real estate for investors, large and small. If you're here looking to learn about real estate investing without all the hype, you're in the right place, be sure to join the millions of others who have benefited from biggerpockets.com, your home for real estate investing online.
Watch the Episode Here
Help Us Out!
Help us reach new listeners on iTunes by leaving us a rating and review! It takes just 30 seconds and instructions can be found here. Thanks! We really appreciate it!
This Show Sponsored By
Enjoy all the benefits of Real Estate Investing without all the headache! Rent to Retirement is your partner in achieving financial freedom & long term wealth! Retire on your terms & timeline by investing in passive income properties!
Learn more by visiting renttoretirement.com or call 800-311-6781.
Mid-roll Sponsors
Serious entrepreneurs and finance teams run on NetSuite, by Oracle -the world's number one cloud business system. NetSuite offers a full picture of all your finances all in one place, in real-time, right from your phone or your desktop. No more guessing. No more worry that what you don't know could kill your company. That's why NetSuite customers grow three times faster than the S&P 500 and you can too.
Schedule your free demo right now and receive their free guide –"Seven Key Strategies to Grow Your Profits" at netsuite.com/biggerpockets
Post-roll Sponsors
NordVPN is the best VPN if you're looking for a peace of mind when you use public Wi-Fi, access personal and work accounts on the road, or want to keep your browsing history to yourself. NordVPN now serves more than 14 million people worldwide.
Special Christmas deal! Every purchase of a 2-year plan will get you 4 additional months free. Go to nordvpn.com/biggerpockets and use our coupon BIGGERPOCKETS at checkout.
Want more articles like this?
Create an account today to get BiggerPocket's best blog articles delivered to your inbox
Sign up for free
In This Episode We Cover:
Links from the Show
Books Mentioned in this Show:
Connect with Brandon and David: