Flipping Houses: How to Get Started and Everything You Should Know
Flipping houses is on the rise. 114,706 single-family houses and condos were flipped in the first quarter of 2022. That number accounts for 9.6% of all U.S. housing transactions!
Flipping houses can be one of the most lucrative small businesses to start—and anyone can do it. All you need is a willingness to learn! However, if you have real estate investment experience or construction knowledge, it'll come in handy.
You can flip houses part-time for some additional revenue, or you can become a full-time flipper.
In this guide, we'll show you how by covering all the house flipping basics to get you started, including:
Feel free to jump down to any section you'd like!
Let's get started…
Page reviewed by J Scott – real estate investing expert, regular editorial contributor, and author of The Book on Flipping Houses and The Book on Estimating Rehab Costs.
What is House Flipping?
House flipping is a form of real estate investing where you buy a property, improve it, and then quickly sell it for a profit.
The strategy behind it is to buy a home that's distressed, undergoing foreclosure, or undervalued for other reasons. After purchasing the home, you make the repairs and renovations that'll boost its value, and then sell it immediately thereafter. House flipping is also known as a "fix and flip."
Why Should You Flip Houses?
There are tons of great reasons to become a house flipper. Here are some of our favorites:
Flipping houses can be very profitable, and you don't have to be a full-time flipper to enjoy full-time profits. If you flip two houses a year and make $30,000 in profits from each, you'll enjoy $60,000 in additional revenue. If you flip a house every three months, you could easily break six figures—especially when using the tips and tricks found in this article.
You'll Enjoy the Flexibility
Flipping houses provides you with many freedoms you can't get with other jobs. You can be your own boss, or co-run a house flipping business with a partner. You can choose to work on your schedule and pace, and take vacations whenever you'd like. House flippers can also work from anywhere, and even remotely, under certain circumstances.
You Don't Need Special Licenses, Certifications, or a Degree
Anyone can break into real estate investing. You don't need to go to school or get a license to buy and refurbish a property.
However, you will benefit from having real estate investment or construction experience, or at least connections to people with these skills. We recommend working with an investor-friendly real estate agent, especially when you're just starting out. They can help you determine if a property is worth buying, its potential, and what repairs and renovations they'd recommend. Also, they'll be incredibly helpful during the buying/selling process.
You'll Learn a Lot About Real Estate Investing
You'll get a ton of investment property experience when flipping homes, including an intimate knowledge of the real estate market, construction, and design. This experience will be transferable to other forms of investing, including rental property investing, real estate notes, multifamily, and more.
But that's not all!
You'll also learn the basics of running your own business and everything associated with it.
Your Startup Costs are Minimal
House flipping is much cheaper than many other small business ventures. It doesn't require you to have any equipment, inventory, or employees. You need capital for a down payment and money for repairs and renovations, but there are a number of ways to get access to that capital, even if you don't have lots of cash in savings.
Common Pitfalls of Flipping Houses
Don't let your flip become a flop. Here are some of the most common mistakes novices and pro flippers make:
Never jump a deal without first securing financing. Making $40,000 in repairs and renovations is much harder if you only have $15,000 to spend. You have plenty of loan options available—many of which we will cover later in this post. Just don't forget to factor interest into your bottom line.
House flipping is time-sensitive. The longer you own the home, the more it will cost you. Repairs and renovations often bite into your nights and weekends. Marketing your home and finding buyers also takes a lot of time. If you're unable to devote the hours required to maximize your profits or outsource the work to professionals, they'll quickly begin to dwindle.
Time should be a driving factor for house flippers, but it's not the only one. Rushing the process can lead to costly mistakes. Take the time necessary to hire the right people and make the most of your budget. Sometimes taking an extra month can net you tens of thousands in gross profits.
Rehabbing a home requires more than a few hammered nails and a fresh coat of paint. Distressed properties need a lot of work, especially if there are structural issues. Hire an inspector to thoroughly examine the property and list everything that needs to be done. Chances are you won't be able to fix everything by yourself. If you can't, hire experts who can!
These mistakes should be avoided at all costs. Take it from Tarl, no matter how well you know your stuff, there are always errors to be made if you put your ego in the driver's seat. Watch now:
How to Get Started House Flipping
Much of flipping properties is learning by doing. Everyone enters the house flipping game with different backgrounds and skills. While everyone's experience is different, here are a few basics to be mindful when you start flipping houses:
Know Your Market
Learn as much about the real estate market in your neighborhood (or the neighborhood you're looking to buy in) as possible. Discover the fair market value of homes in the area, and how long they usually stay on the market. Identify distressed properties that you buy for cheap, and turn a huge profit in less than a year.
Boost your chances of finding the right property by working with an investor-friendly real estate agent. These agents know how to accurately price and market your home, get it "house ready," negotiate on your behalf, and are well-versed in the industry's always-changing rules and regulations. Their commission also covers marketing and other costs associated with making a real estate transaction.
If you go the FSBO route, you'll have to do all this work yourself, and will never know if you could've gotten more with an investor-friendly agent. If your best offer is $380,000, but an agent could get $400,000, that's a 9.5% difference!
That doesn't even include the many ancillary benefits that come with working with an investor-friendly real estate agent. Your agent can also help you with:
Providing insight into local markets and helping you define a market demographic or geographic region to look for deals.
Accessing properties on the MLS
Offer current and history data on property sales
Negotiating with the seller's agent
Submitting offers
Navigating the due diligence and closing process for MLS-listed properties
If you go the FSBO route, you'll have to do all this work yourself, and you won't have access to the MLS unless you're a licensed real estate agent.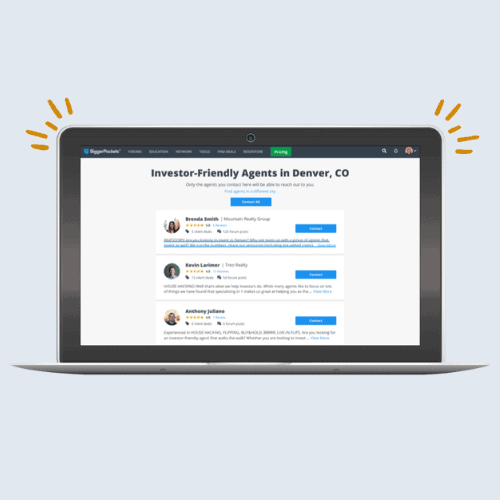 Find an Agent in Minutes
Match with an investor-friendly real estate agent who can help you find, analyze, and close your next deal.
Streamline your search. Tap into a trusted network. Leverage market and strategy expertise.
Know Your Skills and Build Your Power Team
As we mentioned earlier, if you have construction or real estate experience, that's great! Any skills or knowledge you bring to the table can help you save time and money. However, house flippers rarely work alone.
Outsource everything you don't excel at to your power team members: the core group of people you need to effectively close, manage, and flip your property. Flipping a house often requires a team of real estate agents, contractors, electricians, lenders, appraisers, and savvy marketers. By building a team of professionals, your house flipping process can go faster, smoother, and generate more money.
The Home Buying Process and Deal Analysis
Finding and closing on the right property can be challenging, especially when competing against other potential buyers.
When looking at distressed, foreclosed, or thoroughly undervalued properties, you have to think about both their current and potential value. Also, be mindful of all the costs associated with temporarily holding the property and the repairs required to achieve its potential value. With these numbers in mind, determine what your ceiling is before making an offer, and don't go beyond it.
That's a lot to consider, but don't worry! In this next section, we're listing all the costs you need to prepare for, and provide an example of what they look like in action.
How Much Does Flipping Houses Cost? Gross and Net Profit
Real estate investors often simplify their investment strategies by living by the mantra "buy low and sell high." When it comes to flipping houses, there's a lot more to it.
In this section, we'll cover the 70% rule and all the costs associated with flipping a house.
Angela is considering buying a triplex and renting out the other two units for $1,200 each. She's budgeting $100 a month in operating expenses and $150 in capital expenditures. She also assumes each unit may be vacant for one month a year.
The 70% Rule
One of the easiest ways to assess whether you should buy a home is to use the 70% rule. Your home's purchase price should equal 70% or less of the property's after-repair value (ARV) minus repairs and renovations. Simply put:
ARV x 70% – Repairs and Renovations = Maximum purchase price
By following the 70% rule, you'll minimize your chances of taking on added financial risks by overspending on a property.
Let's say Elena finds a fixer-upper on sale for $235,000. She knows that comparable homes in the neighborhood are worth $400,000, and her power team estimates the cost of repairs and renovations will be $40,000.
$400,000 x 70% – $40,000 = $240,000
If Elena purchases this at $235,000, she will be under the 70% rule by $5,000. By that logic, the gross profit for flipping this house is $125,000 ($400,000 – $235,000 – $40,000).
The key term here is "gross profit." Most of us would love to make a $125,000 profit on every house we flip, but repairs and renovations aren't the only costs. You also have to consider:
Purchase costs
Holding costs
Selling costs
We'll continue to use Elena's scenario when determining what's included in each:
Purchase Costs
Purchase costs are fixed expenses that contribute to the purchase of a property. In addition to Elena's down payment, her purchase costs include:
Down payment: How much she's paying upfront to purchase the property.
Hard money loan: Elena isn't buying the property 100% with cash. She's taking out a loan to cover the rest. For house flipping, hard money loans are usually your best avenue.
Inspection costs: Elena is hiring a home inspector to assess the rehab work that needs to be done. Inspectors usually cost between $300 and $500.
Closing costs: Each purchase has a fixed set of closing costs for both the buyer and the seller. Closing costs include title search, attorney fees, recording fees, document review fees, and much more. Some states have transfer taxes, which can add an additional 1-2% to the total price. In general, Elena can expect to pay between 2% and 6% of the total price in closing costs.
Lender fees: Lenders charge up-front fees to fund the loan, including an appraisal, the loan origination fee, an underwriting fee, a document preparation fee, a processing fee, and more. On average, homebuyers pay $1,387 in lender fees when purchasing a property. For this purchase, Elena is paying $1,400.
| Purchase Costs | |
| --- | --- |
| Expense | Amount |
| Down payment | $47,000($235,000 x .20) |
| Hard money loan | $188,000($235,000 – $47,000) |
| Inspection costs | $400 |
| Closing costs (let's assume they are 3%) | $7,050($235,000 x .03) |
| Lenders fees | $1,400 |
| Total purchase costs: | $243,850 |
Know your comps and know your area. The more you understand why people are paying the price they're paying for local comps, the better you can design a house to fit the price point and secure an above-market offer! Learn more from James:
Holding Costs
The fixer-upper isn't Elena's primary residence—and your fixer-upper probably isn't, either. Regardless, Elena is responsible for paying the holding costs. These include:
Renovation Costs: Elena is making $40,000 in renovations. She's also taking out a loan to cover these costs. Let's assume her loan is for 8%.
Hard money loan interest: Elena will make interest payments on her loan until she sells the property and uses her earnings to pay off her loan. Let's assume her loan is for 10%.
Homeowner's insurance: You're almost always required to purchase homeowner's insurance to get a loan. Make sure you get coverage for everything you need. Let's assume Elena's homeowner's insurance is $1,200/yr.
Property taxes: Property taxes vary depending on where you live. Research you'll have to pay and plan accordingly. Elena's property taxes for a year are 1% of her purchase price, or $2,350.
Utilities: While owning the unit, you're responsible for paying for water/sewer/garbage and electricity. Contact your local utility companies and get cost estimates. Let's assume Elena's utilities come to $200/mo.
Homeowners association fees (HOAs): If the neighborhood or condominium has an HOA, there will be HOA fees. Read the HOA bylaws carefully. Some neighborhoods have strict property requirements, including paint colors, lawn care regulations, and noise restrictions. Let's assume Elena's unit has an HOA. Let's assume her fees are $150/mo.
Keeping all this in mind, let's assume Elena holds her property for four months, or ? of the year:
| Holding Costs | |
| --- | --- |
| Expense | Amount |
| Renovation costs | $40,000 |
| Renovation interest rate | $1,067(40,000 x .08) / 3 |
| Hard money loan interest | $6,267(188,000 x .10) / 3 |
| Homeowner's insurance | $400($1,200 / 3) |
| Property taxes | $783(2,350 / 3) |
| Utilities | $800($100 x 4) |
| HOAs | $600($150 x 4) |
| Total holding costs: | $49,917 |
Selling Costs
Commissions: Real estate commission is usually around 6% of the property's sale price. That may sound like a lot, but given everything they do, it's well worth it!
Closing costs: Closing costs include title insurance, attorney fees, recording fees, transfer taxes, and more. Like buyers, sellers can expect to pay between 2% and 6% of the total price in closing costs. We'll assume Elena is paying 3% again.
| Selling Costs | |
| --- | --- |
| Expense | Amount |
| Commissions | $24,000($400,000 x .06) |
| Closing costs | $12,000($400,000 x .03) |
| Total selling costs: | $36,000 |
Determining Net Profit
Identifying all your expenses is a lot to take in. However, it's necessary to do the math to determine how much you'll walk away with at the end of a sale.
Let's add all the costs together and subject from the ARV to determine Elena's net profit for this flip:
| Net Profit | |
| --- | --- |
| Item | Amount |
| ARV | $400,000 |
| Total purchase costs | $243,850 |
| Total holding costs | $49,917 |
| Total selling costs | $36,000 |
| Total net profit: | $70,233 |
After adding everything together, Elena's net profit is $70,233. If Elena flipped and fixed just two homes with these margins, she'll make six figures before taxes for the whole year!
Start analyzing your flip today
A good investment begins with a solid plan built upon solid math. Quickly and efficiently analyze a potential real estate investment using BiggerPockets' investment calculators. We're here to help you maximize your profit while lowering your risk—no matter your strategy.
Loans for Flipping Houses
When you flip a home, getting a traditional mortgage isn't a great option for most investors. While you have some traditional loan options, such as renovation and construction loans, you're usually better off with a short-term loan. Traditional mortgages are bound by the guidelines of Fannie Mae and Freddie Mac, which are government-sponsored enterprises that purchase real estate notes from lenders. If traditional lenders want to sell a note, they have to abide by Fannie and Freddie's rules, and many distressed properties (the best ones to fix and flip) fail to meet these requirements. That said, your main options include:
A hard money loan is a short-term loan you can get from private lenders or individuals, instead of conventional lenders, such as banks and credit unions.
Hard money loans accept physical assets as collateral, instead of focusing on your financial history. This collateral is usually the property you're buying, other real estate properties you own, or something else that's tangible and of equivalent value. Keep in mind that, because a tangible asset(s) is involved, your hard money lender can take ownership of them if you default on your loan.
A key benefit of hard money loans is that they are secured loans that require you to jump through fewer hoops. Traditional loans have a rigorous approval process that can take a month or longer, while you can get approval for a hard money loan and receive cash-in-hand in just a couple days. Time is money when it comes to flipping houses, so real estate investors often have to move quickly.
Also, because hard money loans are short-term (repayment periods often range between 3/mos and 1yr), they usually have higher interest rates. In 2022, hard money loan rates are usually around 10% – 12%.
Private lenders can be pretty much anyone with extra capital and an interest in investing with you. They can be another real estate investor, your former college roommate, a loved one, an angel investor, etc.
Private money loans require even fewer hoops to jump through than hard money loans, and they can be even greater in flexibility. The only true limits are the confines of the law.
Bridge loans help you "bridge" the gap between when you need funding and when you secure permanent financing. They are usually more common when you're simultaneously buying and selling a home, but they can also finance your fixing and flipping endeavor.
Terms can vary greatly, but most bridge loans share the following characteristics:
Loan terms typically range between 6/mos – 12/mos
You need at least 20% equity in your home
You need good credit
Interest rates range between the prime rate (the lowest rate you can borrow commercially) and the prime rate +2%
Portfolio lenders are smaller banks that don't work with Fannie, Freddie, or some other major institution. These banks can define their own lending criteria. In other words, they can lend to anyone they want. That said, most portfolio lenders will still care about your financial situation (they won't want to see a bankruptcy, foreclosure, or large unpaid debts on your credit), but they'll also consider your real estate experience and the specific deal you're trying to get financed.
Many portfolio lenders are experts in evaluating investment deals, so if they're confident the investment is solid, they'll be less concerned about the borrower defaulting on the loan. They have already verified that the property value will cover the balance of the loan. Portfolio lenders also aren't in the business of foreclosing on real estate, so they aren't hoping you'll default on your loan.
HELOCs and Home Equity Loans
HELOCs act as a second mortgage and are typically used for repairing and renovating your home. However, they can also be useful in other financial situations, like financing a fix and flip.
HELOCs usually offer longer repayment periods, better rates, and lower closing costs than bridge loans. Be sure to read the fine print before taking out a HELOC, since some come with prepayment fees.
Home equity loans allow you to borrow against your current home's equity, using it as collateral. These loans offer longer-term financing, and you can often get one at a lower interest rate compared to a hard money loan.
Tips and Tricks for Active and First-Time Flippers
HGTV shows can lead you to believe that a house flip is easy and glamorous. It's not. You have to do your research to know if you're buying and selling at the right price. The repairs needed require physical labor, and you'll need the right team of people to do aspects of the flip you can't. Also, if things go wrong, you could lose money instead of turn a profit.
Here are ten strategies to help you make the most of your flip:
Much of your first flip will be a learning experience. Don't make newbie mistakes on a luxury property. Look for homes with lower price points to start. They're easier to maintain, and much easier to sell. Also, when something inevitably goes wrong, it won't hurt your pocketbook as much as if you were flipping a small mansion.
House flipping is a numbers game. If your potential buy breaks the 70% rule, it's not worth it. When you pay too much, you can lose money on a property. Even if you see amazing potential in a fixer-upper, you have to remain objective. Sometimes, your dream flip just isn't worth the financial risk.
Be conservative when estimating how much you think things will cost. Expect your renovation budget to be higher than anticipated, your hold time will be longer than planned, and your sale price may be lower than desired—just in case. Not even the most experienced house flippers can accurately predict these factors, so expect that things may cost more than you anticipate.
Location, Location, Location
The mantra of real estate especially holds true when flipping houses. Look for distressed homes in popular or up-and-coming neighborhoods. In our house hacking guide, we tell hackers that they should buy homes in neighborhoods they'd want to (or could want to) live in. The same advice rings true here.
Zillow, Redfin, and other popular sites that use the multiple listing service (MLS) can get highly competitive, especially if you're looking in a popular area. You can still score an amazing deal, but these shouldn't be the only channels to use. Look for email lists for properties via wholesale and auctions, search for pre-foreclosures, and befriend real estate agents constantly eyeing the market.
Speaking of competitors, look at other competing properties in your area. Do they have vinyl floors or hardwood? Do they have cheap countertops or granite? Do they have white appliances or stainless steel? You want your products to be as nice as your competitors, with one or two extras to make your unit more desirable.
Having the nicest house in the neighborhood might be a point of pride, but it won't optimize your profits. Not only does over-renovating eat into your gains, but most buyers aren't willing to pay for the nicest property in the area.
That said, never skimp on quality in a renovation, either. If a prospective buyer sees you cut a corner, they will assume you've also cut others. Strike a balance between putting out a quality product without overspending.
Motivated sellers are another amazing, often underutilized channel. Run campaigns through direct mail, Google, social media, and/or email marketing with targeted ads that'll engage sellers. You can avoid bidding wars with other flippers, and score amazing deals—especially when you find sellers that want to be done owning a property. In many cases, this is great for relationship building and your personal brand. If you can really help someone, they're likely to let others know how.
If marketing isn't your forte, hire an experienced team to help!
Exteriors Can Be Everything
You can renovate the most immaculate kitchen anyone has ever seen, but if your lawn is patchy, yellowing, or diseased, many potential buyers won't step through the front door. Curb appeal is critical, so maintain your lawn right from day one. Soil, sod, weeds—do whatever you need to do to ensure your property's exterior is as beautiful as its interior. Damaged lawns can take a month or two to bounce back, so don't make tending to it an afterthought.
Teamwork Makes Your Dream Work
Remember your power team? Put them to work! The money you'll save by outsourcing projects that you're not proficient in can make a huge difference. If you don't already have a network of agents, general contractors, electricians, painters, etc., it's time to build one.
You shouldn't invest $20,000 in a stock because you like the name. You do rigorous research, and learn as much as you before making a big financial decision.
Approach investing in real estate the same way. Here are a few helpful sources to get you started:
How to Plan Your Exit Strategy and Next Steps
Have an exit plan in place before purchasing a fixer-upper. You can do this by:
Having perspective buyers in mind
Working with a real estate agent who has buyers in mind
Planning to sell the property to another investor
You can also hold onto the property, rent it out, and enjoy a stream of passive income. If you go this route and take out a loan, we recommend switching to a conventional mortgage to reduce your interest rate.
When you sell, take the net profit and knowledge you gained—but don't forget that you owe taxes on those net gains.
As a house flipper, you're buying and selling a commodity—just like if you were selling furniture, clothing, or cars. You'll likely pay the same percentage in taxes as if those gains came from income from a full-time job or another type of business. On at least part of your income, you'll likely have to pay an additional 15% in self-employment taxes. We highly recommend consulting with a qualified accountant or CPA, who can help you structure your business in a way that allows you to pay the least taxes possible.
Even after paying taxes, if you followed the 70% rule, like Elena did in the example we used, you're going to make a good return. You can use profits to look for another property to invest in. The experience you gain when house flipping is invaluable. The better you get, and the more money you can make.
Are you ready to start house flipping? Check out some of our other helpful resources below!
Thank You!
Create your account password at Biggerpockets.com/signup or by clicking the link we sent via email.
Interested in more real estate investing guides?
Create a free BiggerPockets account to get access to additional resources, our 3x weekly newsletter, and 5 free analysis reports.