You did it! You were able to take the leap into buying an investment property and decrease or eliminate your cost of housing through your first house hack!
Want more articles like this?
Create an account today to get BiggerPocket's best blog articles delivered to your inbox
Sign up for free
But now what?
You might be wondering: How do I get the property filled with tenants? Where do I even get a lease? How do I collect rent? How do I get my next property?
Likely these questions and more are running through your head. They were questions I freaked out about, as well!
Luckily, though, you stumbled upon this post and can have your questions answered. So, here's what to do next.
What to Do After Acquiring Keys to Your House Hack
1. Get your property rent ready.
Many times when you buy a house hack, the property needs some work. Maybe the kitchen and bathroom need to be remodeled, a bedroom needs to be added, or you need to paint walls and replace flooring.
Knock these tasks out as fast as possible so you can get tenants in the other side of the duplex or in the extra rooms you are renting out.
Fixing up your property is a great time to practice your handyman skills, but there will likely be some projects you just don't have the skills or time for. This when you call up a contractor.
A great place to find a contractor is by asking your fellow investors or checking out the BiggerPockets "Find a Contractor" page. When working with contractors, it is important to get at least three quotes, ask for references, and ask to see their previous work. This will help make sure you hire someone who is reliable.
If you were lucky enough to buy a rent-ready place, fantastic! Skip on over to step 2.
2. Find and screen tenants.
This step is likely just as scary—if not even more nerve-racking—than buying the house in the first place. How the heck do you get good tenants? Where can you find them?
Well, it's the 21st century, and the internet has some awesome tools to find and screen for great tenants. BiggerPockets even has a page dedicated to helping landlords find and screen tenants: the "Landlord Resources" page.
The Landlord Resources page has tools like TurboTenant to find applicants for your property, RentPrep for screening tenants, and Cozy can do both—along with collecting rent!
Another great place to find tenants is Facebook groups you are part of or friend and family referrals. I was able to get a great tenant by posting on my gym's community page! Make sure you still screen these tenants, though. You don't want to sign a lease with a buddy and find out that he or she has a 200 credit score and never pays their rent on time.
So, what should your screening criteria be? Well, everyone has their own preferences, but you should make sure they have a good credit score, a history of paying bills on time, earn enough to cover approximately three times the rent (i.e., if rent is $1,000, you want to see at least $3,000 in monthly income), and do not have a criminal background.
Income and credit score are things you can deny applicants for, however, there are other things you cannot by law discriminate against. You must follow the Fair Housing Laws, which state it is illegal to deny an applicant based on their race, color, religion, national origin, sex, family status, and disability. You should review these before looking for tenants.
By using the tools on the Landlord Resources page, you should have no problem finding a great tenant!
Related: House Hack No. 2: Guess How Much I've Added to My Net Worth?!
3. Have tenants sign a lease.
A lease is an agreement that outlines the terms and conditions of a tenancy. Leases outline how long the tenancy is, how much rent is, when the rent is due, what the late fees are, and other rules such as if pets or smoking are allowed.
At the end of the day, a lease is designed to protect the owner and the leaser in case things go south. So it is very important to sign one with your tenants, even if they are friends or family.
You can call up a lawyer to have them draft you a lease, or you can search for "Landlord Forms" in BiggerPockets' "Real Estate FilesPlace" and get a lease for your state.
BiggerPockets has worked with lawyers in all 50 states to get leases for our members to use, and the Landlord Forms are even free to Pro Members!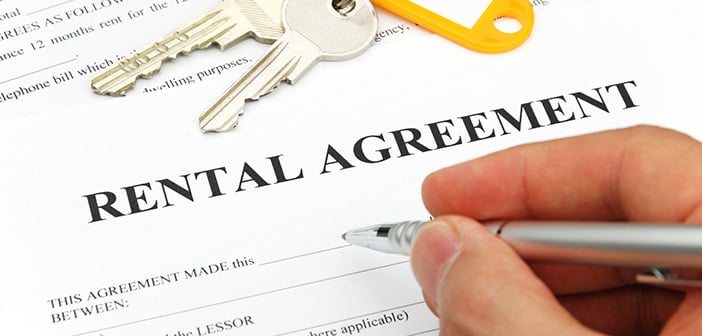 4. Set up rent collection.
Collecting rent can be a hassle, but there are tools to make this easier. Cozy is one I recommend because it is free, tenants can pay online, and money is directly deposited into your bank account.
If your tenants aren't technologically savvy and cannot do online payments, you can have them pay you with check. Never collect rent in cash though. This process is messy and does not leave a paper trail to track the transaction if there is ever a dispute on whether rent was paid or not.
5. Save for your next property.
This is by far my favorite step. At this point, you should have a property that is fixed up and rented out. As a result, you are living cheaper than if you were renting, living for free, or even better, making some money owning the property!
So let's start saving up for your next property!
Related: 7 Steps I Took to Land My First House Hack (& Rent It Out) With Ease
Beginning Your Next House Hack
First, you should decide what you want your next deal to look like. The great thing about house hacking is that you have given yourself options!
You can save for 12 months and buy another house hack. Or maybe you really like where you now live and want to buy an investment rental instead. You could also look to BRRRR, buy out of state if real estate in your area is expensive, or even passively invest in turnkey properties.
You have SO many options! But I suggest picking one and sticking to it.
Say you want to buy another house hack. Start by working with your lender to find out the loan amount you can qualify for.
Then, start running the numbers on potential properties in your price range. Once you know what your next great deal looks like on paper, start saving up for that down payment.
Saving should be even easier this time around since you now have a lower cost of housing! You may even use this time period to pay down some debt if you think you can save up for your next property in less than 12 months.
BiggerPockets' own Craig Curelop has written a great article on how he bought his first two house hacks and paid off $85,000 in student loan debt in less than two years. If you are looking for more advice in that department, check it out here.
Whatever type of investment you decide is right for you, stick with it so you can continue to grow your real estate portfolio.
Hopefully reading this will help you put together a plan of action and get over those scary few weeks or months after signing the papers and collecting the keys to your first house hack.
Congrats on your first property! And best of luck on property number two, three, four, and beyond!
Are you thinking about house hacking? Any questions for me? Have you already completed a house hack (or several)? What's your experience been like?
Let's talk in the comment section below.