People will come up with all sorts of reasons as to why they are broke. However, little do they know that being broke is often temporary, so WAKE UP, WORK HARD, and FIX being broke!
Want more articles like this?
Create an account today to get BiggerPocket's best blog articles delivered to your inbox
Sign up for free
In other words, being broke should motivate you to work even harder to achieve your dreams. Sean McQuay said it perfectly when he stated, "Understanding debt and its underlying causes is key to our future victories."
As soon as you understand that you—and only you—have the power to change the position that you're in, you will have the willpower to get up and start working.
Stop whatever you're doing right now and complete this exercise with me. I want you to take out your purse or wallet and count the number of credit cards that you have.
Do you owe on some of them?

Are some maxed out?

If you have answered "yes" to one or more of these questions, and even if you have no credit card but find yourself broke, you definitely need to read on. Here I have what I think are the three leading reasons you are broke. And as the saying goes, "Knowledge is golden." So, dive in.
Spending More Than You Can Afford

Studies have shown that most people who are broke have one or more credit cards in their possession that have payments outstanding or are either maxed out or delinquent. 
Related: The Foolproof Monthly Budget: How to Save Up Money to Buy Investment Properties
So that brings me to this: Why is it so difficult for us to be content? Why is it so difficult for us to spend only what we can afford, and if we don't have it, why can't we do without?
People will put themselves out of the way just to live that expensive, superficial life—driving the latest car and having the latest of everything. Get real, people. This is not living the "American dream," and if you think that this approach will get you there, you will soon be living the "American nightmare."
If you are taking home a salary that's less than your expenses, you cannot afford to spend any more. This is not a complicated mathematical calculation, scientific theory, or accounting principle. This is pure common sense. If your income is less than what you have to pay out in loans, credit card arrears, and living costs, things will go from bad to worse.

Now, the mistake that most of you will make is to think that after maxing out your credit card to mitigate against your upcoming monthly expenses, you will need to take out another credit card to use until you are in the clear—that is, IF you are lucky enough to qualify for another credit card.
Now, everyone's probably thinking to themselves how silly that is. But this is actually what people do. Why would anyone think that in order to solve a financial debt problem, all you need to do is take out another credit card and take on more debt?
If you don't have it in your account, do not spend it. Use credit cards only for points.
Borrowing With Hope of Getting a Job to Clear Your Debts
Another mistake that people tend to make is to take out a student loan and hope they can land their dream job after college. But in the end, this will only make the boss richer, and you're going to be the one paying for it for the rest of your life. Look at me, for example. I quit school at the age of 14. I had a passion to become a successful professional soccer player. My dream came true at the age of 18 years; however, it never stopped there. I still wanted more. After playing soccer professionally for a number of years, I went back home and began exploring other job opportunities that could give me financial freedom and enable me to live the lifestyle that I always wanted. Fast forward to today. Now I'm a successful owner of several businesses in the real estate industry.
Related: 12 Reasons You're Poor
But as many people do, you'll probably just say to me, "You just got lucky."
If there were none like me, you could be right. But, in fact, the opposite is true. There are many other stories like this about successful business owners and entrepreneurs who never completed college and are now widely recognized and usually rich, to boot. Steve Jobs (Apple founder) dropped out of school at the age of 19, Bill Gates (Microsoft founder) dropped out of college at age of 20, Richard Branson (Virgin Atlantic group founder) dropped out of school at the age of 16, and finally, Mark Zuckerberg (Facebook founder) dropped out of school at the age of 20, just to name a few.
Now, don't get me wrong, I am not encouraging you to all quit college and go start your own businesses. All I'm saying is this. Instead of winding up in a situation where you are taking out unwarranted student loans with the hope of landing a job that will someday place you in a position to repay the loan, all I am encouraging you to do is first look for opportunities that will allow you to be financially independent first. It's time to think smart and work hard!
Do not take out a loan to go to college with a hope to land that job that will make you richer. That route to success has gone out of fashion a long time ago. Find and make your own financial freedom opportunities.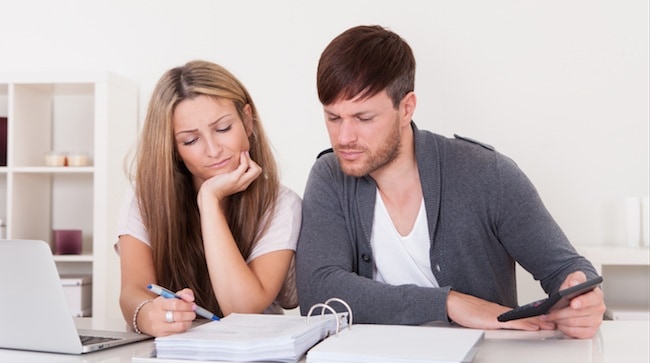 You Are Lazy and Think the World Owes You a Favor
So you want your own house but you still live at your parent's house, thinking that someday, things will get better. Or you may be employed, but you go to work and complain every day about how unfair your boss is and how broke you are because of your credit card debt and outstanding loans.
At the same time, you may have that great idea to start your business—that real estate idea that you have grappled over but have not done anything in your power to start. It has been proven over and over that in order for you to realize your dream, you have to change the way you think, but it all boils down to how desperate you are. Are you desperate enough? There is a saying that goes, "Desperate times call for desperate measures." If you find yourself in a situation that leaves you feeling unfulfilled, sad, and broke but you have that one great idea that can turn your life around, it is time to FIX being broke.
Lift your head up and look around you. The only thing that hasn't changed is you—everything and everyone else has moved on and has left you behind.
Get in a desperate state of mind, as desperate times call for desperate measures. There are too many folks that want everything but don't do anything to get it.
Time and time again, research has proven that people who fall within these three situations are most likely out of control with their inner life and have somewhat lost sight of the vision that they had for their life. And we all had that vision. Maybe it was to travel around the world, be a real estate mogul, or start a band—we all dream of something. Sometimes, though, reality gets in the way, and we forget to fight for it.
So along with the three tips listed in the post, grab these three daily nuggets to help keep you on track and quickly bounce back into gear:
Take control of your life by changing the way you think and view the world. Nobody owes you anything.

Create a plan to cut your expenses, which includes creating a budget. Rule of thumb: never spend more than you earn and save at least 10% of what you earn.

And finally, wake up everyday with your goals in mind, work hard at each goal one step at a time, and you will eventually fix being broke.
And there you go. You're broke for a reason, but it's not like you can't do anything about it. 
Are you dealing with these issues? What are you doing to overcome them?
Let me know with a comment!