Diary of a Single Family Rehab Project in Plainville, CT
64 Replies
Michael Noto

Real Estate Agent

from

Southington,

CT
posted 6 months ago
Lately our investing focus has been on purchasing, rehabbing, renting out, and either refinancing or selling multifamily homes in our area. 
It has been a while since we did a single family project, which has largely been a function of the market inventory available that made sense from a numbers perspective.
While as a brokerage we help people purchase investment properties all over the state, our investing business is very local to our base in Plainville, Connecticut and there is typically a lot of competition for good single family flip deals in the towns we typically operate in. We are hoping this can be a solid deal for us, and who knows maybe it will open the door to more single family deals.
Here are the basics:
- Purchase price: $85,000
- Rehab budget: $30,000 (in a future post we will show the detailed draw schedule outlining specifics of the budget)
- Projected ARV: $180-$190k
- Yearly taxes: $3532/yr
The property is a 3 bed, 1.5 bath 1250 sq ft ranch located in Plainville, CT. There is 975 sq ft on the main level and 275 sq ft in the finished basement area.
We purchased this home as an occupied foreclosure in january from an auction website and when we purchased the home was still indeed occupied, more on how that unfolded in the next post. 
To give you a sneak preview of what we saw when we entered the home for the first time here are some before pictures.....
James Nazario

Investor

from

New Haven,

Connecticut
replied 6 months ago
Love these Mike. Keep us posted 👍
More on the process to purchase this property......
As I mentioned in the intro post we purchased this property in January as an occupied foreclosure. Sometimes after you close on these types of properties the occupant is still in the home, and sometimes they aren't. In this case the occupant was still in the home, which was not a surprise to us because in between when we got the property under contract and closing we drove by periodically and saw signs of life there.
We reached out to the occupant who were the boyfriend and daughter of the owner who was foreclosed on. The previous owner relocated down south somewhere. Upon reaching them they indicated they had no plans of leaving. Keep in mind these people knew for multiple years this was happening.
From there we started an eviction and our court date was in mid-February here in Connecticut at the local courthouse. The court allows the tenant and landlord to mediate an agreement for the tenant to vacate in lieu of going in front of the judge. The result of the mediation is outlined in the form below. The form outlines the specifics of the stipulation agreement.
This timetable for them to be out is about what we expected and we already had the cost of an eviction underwritten into our numbers when we came up with our offer. While evicting someone is never fun we did receive a commission from the purchase (my business partner and I are both agents) which covered the cost of the eviction and then some. 
Also keep in mind there are benefits with purchasing a property that is being lived in rather than a vacant winterized property. The main one being you know to a large extent when someone is living there the water is running properly which is a big unknown when you purchase a vacant foreclosure.
The next post will focus on the rehab budget we put together for the project and the draw schedule we have with our hard money lender. From there, it will be consistent updates (and pictures!) on the status of the project. We figured there would be a big part of the story missing if we didn't include this post, hopefully you all were able to take something from it.
Chinda David

Investor

from

Lincoln,

Nebraska
replied 6 months ago
 Thanks for the update, I will follow your posting 
Plainville CT Single Family Flip Update
The first step in this project was the trash out. Two 15-yard dumpsters later and we had the bathroom demoed and most of the main level and basement cleaned out. Our guys did a great job with this. 
The trash out is now complete and we have started the bathroom renovation and the cleanup of the outside of the property. Later in the project we will do more in depth landscaping, but for now we are just going to get the leaves up that were never cleared from the fall and clean up any random debris left behind by the previous owner.
Below is a breakdown of our budget for this project in draw schedule format. This is the budget we submit to our hard money lender before every project. The money associated with each draws sits in escrow until we request the disbursement for a given draw. 
So for example, when we finish the bathroom we will let our HML know and they will send someone out to inspect that the work was done. Once they confirm the work was completed they disburse the money via ACH into our bank account.
@Michael Noto not too far away from my backyard! Following to see how it works out 
Single Family Rehab Project in Plainville, Connecticut Update:
Here are some progress pics of the bathroom renovation. All that is left to do is adding some trim and painting the walls and ceiling.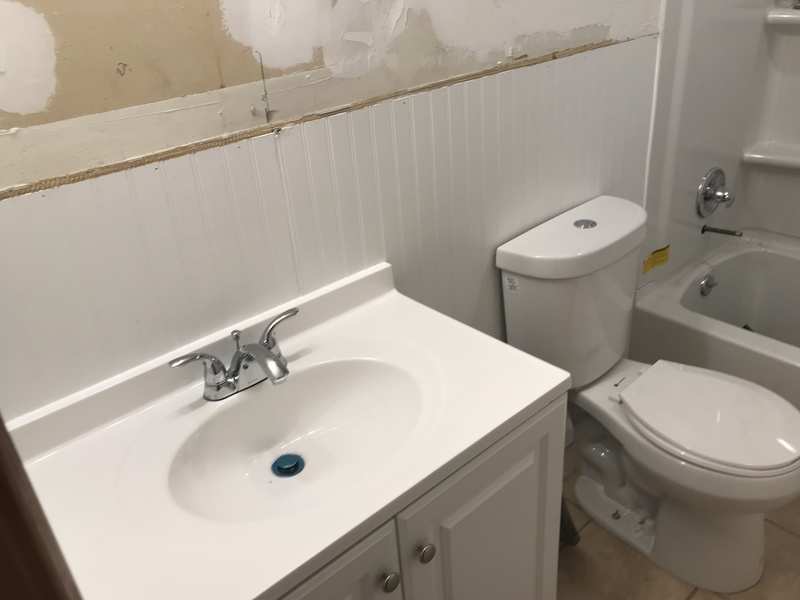 We have started the painting phase of the project. In general we use the same paint scheme on all of our projects unless the house or apartment is very high end. Sherwin Williams Master Hide on the ceilings, Sherwin Williams white trim paint, and Sherwin Williams Pro Mar 200 Navajo White on the walls. Once the painting is farther along I will post pictures, but below is a picture of how this paint configuration looked in a prior project.
Also, the boat and trailer that was in the driveway at the property has been removed. We cut up the boat and sold the trailer. That proved to be a lot harder to get rid of than we thought. The plan initially was to just give the boat and trailer away for free. When we couldn't get anyone to take it we decided to just cut up the boat so it didn't hold us back from moving forward.
The painting is continuing and we also had the septic system pumped and inspected yesterday. 
Overall the system is in good shape. Since septic systems are somewhat rare around here we wanted to provide the future buyer piece of mind with a copy of a septic inspection report. We will actually attach the inspection report right in the listing in the MLS also so agents can let their clients know the septic isn't an issue.
Ryan Luby

Rental Property Investor

from

Seymour,

CT
replied 5 months ago
Looks good, I love that you are documenting the project like this. 
I have been thinking of copying  J. Scott with how he thoroughly documented his first 50 deals, but I might do what you are doing here on BP and then keep a simpler spreadsheet with numbers. Hmm..
Keep up the good work!
looks great!!! great idea with the septic inspection!
@Ryan Luby Thank you. In the past we documented every project that we did on here and I think we are going to get back to that. I learn just as much from the people who chime in on these posts as they get out of the content we post. It's a true win-win the way I look at it.
@Joshua Braskett We have found from past experience that some buyers can get nervous dealing with a septic system, simply because it is not the norm around here. Give them the info they need so once we are under contract with someone we are all systems go, no lingering concerns.
Plainville CT Single Family Flip Update
We signed the contract for the HVAC today. Work will be started on the installation of the propane forced air furnace the week of April 29th. The quote is for $5,000, so that gives us $2000 to play with on our HVAC draw which will be plenty to get the hot water heater replaced.
The living room, hallway, and all of the bedrooms have hardwood floors. We had a company come out today to give us an estimate on refinishing them. I will update on here when we get the quote back. The floors aren't to beat up so we are expecting that cost to be in line with what we budgeted for. In our experience refinishing hardwood floors is one of the best ROI's on a single family, people love the look.
Painting continues on the main level of the home
We purchased an off market property here locally recently that we are having our guys clean out tomorrow and Wednesday to prep it for sale so they will be back on this project on Thursday.
Andrew Syrios (Moderator) -

Residential Real Estate Investor

from

Kansas City,

Missouri
replied 5 months ago
That property looks like a mess, but then again, those are often the best investments. The numbers look great. Good luck!
Thanks @Andrew Syrios !
The clutter and sheer amount of trash in this place was more than we expected, but once we cleaned it out and saw what we were working with we developed a plan for how to attack this rehab that is working thus far. 
I completely agree with you in that in our past experience the properties that were in the worst shape often end up being our best deals numbers wise. Hopefully this one turns out the same.
Andrew Syrios (Moderator) -

Residential Real Estate Investor

from

Kansas City,

Missouri
replied 5 months ago
Originally posted by @Michael Noto :


Thanks @Andrew Syrios!

The clutter and sheer amount of trash in this place was more than we expected, but once we cleaned it out and saw what we were working with we developed a plan for how to attack this rehab that is working thus far. 

I completely agree with you in that in our past experience the properties that were in the worst shape often end up being our best deals numbers wise. Hopefully this one turns out the same.
 As they say, that smell is the smell of money!
Plainville, CT Single Family Rehab Update
installation of windows, which is its own draw with our HML, is underway also. What a difference new windows make.
The painting of the main level is almost complete and we have started the demo of the kitchen. The plan with the kitchen is as follows:
- minor refacing of the cabinets and paint them white
- granite countertop & tile backsplash
- New appliances - Refrigerator, stove, dishwasher
- new tile flooring (check out in the pictures below how old school the tile is that was under the most recent kitchen flooring which was vinyl plank)
The heating system is scheduled to be completed next week and once the painting is finished we have the hardwood floor contractor lined up to come refinish the floors.
The HVAC contractor started on the heating system on Monday. We went with a forced air propane system and since there was electric baseboard heat in the unit prior there will need to be new ductwork installed also. 
Here are some progress pics:
Greg Wright

Investor

from

Wolcott,

Connecticut
replied 5 months ago
Hi Mike, 
Those properties are a real leap of faith haven't tried one yet. What did you set aside in case you needed a new septic system? 
Greg
Free eBook from BiggerPockets!
Join BiggerPockets and get The Ultimate Beginner's Guide to Real Estate Investing for FREE - read by more than 100,000 people - AND get exclusive real estate investing tips, tricks and techniques delivered straight to your inbox twice weekly!
Actionable advice for getting started,
Discover the 10 Most Lucrative Real Estate Niches,
Learn how to get started with or without money,
Explore Real-Life Strategies for Building Wealth,
And a LOT more.
Sign up below to download the eBook for FREE today!
We hate spam just as much as you
Create Lasting Wealth Through Real Estate
Join the millions of people achieving financial freedom through the power of real estate investing