First Flip Case Study
3 Replies
Hopefully it can help inspire those on the edge. Take MASSIVE ACTION!
***CASE STUDY***
Ok, I'm just going to free flow this and see where it goes! I will miss many things likely, but feel free to message me specific questions.
This was a property I contracted at originally $70k because at the time, the seller thought the note balance was $64k, which allowed her to walk with some money. An unhappy ex-husband who technically owned the house(his VA loan), things got hairy for a bit.
A LOT of bad communication between the bank and the seller made for a rough ride while under contract. We didn't know until the day BEFORE the foreclosure auction what the actual payoff was! Anyhow, payoff was 71k-ish and we finally closed at 74k so they could still afford to get into an apartment.
I gave them a week to get out, but of course, 2 weeks later they are out and complaining about it. They left everything! Only took the mattresses. Even left their cat!
The idea originally was to whole-tail(close, clean, sell as-is) it after a quick clean up. But after the clean up, I realized there was extensively more damage than I originally thought, so the demo started! Hired my little brothers homie to come over for $12hr and hauled off 7 giant trailers of junk!
Fast Forward and we are done.
I had an idea of what to do and in what order, but there is still things I would have changed.
What I learned!:
1: A good plumber is hard to find! We went through 5!
2: Just because its a referral, doesn't mean that person will be a fit for you
3: Once 1 promise is broken, cut your loses and find someone else, more than likely, more dead end promises will come.
4: Fix windows in the beginning!
5: Do NOT cut corners, it will bite you in the rear
6: If a contractor runs out of the house when city shows up, get rid of him, lol. Ya, that happened.
7: If you pay for trash haul off, make sure their trailer isn't a wagon!
8:Don't rush roof guys, it may rain when have the roof off
9:Better organize to-do lists and to-buy lists. Making several trips a day to Home Depot SUUUCCKKSS
10:Theres a million others I cant think of
Roof: Cross Creek Roofing
Foundation: Raymundo Negrete Torres
Texture: Daniel Flores
Flooring: The BOSS
Cabinets: The BOSS
Paint: Home Depot
If a contractor was referred to me and its one of their main people, I cant give out that contact, but most others I will.
Alright, Numbers!
I used hard money. I'm frequently asked, does hard money cost too much? No, if not for hard money, I could have not of done this. Once you learn the power of LEVERAGE, you will be on the path of wealth building! Buy the house right account for the debt service and make a move!
-Purchase: $74k
-Hard money for $85k(12%/2pts)
-I net funded the closing cost via escrow acct allowing me to come to closing table with less $
-$11k balance after purchase went into rehab draw account
-Lender required me to put $15k into separate escrow for protection
-My cash out of pocket was just over $23k
-Total rehab was just over $31k
-Closing costs on front and back end are accounted for in Gross numbers
-Sales price was $145( initial estimated ARV was $125k, during the process, a couple houses closed raising that)
-My return on investment was about 115%(meaning, the $23k I personally invested/net profit)
-Gross profit: $52k
-Net Profit: Just over $27k
(I rounded all number for ease)
I did more than 85% of the work in this house personally. Before this, I had NEVER worked on houses. I built a suweeet dog house a fews years back, but thats it!
Was I scared? Hell YES! I was in the title office about to poo myself! What had I just done?! Can I really do this? Did I spend too much? Can I afford the Loan? Do I know enough contractors? Will I get screwed? Did I run the comps right?
I kicked all my fears in the rear and dove in head friggin first!
This is my first one, second one going live tonight in Forney and 3rd, 4th coming soon. Learn to leverage money and you can do it too. Dont be fearfull of hard money, without it, I wouldn't be able to do this for years.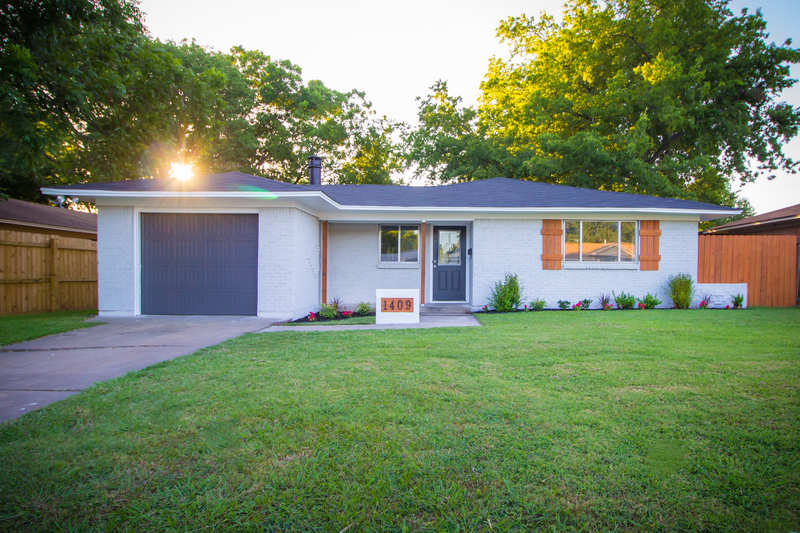 Thanks for the recap.  Really appreciate the list of dos and don'ts.  You need more photos.  A pre-reno pix of the outside.  And maybe few pix of inside would be lovely.  Though what you have here looks pretty sweet. Congratulations. 
@Karen O. , it wouldn't allow me to put more pics in the post, so here is a Drive link with hall pics before/during/after
Pics: https://drive.google.com/open?id=0B86TEhqYnxIzMUV6X3pjS2hEaEk
@Brandon Richards You rock!  That is a serious rehab.  Again.  Congratulations and thanks for the look see.  
Free eBook from BiggerPockets!
Join BiggerPockets and get The Ultimate Beginner's Guide to Real Estate Investing for FREE - read by more than 100,000 people - AND get exclusive real estate investing tips, tricks and techniques delivered straight to your inbox twice weekly!
Actionable advice for getting started,
Discover the 10 Most Lucrative Real Estate Niches,
Learn how to get started with or without money,
Explore Real-Life Strategies for Building Wealth,
And a LOT more.
Sign up below to download the eBook for FREE today!
We hate spam just as much as you
Create Lasting Wealth Through Real Estate
Join the millions of people achieving financial freedom through the power of real estate investing