My very first $100,000+ net profit flip
19 Replies
Peter Hanson

Flipper/Rehabber

from

Orange,

CA
posted almost 3 years ago
I don't post that much on here but I am trying to post more and interact more so here goes. I'd like to share my most recent completed flip deal. The home was a 1927 Spanish style home in Los Angeles, CA. It had good bones but it needed to be redesigned and completely remodeled inside and out.
I have been listening to the podcast almost every day for the last few months and it's a great source of information and motivation so I wanted to share my most recent success in hopes I can meet people who can help me grow my business.
My name is Peter Hanson and I am a self employed Real Estate Appraiser and Real Estate Broker in Huntington Beach, CA I watched investors make a lot of money for many many years so I finally saved enough money to start flipping homes. I did my first flip in 2012 in Fontana, CA. I paid $85,000, spent $14,000 on rehab and sold it for $135,000. I was immediately hooked on flipping.
I found my most recent flip in Los Angeles, CA in a trendy, gentrifying area and thought I had a chance to make some good money. I bought it on 12/22/2017 for $510,000. It was fixed and just closed on 6/14/18 for $759,000.
Breakdown/Deal Numbers:
Acquisition Costs (AC): $525,000
- Purchase Price: $510,000
- Closing Costs: $15,000 (hard money points and fees based on $408,000 loan amount)
Rehab Costs (RC): $80,000
Monthly Mortgage costs: ($2890 per month for 6 months = $17,340)
- Utilities: $600
Selling Costs: 2.5% (as a Broker I listed the home myself and saved the other 2.5%)
Sales Price (SP) $759,000 closed 6/14/18
- Commissions to Selling Agent: $18,975
-Selling costs (property taxes, title, escrow, etc) $8,000
Total Net Profit: $109,085 – Taxes & Any Additional Selling Costs
- $759,000(SP) - $26,975(SC) - $17,940(HC) - $80,000(RC) - $525,000(AC) = $109,085
Before:
After: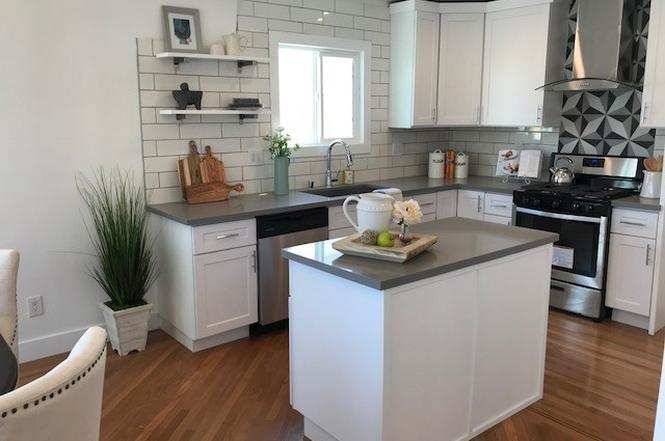 Thank you for reading. I would love to hear your thoughts and feedback. What could I have done different or better?
Jason Bruning

Rental Property Investor

from

North Wales,

PA
replied almost 3 years ago
The house looks amazing. Congrats on the nice profit. Keep up the good work.
Bob B.

Investor

from

Roswell,

GA
replied almost 3 years ago
Thank you so much, if you have any questions or have any advice for me I'd love to connect and talk
Ryan H.

Architect

from

San Francisco,

CA
replied almost 3 years ago
Wow, Great! What area in LA is this?
replied almost 3 years ago
This looks awesome! I really like (what looks like) the off-master deck area. And I liked that you updated the home while keeping the integrity of the cool features like the fireplace.
I am based in LA, but pursuing properties outside of LA for my first projects. What neighborhood is this? I always see comments about the challenges of the LA market, but this totally blows that out of the water.
replied almost 3 years ago
Great job and nice profits too!! Keep it up!
Matt Schuberg

Investor

from

Los Angeles,

CA
replied almost 3 years ago
Awesome job Peter! I love seeing these success stories in LA because all I ever hear is people say it's impossible to make money in this market with how competitive it is. There's always deals out there, you just have to find them!
replied almost 3 years ago
Great post and very motivating! Finished my first real flip and put it on the market recently. I've been very nervous but posts like this really motivate me! Hope to follow in your successful footsteps.
Matt
I flipped a New Western deal last year in Long Beach, did well on that one. Made about half as much as this deal but it went smoothly. Keep me in mind for any LA area houses you find, I close with hard money in 10 Days as is no inspections no contingencies
Cheers!
Eric G.

Real Estate Broker

from

Orange,

CA
replied almost 3 years ago
Hey Peter,
What were the specs on the house when you bought it? Beds/baths/sqft. Did you add any square footage? Knock down walls? Etc.
And I'd love to get your hard money contact. A PM would work if you don't want to post here.
Congrats on the great work.
Alex J.

Investor

from

Tarzana CA and Houston,

TX
replied almost 3 years ago
West Adams? Nice flip well done
Congrats , looks real nice . Nice to see when a flip in L.A is posted here since although it's a huge city it seems rare to see people post about flips they have done here .
Was this a deal you bought off the MLS or off market deal? . If off market , Do you do your own marketing for leads?
Looks like everything took 6 months, is there anything that could of been done to reduce this time ? Were there a lot of delays dealing with the city ?
@ Eric G
I bought it as a 2 bed/1 bath 1400 SF with a detached 2 car garage. I didnt add any SF, I just redesigned the interior and made it a 3 bed/2 bath and made a walk in closet in the master bedroom. I also added a deck off the master bedroom and opened up the kitchen into the living room and dining area. Kept the cool original windows, updated the fireplace and kept the almost 100 year old original hard wood floors. Just made everything else new and kept the charm.
Took a long time because I got permits for everything including the new central a/c system, plumbing, moved the electrical panel to the outside from the old laundry room, etc. It took the old owners 60 days to move so that explains the extended rehab period.
Was this a deal you bought off the MLS or off market deal? . found it door knocking!
Looks like everything took 6 months, is there anything that could of been done to reduce this time ? Were there a lot of delays dealing with the city ? - dealing with the city and permits caused some delays, but the big one was that the seller rented back for 45 days after I bought the house. That explains the longer rehab period.
Alex Babayev

Flipper/Rehabber

from

Atlanta,

GA
replied almost 3 years ago
Congratulations @Peter Hanson
I am am a house flipper from Atlanta originally from San Diego , I miss those style houses we don't have that type of architecture in Georgia.
House looks great- Keep it up !
thank you Alex! I wish I had the home price to rent income you have out there. I'd buy and keep everything instead of flipping...
@Peter Hanson ...yeah nothing really cash flows in the whole SoCal area from what I've seen..plus there is strong rent control with the threat of it becoming stronger on the upcoming November ballot.
Might be an opportunity to cashflow renting on airbnb ....but of course L.A and other cities have been 'cracking down' on that too..
Account Closed
replied almost 3 years ago
Brock VandenBerg

Real Estate Investor

from

San Diego,

California
replied almost 3 years ago
Free eBook from BiggerPockets!
Join BiggerPockets and get The Ultimate Beginner's Guide to Real Estate Investing for FREE - read by more than 100,000 people - AND get exclusive real estate investing tips, tricks and techniques delivered straight to your inbox twice weekly!
Actionable advice for getting started,
Discover the 10 Most Lucrative Real Estate Niches,
Learn how to get started with or without money,
Explore Real-Life Strategies for Building Wealth,
And a LOT more.
Sign up below to download the eBook for FREE today!
We hate spam just as much as you