Multifamily property with first floor a couple feet underground - any problems with this type of construction?
9 Replies
Kimberly T.

Engineer

from

Orange County,

California
posted about 5 years ago
As I'm investigating other markets to buy in, I am finding some multifamilies (typically 4plexes) where it appears the first floor must be a couple feet underground, based on the fact that the first floor windows are at grade level. I am seeing this specifically in Colorado, where I'm sure the frost depth is at least a foot or two. They were built in the 1970s and 1980s. I'll try to paste a sample pic here: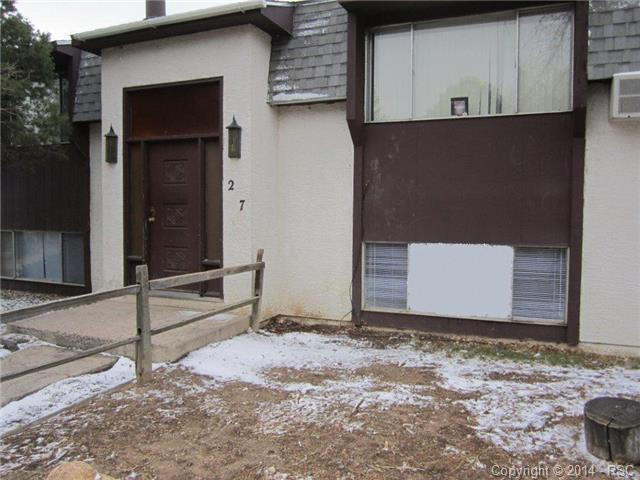 My question is, what are the potential issues with this type of construction? Would water intrusion be likely at the walls and/or floor? Any additional maintenance issues? Being from SoCal, I'm not used to basements, so I don't know what all the potential problems could be, and what to investigate if we decide to pursue these types of properties.
Bill S. (Moderator) -
replied about 5 years ago
The lower unit is called a garden level unit. Rents for less. No real issues if proper grading etc. is followed. It's a basement unit basically that is bit out of the ground so window wells are not needed. Typical issues with basements relate to gutters failing, grading being toward the structure or flat (surface water doesn't flow away from the building), grading funneling offsite water to the building, or ground water being high enough that it is against the foundation. Typical home inspection should note these issues or evidence of failure of one of these items.
I own a property like this with a portion of the units below grade. As @Bill S. mentioned, it's not a huge issue, but I have had to deal with water leaks. I had a unit where there was a slow leak and resulted in mold growth. It was quite a bit of work ripping everything affected out, cleaning the mold and re-building (waterproofing inside and outside). If I were to do it again, I'd favour a building which was all above grade over this type of construction.
Joel Owens (Moderator) -

Commercial NNN Real Estate Broker & Syndicator

from

Canton,

GA
replied about 5 years ago
Watch out for the flat roofs too. They tend to leak a lot more than a pitched roof and can be expensive to repair or replace.
Thanks guys!
Yes, grading is crucial, and I suppose we'd have to consider possible water leaks coming through walls. I've heard of products you can paint on the interior side of concrete or masonry basement walls to "waterproof" them, so perhaps that would be one option if there is slow seepage/intrusion.
@Joel Owens yes, definitely have to be careful with flat roofs! My husband and I don't own any flat roofs, but my parents own a complex with flat roofs which had the roof drains plug up with leaves. Water started leaking into the ceilings, so my father went up on the roof and cleared the drains and the remaining water on the roof gushed out through the drains! Gotta keep on top of that. I will investigate repair/replacement costs if we consider any flat roof buildings. We're also considering buying in GA (Marietta, Suwanee, and Peachtree Corners areas look interesting). Saw one of your old posts about avoiding Fulton County (not good for evictions). If you have any thoughts on those areas, or about buying small apartment buildings in general, I'd love to hear them! We don't own any 5+ unit properties yet, but that's our next step.
Joel Owens (Moderator) -

Commercial NNN Real Estate Broker & Syndicator

from

Canton,

GA
replied about 5 years ago
Hi Kimberly,
Anything under 1 million in loan value the big multifamily lenders will not touch.
You are looking here more at local banks with shorter term loans 3,5, maybe 7 years fixed and amort. of 20 to 25 years. Typical ltv is 75%. Some banks will let the seller carry a 10 or 15% carryback so you put less down and have more cash on cash return.
Smaller loans are typically recourse in nature. Some investors pool together to buy a larger property where you can get non recourse and loans that go out 20 year term in commercial. The rates tend to be good. Local banks want short term loans as they will have to pay out more for cd's, regular checking, and savings accounts to bring deposits into the branch. If they didn't do this they would be saddled with long term fixed rate loans and margins would eat them up.
Larger lender insurance companies and other private loans take a longer term fixed rate view on money and do not have regulators breathing down their necks.
The small balance loans from local banks tend to have higher rates as there is not much competition like for the larger loans.
You can post more questions here or I am free to talk and connect as well.
@Kimberly T. One thing to keep in mind is that if there are problems, someone has to dig to fix it which can be a pain. I usually just find some kids in the neighborhood to do it if needed. But, contractors may charge a lot. digging is hard work.
And, as Bill S. eluded to, that garden level apartments are a little less desirable to potential tenants. You'll get less rent for one then the exact same apartment above ground.
On the positive side, they require less Heat and/or AC because of natural insulation. So it can be a little cheaper if you are paying utilities.
@Kevin Fletcher thanks, yes, digging is tough! My husband and I have done our share just landscaping our properties. I find it interesting that those units are less desirable, is it because people fear that it might get musty/moldy? I would have thought the fact that it's cheaper for tenants to heat/cool (if they pay utilities) would make it more desirable.
@Kimberly T. It depends on the property, but I think there is a bit of a stigma related. People think they are looked at as sub par if they are underground. Some of these units are a little more musty and moldy. Many underground units don't get the same sunlight and they tend to be a little harder to air out. Many of the ceilings in garden level units are also lower which gives the tenant a more cramped feeling. At 6'10 I'm acutely aware of ceiling heights. When I remodeled my basement unit I had back and neck problems for weeks after ;)
Free eBook from BiggerPockets!
Join BiggerPockets and get The Ultimate Beginner's Guide to Real Estate Investing for FREE - read by more than 100,000 people - AND get exclusive real estate investing tips, tricks and techniques delivered straight to your inbox twice weekly!
Actionable advice for getting started,
Discover the 10 Most Lucrative Real Estate Niches,
Learn how to get started with or without money,
Explore Real-Life Strategies for Building Wealth,
And a LOT more.
Sign up below to download the eBook for FREE today!
We hate spam just as much as you
Create Lasting Wealth Through Real Estate
Join the millions of people achieving financial freedom through the power of real estate investing