Durable/Efficient Remodel of Rental
11 Replies
Hey guys,
I've spent a good part of the day looking for designs, researching products, and honestly I feel like I've achieved very little.
Yes, I've tried to search BP and couldn't find what I'm looking for.
I know that I want to do the vinyl wood plank flooring, but I need ideas for what materials to put in remodeling the kitchen and bathrooms -- I'm starting to narrow down a design, but I'm lost as far as kitchen cabinets, countertops, sinks ( most problem/leak free)
Anyone have any suggestions for materials, websites, links, blog posts for how to efficiently remodel a rental that will be owned for the next 20 years?
Thanks
Dave
John Espinosa

Rehabber

from

Norfolk,

Virginia
replied over 6 years ago
David,
When you say efficiently, you mean materials that will give you the best bang for your buck right? something you will not need to replace often?
You will do fine with the vinyl wood plank for the floors. Tile works in kitchens and bathrooms.
Kitchen cabinets, we usually try to salvage cabinets and countertops, but if we cant, then we usually try to look at surplus stores and especially if you have a habitat for humanity restore, or consignment shop, we try to get solid wood cabinets from there for as cheap as possible.
Builder grade everything usually, depending on the class of your rental.
George Paiva

Investor

from

Milford,

Connecticut
replied over 6 years ago
John gave some good pointers. I also like to checkout craigslist for materials or appliances.
As for Kitchens, I stay pretty simple with contemporary dark wood finish or White cabinetry. The counters I do formica. Backsplash I use simple 4x6 subway tile .22c each. Appliances I started doing black instead of white. Looks a little more upscale. Stainless is a no-no because they show wear to easily. Sink I do stainless, double basin. I also stick with single handle moen or delta faucets. Flooring is tile or vinyl.
For Baths, most of my rentals have the old iron porcelain covered finish tubs. I like those because i get my dual action buffer I use on my boat and go to town with a cleaner / polisher used on boats. If the walls have to be done. I mostly do subway tile or if I am pressed for time I get a three piece enclosure. I don't do glass doors, just put a rod have the tenant buy the shower curtains. Flooring is always tile. Vanity is white, builder grade, one piece top. Also stick with one handle faucets for tub and vanity. White Toilet. If I use the old one it has to be the modern 1.6 gallon flush and I just replace all the tank hardware. I rewire a few shower pot lights and fan integrated to one switch. Then add a GFI plug above the vanity. Use a simple medicine cabinet that matches the vanity.
The rest of the rooms, living, dining, bedrooms. Get a netrual creme or off white color. White baseboards/trim. Flooring is either wood or vinyl tile. If vinyl I've done a 1/4" plywood underlayment then adhere the tiles especially in the old houses where its just pine planks for subflooring.
Ben Leybovich

Rental Property Investor

from

Lima/Chandler,

Ohio/Arizona
replied over 6 years ago
@David Gellner If you bought a single-family to flip, a complete gut and replacement of the kitchen is often advantageous. However, in an apartment setting, we can usually get away with a moderate remodel which includes sanding and re-varnishing or re-painting of kitchen cabinets, replacement countertop, new flooring, and a new appliance package.
Personally, I like re-painting the cabinets in lieu of re-varnishing. I know that some people love natural wood look, but it is more difficult to maintain. Tenants are going to scratch the cabinets – that's a fact, and varnish is more difficult to touch-up than paint. Besides, bright white cabinets look clean and they help smaller spaces look bigger. Often, I replace door knobs and drawer pulls as well, but not the hinges. While simple accents like knobs can contribute to a dramatic transformation of the space, hinges can be quite difficult to re-align, so unless they are in really bad shape I usually opt for cleaning-up the original hinges and re-hanging them.
Also, I always put dishwashers into all of my kitchens. My experience tells me that in this day and age, most people expect there to be a dishwasher in the kitchen. Often I need to sacrifice one of the base cabinets to create space for a dishwasher, which is well worth it. And if it becomes necessary to build-out the cabinet in order to make things feet and look right, the paint is going to hide the differences in wood type and grain, which is another reason I prefer painting the cabinets in lieu of varnishing them. Naturally, this type of facelift remodel is only possible if the cabinets are structurally sound to begin with.
A complete gut and rebuild of an apartment kitchen runs me about $4,500 plus the new appliance package. But a more typical expense is $2,500 - $3,000, which includes a new refrigerator, stove, range hood, and dishwasher. Hope this helps.
Al Williamson

Rental Property Investor

from

Sacramento,

CA
replied over 6 years ago
@David Gellner I understand your long term thinking and like it! But for giggle, let me point out that these materials may physically last 20 years but may have a much shorter useful life in terms of attractiveness.
You may decide to remodel in 10 years if your local market demand it. Who knows, maybe tenants will demand sustainably grown wood floors and cabinets in 10 years.
Just saying you may want to consider balancing useful life with useful obsolesces. Best to you!
Amy A.
replied over 6 years ago
I've found the unfinished wood cabinets from Lowes or Home Depot to be the most cost effective. I spray them with a couple coats of polyurethane and add a stainless steel knob. I tried the cheap white cabinets and they fall apart. A lot depends on your rental market. I've found that around here anything clean attracts tenants, even if not stylish. For appliances, I shop the clearance at Lowes. Same for vanities.
Thank you everyone for the replies! I think I'm getting pulled into thinking that I need to make it fancy, instead of just remembering that this is a rental property that is going to get damaged.
I was just hoping that if I made them a little nicer I could gain some better tenants and make it easier to rent!
Great advice by everyone, and I really appreciate it!
Dave
Johann Jells

Investor

from

Jersey City,

New Jersey
replied over 6 years ago
Dave, in most of my units the cabinets were unusable or non-existent. I've found there's a line of chinese generic cabinets available at non-chain homecenters that are all ply and solid wood, no particleboard, and the same price as the cheap "fall apart" crap from the chains. There's less choice, but I'm OK with that. People kinda expect "basic oak". The same goes for when I install laminate floors (Costco), I always use Oak, rather than more exotic finishes, people see it and think "oak floors", whereas they'd think "cherry floors?"
Below is a kitchen with those cabs and a granite tile counter I built. If you do your own work the tile is much cheaper than slab, much more durable than laminate, and very repairable. I do this color scheme of oak, black and midtone tile "running bond" backsplash in all my units.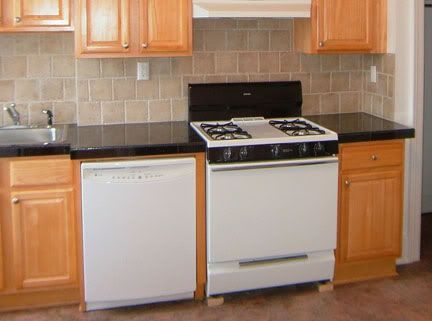 If you can salvage the cabs with paint, try the new Moore "Advantage" paints, they are waterborne oils, and give a great finish.
Here's a before and after painting, splash & counter. If I could have found new hinges that fit I would have replaced them, I couldn't, so said screw it and used the same ugly pulls too. If she ever moves out I'll replace them.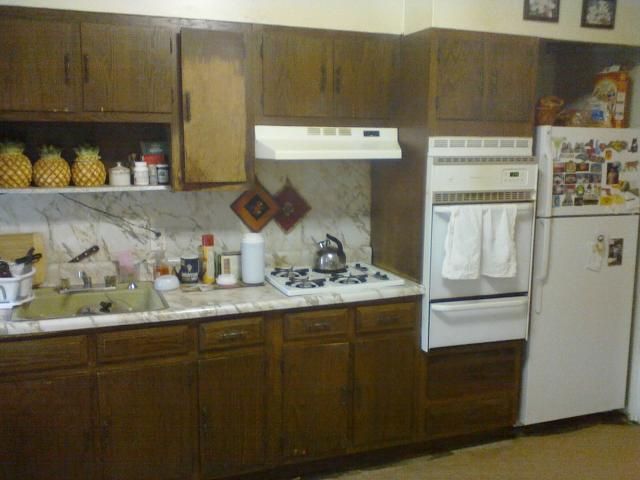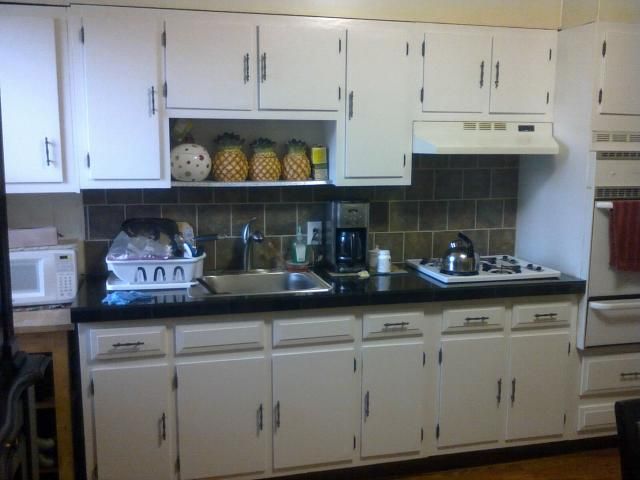 As for baths, I despise the "cultured marble" tops. I've been using the "eurostyle" bowfront vanities with porcelain tops, just wish I could get them in plywood rather than particle carcasses.
Lastly the toilets: American Standard Cadet 3, ~$130 at HD. One of the rare cases where the cheapest is also the best. I use them in my own home, one flush, always.
@Johann Jells , WOW. That looks very nice! Thank you so much for your post!
Dave
Jason Hitchcox

Real Estate Investor

from

Union,

South Carolina
replied over 6 years ago
@Johann Jells - very nice post and great pics! I love the oak, black and midtone tile scheme kitchen.
Jason
Account Closed
replied over 6 years ago
Looks like the cabs I also use.
SUNCO brand. About as cheap as the box stores but all wood and no particle board. Best buy for the price.
Get mine from e-barnett but need to have a business account. They also carry hundreds of other items at good prices for homes.
Big fan of Allure but in baths still use one piece loose lay vinyl flooring. Better type with the fiberglass backing and not paper backing. Easy to get a high quality remenat at a flooring store cheap that is big enough to at least do a bath.
Never really had to replace any of this type yet. But will be quick and easy since take up old floor and use as a template. We just use a little glue by the tub and around toliet flange. Otherwise just the quater round molding holds it down.
Still seems to last and actually more waterproof than anything else.
Steve Babiak

Real Estate Investor

from

Audubon,

Pennsylvania
replied over 6 years ago
Create Lasting Wealth Through Real Estate
Join the millions of people achieving financial freedom through the power of real estate investing