Student Rental VS Traditional Rental
16 Replies
Cody Barna

Real Estate Agent

from

New Hampshire
posted about 1 year ago
Hi Everyone,
I'm new to the investing side of real estate and have been actively looking for a rental property. I have narrowed my search criteria down to small multi-families (4 units or less) for under $200k. I live in New Hampshire so finding properties in that price range can be tough however they can be found. Just a few days ago I found a 4 unit located 5 minutes from one of the large universities in the area. The home was build in 1895 (2,358 sf) and currently has a kitchen, living room, bathroom and 2 bedrooms on each floors (2 total). It has the potential to convert one of the first floor rooms back into a bedroom, which would make it a 5 unit property. One big positive is that its had the same owner for 55 years, which I've been told has kept up with all regular maintenance. The furnace was installed in approx. 2009, windows are older wooden with combo storms. The roof is slate and likely original, updated electric panels and it has both public water and sewer. *The property also has a detached two stall garage.
Currently the second floor is being rented on a month to month for $900 which is well below market value. The agent estimates that market rent is around $1,100 per unit, however according to rentometer it would be around $1,500 per unit and slightly more if I were to convert the first floor back to a 3 bedroom. I also called a few landlords in the area to get an idea of what student rentals are going for. I was told rooms are renting for $675 with utilities on a property very similar in age and distance to the college as the one I'm looking at.
These are the big questions that I'm trying to determine myself, which is would it be better to rent the home traditionally with one tenant on the first floor and another on the second? Or use the house as a student rental and rent by the room? My concern is that due to the location it may not be very desirable to potential tenants with a family. Nor would the style of the home be very suiting to most working professionals in my opinion. Based off of the pictures it doesn't look like there is any type of separation between the first and second floor.
The property is listed for $179,900 and has been on the market for 4 days. Based on my current finical situation I would more than likely be using an FHA loan to purchase the property. Only issue with that would be living In the property for the first year. One idea was converting the garage into a small apartment, however I will have to find out if that is even a possibility or legal in my area. *Property taxes for 2018 were just about $6,500 per year.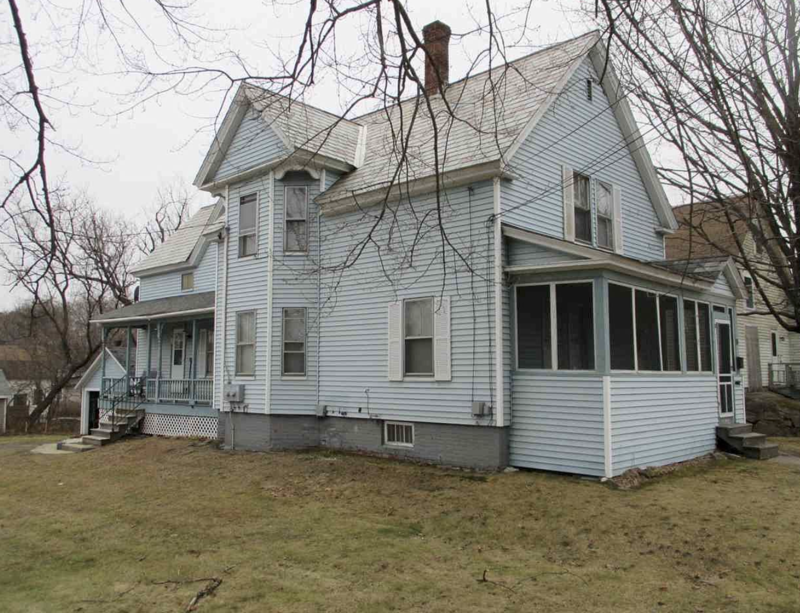 I would greatly appreciate any feedback and thoughts you might have for a new investor in my position. My other big concern is the age of the property and the high chance of major repairs needing to be done in the near future. I tried my best to include all of the information that I have access to at the time being, however if there's any additional information that you need feel free to ask me.
Thank you,
Cody
Will Gaston

Rental Property Investor

from

Columbia,

SC
replied about 1 year ago
@Cody Barna the post below may be helpful if you're interested in the student rental route. I'd recommend talking to Zoning first to see if there are any restrictions on unrelated tenants in your market. I'd also find a student rental LL in the area and get their advice on the property.
Thank you Will I do remember hearing that mentioned in a few BP podcasts. I will definitely look into those two things.
A few things that stick out to me is the high taxes and heat being included with the rents. ( did my own research). On average for the year it be about 100 each unit for heat, so that definitely affects cash flow. Garage conversation could work if the city would allow it, youd have to apply for a variance to change the zoning, and here in Manchester if you go from two units to three they require you to install a sprinkler system which costs 20k.
Almost forgot about your original question lol. So for this to work i think you'd have to rent it out per room if it is close enough to the university. Doing this youd get your rents up enough to make it worth it.
Thanks for the insight Brandon, I appreciate it. I've been doing more research, got in contact with a realtor In Keene who knows the area really well and he said $1,000-1,200 is a realistic ball park per unit for monthly rent. I've also discovered from more landlords I've contacted that Valley St is much further from campus than I originally thought. One guy told me he's been doing student rental in the area for 15 years and he's never known any students rent in that area (Valley St).
Hey, @Cody Barna I live and own a 2 unit in Keene currently. My apartment building is almost the same layout as this building, except the upper unit doesn't have as much slated ceilings. We just renovated or downstairs unit and got a lease signed for $1,400 per month everything except electric included.
In the condition, being a bit outdated in kitchen and bathrooms. I would say the listing is pretty accurate with 1100-1200 for rents. I personally lived with in a 1/4 mile from this house for a year and it is not the best location.
Lastly I would say that this is to far from the college to effectively rent for the room by room you were thinking of.
Hope this helps
Valley street is not that great of an area. Lots of drugs and poverty.
Proceed with caution buying in Keene. We just had 300-400 new construction units added to inventory, which is a 6-8 percent increase in supply. Enrollment is down several hundred at the college. The biggest employer in town just lost its biggest customer and is downsizing (just laid off a few hundred people last week, more expected in June). A few other employers have also gone through recent layoffs.
Hi Shane and Chris I really appreciate that insight! It definitely makes a huge impact on my final decision.
Jeremy Smola

Rental Property Investor

from

Nashua,

NH
replied about 1 year ago
Hi Cody,
Do you like it? Want to live there for a year per FHA requirement? It's a 2 unit rather than a 4 unit ( I think you meant 4 bedroom). The wiring is dated -1 outlet for downstairs kitchen counters, can't see any in the baths or upstairs kitchen, hopefully that's not the case. Looks like it would make good student housing if you can get them to walk the distance. It also appears to be a great candidate for reno once you tire of student tenants. Happy to share what we learned in Nashua even though the market is different in Keene due to the college kids, so apply this info where you see fit.
Students can be pretty rough on a house. Lots of nail holes in the walls, bumps, nicks, scratches, broken cabinets, windows, railings etc... Often times it's hard to price damages as they fall into the general wear and tear category. It's just the wear and tear is greater with students. This might not be an issue if you plan to reno in 5-10 years or you screen tenants well.
Heat included - Including heat can get expensive. Often renters with included heat run the heat pretty high, don't turn it down when the leave the house, or do silly things like run the heat with a window open for fresh air. The house is old and the insulation likely isn't up to today's standards so I wouldn't expect efficiency, especially with the older windows. Splitting the heat system with a second boiler will be roughly 8-10k unless you 'know a guy' (then it will be 5-7k) and in NH it's not legal to split bills that serve both units so the heat has to be included for now. If it's gas you can call the local gas company to get billing history. Often prospective tenants will scan available rentals by price without consideration for whether heat is included which puts you at a slight disadvantage for renting unless most of Keene is renting 'heat included'. Most of our NH tenants underestimate their heating costs.
We've found the following to be true in our area:

Our family applicants are seeking 3+ bedrooms
Our 2 bedroom applicants are either seeking a large master bedroom and kids room, or 2 equal size rooms for roommates.
Our 1 bedroom applicants are plentiful and desperate.
We get 10 applicants for our 1 bedrooms for every 1 applicant for our 2-3 bedrooms.
You can probably rent some or all of the garage to someone in the neighborhood for extra $.
Someone needs to mow that lawn and remove snow when you no longer live there.
Find out what the house needs to meet the requirements for approved off campus housing https://www.keene.edu/office/reslife/och/. Checklist below.
Checklist: https://ci.keene.nh.us/sites/default/files/Code/Pages%20from%20Voluntary%20Minimum%20Housing%20Standards%20Inspection_0.pdf
Call keene fire marshal to find out if you need hardwired smoke detectors in rental units. Your insurance company may require this even if the town does not. Some allow the 10yr lithium battery though.
As far as major repairs, it's always a worry. Be sure to get a good house inspector. It's good insurance to get the sewer or septic inspected as well even though it's more upfront money.
Most of your majors gotchas in a multi are going to be :
Sewer line / septic field condition
Roof - slate is great
Siding / Paint - The vinyl is fading but intact
Driveway - not paved so no issues some stone can't fix.
Furnace/boiler - Weil Mclain's are a good brand, should be good for 20-30 yrs
Chimney linings
Foundation
Electrical (on reno work with permits)
Plumbing (on reno work with permits)
Exterior doors and windows falling apart
Infestations
The neighborhood. You can't change the neighborhood and it dictates what type of renters are willing to rent your units.
$900 including heat for a 2 bedroom seems cheap but looks on par to other comps in the area. Upstairs unit has a micro kitchen. Maybe you get 1k, maybe you get $1100. I'd run the numbers at $950 for safety.
I also think you should run the numbers on some 200k+ houses where the 2nd unit rents for more than $900 and covers the mortgage payment increase. You could get a better house or location with just a little more down and the same monthly out of pocket for you. Or wait for a 3 unit to pop up so that any 2 rented units cover the mortgage. You're not going to get a ton of chances to only put down 3.5% when buying an investment property. FHA allows up to 4 units.
Thank you Jeremy for taking the time to write this detailed post, I found it extremely informative. I think you make a lot of great points, some of which are things I've been thinking about. That being said, all of the info I've been receiving while doing more of my own diligence I've decided not to move forward with this property.
John Mocker

Insurance Agent

from

Norwalk,

Connecticut
replied about 1 year ago
Cody
One think to check into is the difference in cost for insurance under the two scenarios. Most Insurance companies for rental property do not want Student rentals. There are some that will but they may be more expensive. If it needs to go to a Commercial or worse, a non-standard (excess/surplus) the cost could be significantly more.
Thanks John that's a really good point!
Hey Cody,
I live in Keene and just purchased a live-in 4 unit last fall. When I first moved to Keene 18 years ago I lived on Valley Street with two college students. I was friends with college students who lived on Forest St in keene. If you they are can live of campus, they probably have a car and even if not, you can walk to the college in about 5 mins. I also believe Valley St is out of Keene's flood zone so you may save on insurance. Unless you live in west Keene (the higher end district) drugs and such are a problem everywhere. Dont let this sway your decision. Its a great town FULL of great people. That element is everywhere and certainly is the exception and not the rule.
When I am running numbers on Keene Properties, I have found that I try to stay around 55k to 65k per unit and they seem to cash flow. I can happily share great referances for property inspectors, insurance agents and mortgage. (I am not claiming to know everything, I can only speak to experiences that I have had and am happy to share those with you. )
@Jason Parker
Sorry for type-os. Sent from my phone.
Cody Barna

Real Estate Agent

from

New Hampshire
replied 12 months ago
Thanks for the local insight Jason it's extremely helpful to get information from investors who know the market.