MAREIA Monthly Meeting with Special Guest Mr. Landlord
No Replies
06/13/19 06:00PM - 09:00PM America/New_York
Please park in the Garage on Level 2, 90 Painters Mill Road, Suite 220 Owings Mills, Maryland 21117
$20.00
Disclaimer: BiggerPockets does not support or sponsor any meetups unless otherwise noted. Do your due diligence before attending any events. You may be agreeing to attend an event that includes promotion, pitching, or high-pressure sales tactics or techniques. There may be pitching of products, services or properties at this event!
Larry Adler

Real Estate Investor

from

Baltimore,

Maryland
posted 3 months ago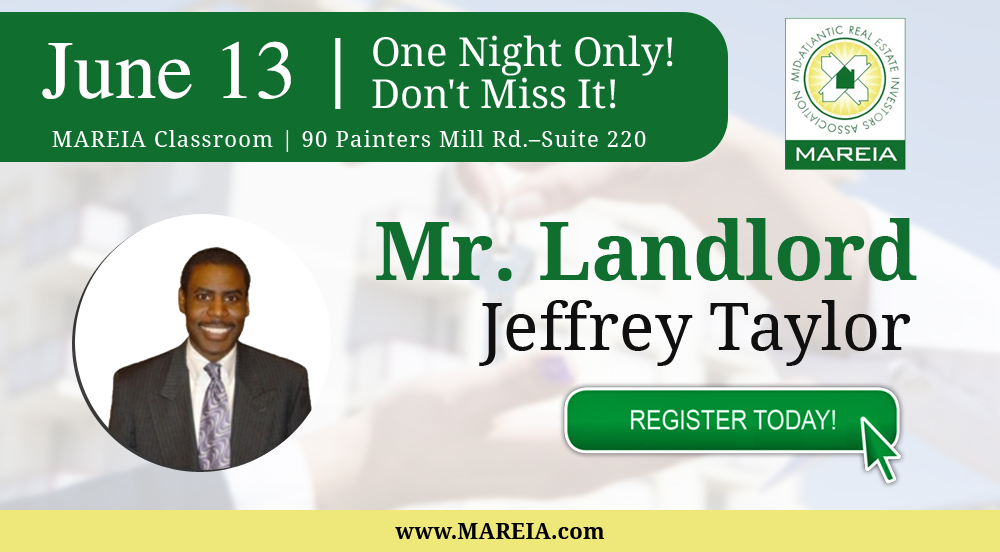 HOW TO INCREASE YOUR RENTAL INCOME BY THOUSANDS!!
In the last 5 years, the way we do landlording along with what rental residents are looking for has drastically changed! Whether you're a brand-new rental property owner or an old pro, you can no longer rely on outdated landlording thinking, methods, and approaches to succeed. To maximize your cash flow and rental income, you need to change the way you think about landlording.
In his truly one-of-a-kind, engaging style, Jeffrey Taylor will Share Both the Market and Psychological Forces at Work Today That Will Change the Way You Increase Rental Income..
Jeffrey Taylor, aka Mr. Landlord, has been investing in real estate for more than 3 decades. He receives over 1 million in rents annually, has dealt with thousands of rental residents in low, middle and upper income areas, in both "good" neighborhoods and "bad". He has made huge profits with rental property by doubling or tripling his net rental income and has shown tens of thousands of landlord just like you how to do the same. Jeffrey is able to:
Show you the best ways to increase rental income and profits in the next 12 months.
Help you understand the landlording mindset and strategies you need to learn and focus on NOW, so that you don't become frustrated, burned out, overwhelmed or underpaid.
In less than 2 Hours, Jeffrey will Resurrect Your Passion for Rental Property and Financial Independence and provide you an Actual PLAN for Rental Income Growth!
He will provide you an outline, and show you what's possible……
what's being implemented by successful rental owners just like you all over the United States…….
what you'll need to do and know to not only increase your rental income, but also how to get residents cooperating with you to accelerate your growth.…
Discover which income building strategies you can implement in the next 3 to 6 months that will literally add thousands of dollars to your annual income and help you generate a bigger monthly cash flow buffer that will help you survive vacancies, growing property taxes, insurance, fees and maintenance expenses.
He'll even demonstrate how vacancies can help you INCREASE your cash flow!
How to avoid the TYPE of residents who will drain you emotionally, mentally and financially.
How to avoid critical mistakes that landlords unknowingly make that dramatically takes away from their cash flow.
How to reach your rental income goals and still enjoy being a landlord! ….And how to take the next steps toward systematically continuing to build your cash flow and your rental business to insure your family's financial success, peace and wealth in the months and year to come.
If you want to resurrect the passion you once had for rental property and financial independence, and could use some motivation and specific, clear suggestions about how to increase rental cash flow, join Jeffrey Taylor, a.k.a. Mr. Landlord, for this upcoming training and let him show you how to change the way you think about landlording. For members this seminar is Absolutely Free!
MARKET UPDATE starts at 6 PM
Create Lasting Wealth Through Real Estate
Join the millions of people achieving financial freedom through the power of real estate investing