Plan to Profit in Real Estate Richmond VA
2 Replies
10/12/19 09:00AM - 04:30PM America/New_York
2101 Maywill Street Richmond, Virginia 23230
Free
Disclaimer: BiggerPockets does not support or sponsor any meetups unless otherwise noted. Do your due diligence before attending any events. You may be agreeing to attend an event that includes promotion, pitching, or high-pressure sales tactics or techniques. Poster certifies that there will be no pitching of products or services at this event.
For more details go to www.PlantoProfitRE.com.
This is Day Two of a two day program but it is possible to purchase tickets for just the Day Two sessions.
Taylor L.

Syndication Investor

from

Richmond,

VA
replied over 2 years ago
This is going to be great, fantastic price for this event!
Shera Gregory

Investor

from

Richmond,

VA
replied over 2 years ago
There is still time to attend Day 2 of the Plan to Profit in Real Estate Seminar.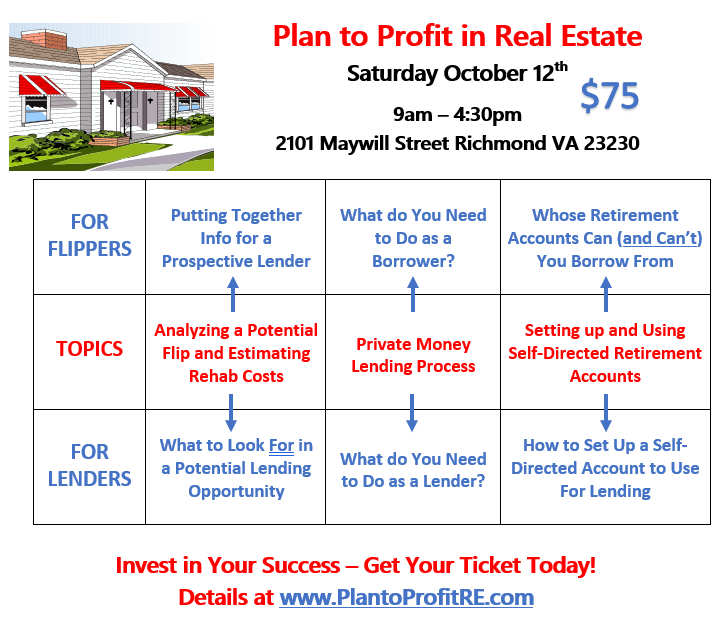 For some reason the BP event just changed to saying that this is free of charge. That's not correct. The cost is $75 for the full day seminar including lunch. Tickets can be purchased at: EB Tickets
Hope to see some of our Bigger Pockets community in person on Saturday!