Pittsburgh PA Flip....Before and Afters...Share your thoughts
10 Replies
posted almost 3 years ago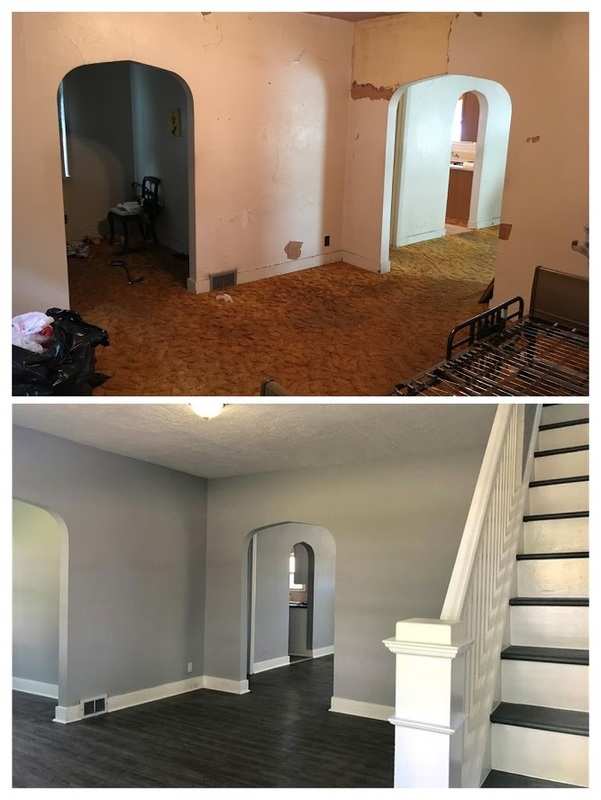 Here's another one...... This flip ARV was $82,500 so we refinished the cabinets instead of replacing and tried our best to keep things inexpensive. I'm happy with how it came out but please share your thoughts. Thanks
Khaled Helmi

Flipper/Rehabber

from

Clarksville,

MD
replied almost 3 years ago
Very nice! Your ARV is 82.5? That's pretty slim margins - how much did you buy it at and how much are you in?
We did this one for an investor friend of mine so I hooked him up on rehab costs. He purchased for around 16K and I charged him 35K on the rehab. Once again he's a friend so I worked with him on the the repair costs. Owning my own construction company I can do things rather inexpensive. Not exactly sure on his final ROI though.
Is this your first full rehab and what was your timeline?
No I've personally done 8, and about 15 for other investors in Pittsburgh, PA. I have a crew of 10 that work for me (Pittsburgh Property Remodelers LLC) and we currently have 3 full rehabs going right now. (Penn Hills, Squirell Hill, and Lawrenceville) I've recently partnered with Liz Kazeva and opened PGH Property Buyer here in Pittsburgh as well. We also wholesale and do some buy and holds. She's in charge of deal acquisition and I manage the construction side of things, utilizing my crews on all projects. We do everything in house from flooring to roofs and all that falls in between. We sub out HVAC, rubber roofs and carpet install. This project was for another investor whom is a friend, my crews just did the rehab on this one. I have posted a number of my personal flips as well. The Upper Lawrenceville flip was a complete gut.
replied almost 3 years ago
The rehab looks great! Nice choice in flooring and I'm sure you saved thousands by refinishing those cabinets. What was the process like for the cabinets? Did you use a special product/paint?
Thanks Johnna,
Refinishing cabinets is all about the prep. The sanding and primer. If they are not sanded properly the new paint will never stick. And if the proper primer isn't applied they will bleed through the old color or the paint will easily chip off. BIN, Zinsser's shellac-based primer is a great product I would suggest using. We always spray the cabinets as we don't want any brush or roller marks.
Thanks for the tips! It looks like hours of sanding paid off. Sometimes I also see people using those "Rust-Oleum Transformation" kits, but I've never tried it myself.
I used the Rustoleum kit a few years back and wasn't happy with it. But even with that it's all about the prep
Free eBook from BiggerPockets!
Join BiggerPockets and get The Ultimate Beginner's Guide to Real Estate Investing for FREE - read by more than 100,000 people - AND get exclusive real estate investing tips, tricks and techniques delivered straight to your inbox twice weekly!
Actionable advice for getting started,
Discover the 10 Most Lucrative Real Estate Niches,
Learn how to get started with or without money,
Explore Real-Life Strategies for Building Wealth,
And a LOT more.
Sign up below to download the eBook for FREE today!
We hate spam just as much as you