House Staging Question Costs
10 Replies
John Woodrich

Flipper/Rehabber

from

Minneapolis,

MN
posted over 3 years ago
For those of you who chose to stage your homes for selling - what do you typically pay for this service?
We stage houses on our own and have been acquiring furniture for a while. Currently we seem to have enough inventory to stage a couple houses. My wife loves this part of the flipping process and we usually gain a couple extra pieces after each house.
Reason I am asking is that someone else wants her to stage their house and she hasn't gone through any training so we are really shooting from the hip. We aren't talking about staging a high-end house, we have mid-level quality furniture. Here is an example of one of our recently finished houses:
https://www.edinarealty.com/homes-for-sale/27877-j...
We plan to give this person a very good "friend discount" but eventually this stuff will start showing wear and tear and it costs money for our guys to move it around.
Thanks for taking the time to read this.
-John
I just sold my house. My Realtor said the price full staging with furniture was $1600. This may vary based on square footage. My place was around 1300 sq. ft.
Thanks @John Gutenkauf . I have heard metrics of 1% of sales price but not sure how well that works with our market.
@John Woodrich we paid a TON to stage our Hugo house. It was high to luxury. We staged the Master bed and bath, Kitchen , Living, Sitting, Office, Powder and nook.
I looked at purchasing the same furniture through Wayfair and could have saved ourselves quite a bit.
They charged us a flat amount for two months including setup and take down and then if we had it longer there was a per month after that.
The flat amount was about a $1 a SF.
Thanks @Suzanne Griffiths , that helps a lot. I believe staging adds value and because I am a CPA I like saving money so purchasing can be cheaper. Most of the furniture in the house above has been used for at least 3 houses so it has been paying off. May have caused another expense with my wife wanting to go a program to learn more and get certified as a stager though!!!
@John Woodrich I will definitely purchase the furniture and stage it ourselves for the cost of it. We didn't have to on our Chanhassen project as it sold before we were done. We just picked up a new project in St Paul so looking forward to doing that one. Negotiating a new one in Richfield, the have a new build in Mahtomedi. If our scheduling works out we could just move the furniture from one to the next.
This is going to vary depending on where you are located but in Orlando I have a nationally awarded stager who charges $2,500 for the Living Room, Dining Room and Master. The kitchen decorated and bar stools if needed. Bathrooms decorated, walls decorated, music and aroma. This also includes Professional Pictures of the staging for listing. Price is for 2 months and $600 a month after that. If another room is needed its an additional $400-$500 and extra $100 after the two months.
Hope that helps.
An example of one of them.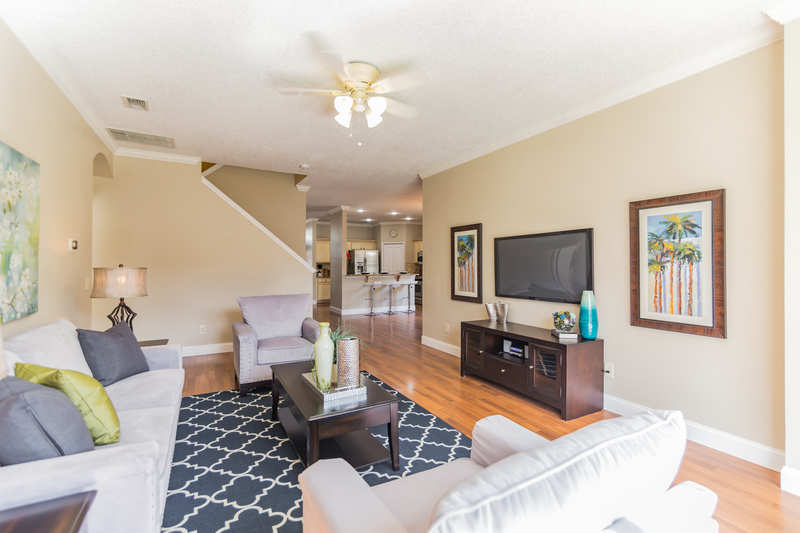 Sam Shueh

Real Estate Agent

from

Cupertino,

California
replied over 3 years ago
In CA the staging has gone up a lot. Almost doubled last few years. A modest full stage costs $2500 and partial fetches $1700. I was able to negotiate one for $1585 on a 1770 sf 2 story. I am staging outside.
Eric Bate

Rental Property Investor

from

Chicago,

IL
replied over 3 years ago
Wow! I had no idea staging was that expensive. My realtor is a close friend of mine, and he did it for me for free. I will say though, that @Brian Varmuza 's guy did a breathtaking job on that one place.
In our market the 1% of listing price, with a minimum of around $1500, also holds, for low-mid range houses.
Our stager gives us a slight discount for volume/repeat business, but not much, as there are fixed costs with the movers, etc. This is for delivery/setup/removal and 3 months use, with a small fee per month after ($250 I think, thank goodness we have never had to use it yet...).
IF I had any taste, and if we did more volume, I might choose to buy the furniture and move from house to house, but since neither is true I think that my stager's job is safe!
Pics below of her most recent job for us, a small house (800 sq ft), full staging $1400