What would YOU do with this house?
13 Replies
Karen Margrave (Moderator) -

from

Bend OR & Redding,

CA
posted 12 months ago
Our experience has been in new construction in northern CA (Redding, CA) and southern CA (coastal cities) We're now in Bend Oregon, Sunriver area and starting to do Fix/flips (possibly hold for VR). Sunriver is a very popular vacation destination, much like Tahoe. The Deschutes River is nearby, and vacationers go floating, paddleboarding, kayaking, etc. Plus there's waterfalls, mountian trails, etc. for hiking, biking, etc. Sunriver is 20 minutes south of Bend, Oregon. The entire area is growing rapidly, with college and university in Bend, Facebook, and Apple opening data centers, and all the people fleeing CA, etc. It's one of the best cities on Forbes lists. 
In Sunriver Village the Homeowners Association SHARC has amenities such as pools, waterpark, snow tubing hill, etc. meaning it's great for families, and Vacation Rentals. Plus there's 2 golf courses adjoining the village. We can buy a 1850 sq. ft., 2 story house in Sunriver Village for $350,000. We woiuld rework floor plan opening it up, reface the fireplace, open the kitchen area to great room, make the downstairs bathroom larger by taking out shower (no need for it) Put in large pantry (kitchen has no storage). Move the washer/dryer upstairs.
Upstairs: there's currently a bathroom in the finished attic space over the garage, that needs to be remodeled, and get more headroom. (our thoughts are bumping roof to shed style and using that space for a new master bathroom and laundry (seperate from bathroom of course) Refinish all the walls, redo floors, and replace cabinets. Outside take back roofline on one side, paint, add some shingles at top of garage area on front of house for curb appeal
We're in the process of drawing the floor plans. Our thoughts are the remodel will be around $75k depending on what work we do ourselves, and whether or not roof on attic is raised,. ARV should be $550-$625,000 (possibly higher). Purchase price $350,000.
Questions:
1. Should we use attic space for Master Bedroom, or plan it for Vacation Rental that could accommodate several beds? If we do the VR opotion we wouldn't need to raise the roof.
2. Your thoughts if you were doing this, and what would the priorty be? 
Great room (Wall in back of couch open to kitchen)                                Reface fireplace (area over windows take out if not necessary)
kitchen  (removing wall and opening to GR)                                                  Room across from kitchen (dining area)
Loft area at top of stairs                                                                                 Finished attic space (closets to the right side)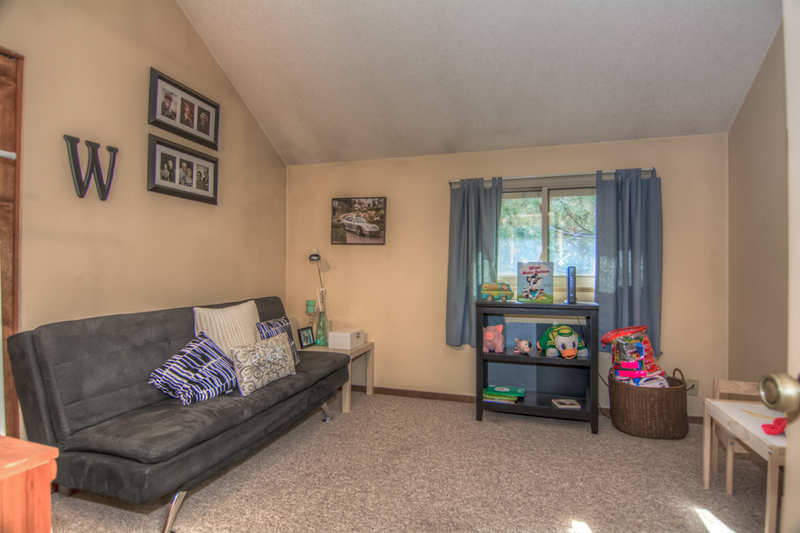 Attic space over garage                                                                                      One of the 2 other bedrooms (not including attic)
I'd go the VR route. Most folks go to the Sunriver area for that exact reason, and the demand should remain high for quality short-term rentals. At today's prices, it's super tough to cash flow on anything in this area, unless it's a vacation rental.
John Thedford

Hard Money Lender, Broker Associate, Investor

from

Naples,

Florida
replied 12 months ago
VR.. But just to be sure invite me over for a couple of weeks to verify my opinion
@Josh Garner   We will more than likely be reselling it once it's remodeled. The question is are there more buyers for Vacation Rentals (short term rental) or for 2nd home or year around living? 
On the attic space over the garage, I think setting it up as a master suite works for both uses. Looking at the space that's currently on the market, there's a lot of units set up for Vacation Rentals, and the majority of them haven't been updated, or remodeled. Many use the attics for lining up bedspace on the sidewalls.  So the question is, are VR buyers willing to pay a little more for a home that's been remodeled, and will that help make it more marketable as VR. Myself, I'd much rather stay in something that's more modern, clean, etc. 
For those looking to buy as owner/users for year round living, or as 2nd homes, they will appreciate the large master suite, since there's not many remodeled homes on the market in Sunriver Village available for sale.  
Wow, this is new territory for you! This sounds like a fun project.
So my thoughts:
I don't know the area well (I mean, it's near the home of Deschutes beer, so there is that!) so I won't offer any input on VR viability or not. 
If I were keeping as a VR, I'd change flooring, open up kitchen (honestly, I might not even bother with that for a VR) but not add pantry (because in a VR people aren't there long and need less storage), paint everything, and then spend the money on furnishing it.
If I were going to sell it, I'd open it up and modernize the kitchen, add pantry, blow out master suite (including gables or shed roof), refinish the walls, paint in and out, upgrade light fixtures, etc. 
My priorities in order:
Kitchen - For the love of all is holy, priority #1 is opening that kitchen up and getting them a pantry.
Master - If second floor, sure, make that the master! But get rid of that post, please. ;) You could shed that roof or just add gables, which prevents some of the framing cost and might let you use roof budget elsewhere.
Paint
Flooring
All else
I just saw that your plan is to sell as VR, not VR yourself.
Again with the caveat that I don't know that particular market, in general I believe that there are a lot of people that buy VRs that want them remodeled, at least of the lipstick on a pig variety. VR owners aren't in the construction business, they're buy and hold investors. Add to that they might not live near the property, and trying to do something as simple as getting it painted is a difficult chore.
@Lynn Currie   I'm so happy you weighed in. I was just thinking of messaging you yesterday and getting your opinion, and then got busy and didn't do it!  I agree with everything you said, and it confirms exactly what we were thinking. 
It's good to see you back on BP, I haven't seen any posts from you in awhile. Message me with what you're doing these days. Once again, THANK YOU. 
Everything you have planned is pretty much what I'd do. If you are planning to keep that house more "transitional," let me know. I'm working on a project and some of the ideas I'm implementing might work well on that project and all of the ideas can be executed on a reasonable budget.
@Lynn Currie I'd really like to see what you're doing.  If not on the Sunriver house, we're doing some new builds too.. I've always loved your homes. What is the square footage of the homes you're building? 
Many of these places here that are set up for the VR  keep that 70's look with all the cedar on the walls, alder cabinets, etc. wanting to keep the woodsy feel. I think people are probably tired of it, and lightening it with a little more modern vibe will be welcomed. 
What do you think costs would be on converting around 15' of roof to a shed dormer? Ballpark in your area of course. 
The bulk of what I'm are two different products:
2 houses on one lot - one being in the 2200 sq. ft range, one being around 1100 sq. ft. 
1 house on a lot - I try to do these around 3300 sq. ft., this is usually dictated by lot size and land development code limitations, not what will sell.
In the past I've done a lot of clean, white and grey contemporary interiors. In the past year or so I've really been trying to step up my game and move a little more out of the box on design. In my market, I'm seeing an appreciation for this, so I'm embracing it. It took me some time to dive deep and recalibrate my design brain, but now I'm feeling it and having fun.
I'm really excited about a kitchen I'm designing right now. This is my inspiration photo:
Mine won't be exactly the same obviously, but I love, love, love this blue with the gold. I just hope my buyers love it as much as I do!!
RE: price on the gable
I'm not sure but I'd guess around $9-$10k? Maybe a little less? Since I do mostly new construction I'm terrible at pulling numbers for remodels out of the sky. 
How funny!! I have that  exact kitchen saved too! LOVE the gold and the blue, the more modern shaker style cabinets, etc.  I actually was going to do the gold color fixtures, etc. on a house in San Clemente, but couldn't get anyone else on board. I had already bought a gold light fixture and still have it in a box. 
It's tough being in a new market. In southern CA I could have done anything. Up here, I'll have to wait until I find a lot in Bend where I can do a more modern design to really be able to use more cutting edge finishes. 
I understand on pricing, that's where I am, and trying to get up to speed with remodeling. 
Look at these built in bunk beds. If you go the VR route these would be amazing!
https://www.houzz.com/photo/81590223-st-jean-darvey-rustic-kids-grenoble
Karen Margrave (Moderator) -

from

Bend OR & Redding,

CA
replied 11 months ago
Here's the floorplan for this. The plan is to bump up the attic roof with shed roof on both sides, depending on if HOA will allow it. Also moving laundry out of garage upstairs. It will be stackable. They're very fussy on allowing much new, and tied to brown, and green! But, we're going to try our best to give it some new curb appeal, take up that roofline if possible (again, HOA) We're opened up the floorplan.  What are your thoughts? 
Create Lasting Wealth Through Real Estate
Join the millions of people achieving financial freedom through the power of real estate investing