September 2017 Market Report
2 Replies
David Ivy

Real Estate Agent

from

Austin,

Texas
posted over 1 year ago
The September 2017 Central Texas Housing Market Report is out from the Austin Board of REALTORS®. The weather isn't the only thing cooling this time of year. Single-family home sales declined across much of the Austin-Round Rock MSA last month, while inventory levels continued to increase. However, it's important to keep this in context:
Brandy Guthrie, 2017 President of the Austin Board of REALTORS­® commented, "Despite last month's dip in home sales activity, it's important to remember that we're comparing our current figures to the record-breaking housing market activity in 2016 and it's not necessarily indicative of a downturn."
Here are the basic stats on single-family home sales for August 2017 for the City of Austin and the greater Austin area: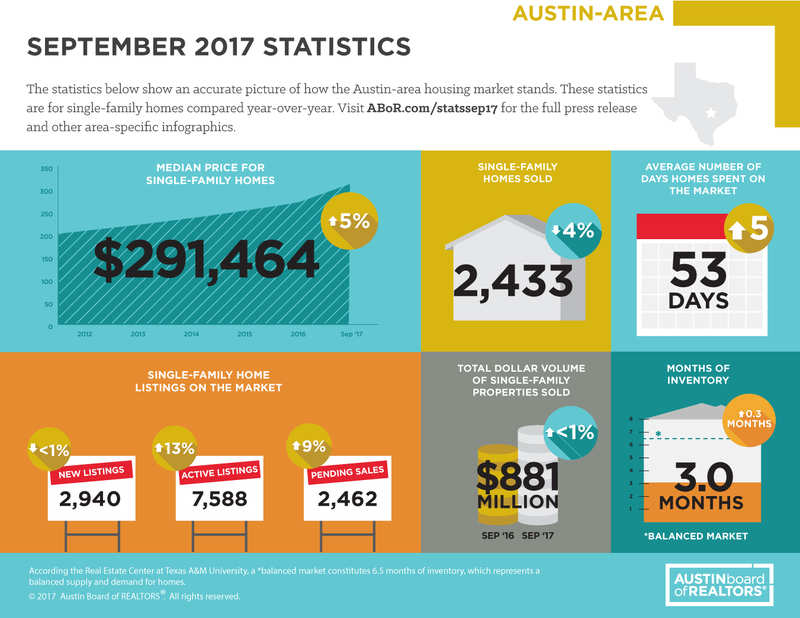 According to Lawrence Yun, Chief Economist and Senior Vice President of Research at the National Association of REALTORS®,
Austin has had one of the fastest job growth rates in the country over the past decade and consequently one of the strongest housing markets with rising sales. But steady depletion of housing inventory is resulting in a fast rise in home prices and affordability challenges. The construction of single-family homes as well as condominiums needs to ramp up higher in order to fully satisfy housing demand and maintain housing affordability. Otherwise, job growth could stall and bring less dynamism to the local economy.

For 2018, slightly higher mortgage rates will further pressure affordability and therefore attest to even greater need for new home construction to tame home price pressure. Home sales, based on recent past job creation, should continue to modestly increase in 2018. But home sales in 2019 will depend critically on inventory availability.
Carrie Penney

Investor

from

Lubbock,

Texas
replied over 1 year ago
Always county on @David Ivy for the monthly report! 
Create Lasting Wealth Through Real Estate
Join the millions of people achieving financial freedom through the power of real estate investing