February 2018 Market Report
2 Replies
David Ivy

Real Estate Agent

from

Austin,

Texas
posted about 1 year ago
The February 2018 Central Texas Housing Market Report is out from the Austin Board of REALTORS®. The Austin area housing market didn't care that February is typically a slow month. Home sales volume across the greater metro area grew in February. However, areas with the highest demand and lowest inventory experienced double-digit percent price jumps simultaneously coupled with declining sales activity. So, while all signs are pointing to another incredibly hot 2018 market in Austin, our old friends, affordability and inventory, will remain constraining forces. This is something the City of Austin will try to addressed via CodeNEXT.
According to Steve Crorey, 2018 president of the Austin Board of REALTORS®, "Last month, economists predicted an upwards of 5 percent growth in median home prices within the Austin area, and we have far surpassed that. This is especially evident in local markets where housing demand is strongest, such as Austin and Cedar Park. Home price increases are sharpest in these markets, while dwindling housing inventory in the lower price classes could be discouraging people from buying."
Here are the basic stats on single-family home sales for February 2018 for the City of Austin and the greater Austin area: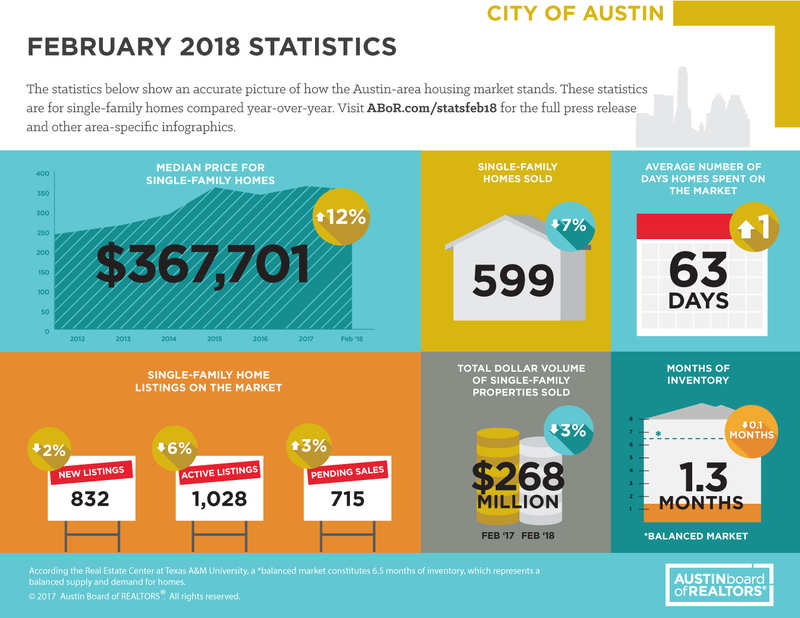 About the local economy, Mark Sprague, state director of information capital for Independence Title, said, "While wages and jobs in the Austin area haven't increased, the local economy remains strong and continues to attract new residents and potential homebuyers. This population growth is putting additional pressure on local housing markets with already critically low housing inventories, leading to sharp price increases that both homebuyers and new home developers cannot keep up with."
Aaron Gordy

Real Estate Broker

from

Austin,

TX
replied about 1 year ago
@David Ivy Its kinda crazy! 12% increase in the Austin metro area. Its for that reason why I have become a buy and hold guy. The city planning department is projecting 750,000 people to move here over the next 10 years. Where are they going to move to? What is CodeNext going to do? Its all fascinating! Thanks for sharing!
what areas should we consider for "buy and hold" ? 
Create Lasting Wealth Through Real Estate
Join the millions of people achieving financial freedom through the power of real estate investing