International real estate marketing strategies
10 Replies
Hello everyone,
I've been a real estate agent in Colombia for several years, it's basically a market that has stabilized during the last two decades offering interesting real estate commercial and residential investments.
Recently my team has gotten several local properties that could definitely have a broader international buyer audience. I would like to know according to your experience (in or outside US) which strategies are best for international real estate offerings: Do you use social media, do you pay for a certain internet real estate website, do you prefer newspaper or magazine print ads? Please share your experiences I would really like to hear about them.
Ryan Cox

Investor

from

Austin,

Texas
replied about 1 year ago
@Daniel Achury   This is a specialized sale - I would look to build relationships in expat communities with a large number of Columbian nationals.  By the looks of the chart below (quick google search, unsure of how accurate) Miami, New York, LA & Houston look to be good markets to narrow your focus.  Do any firms in these markets specialize in working with Latin Americans?  Keep refining your approach until you have identified the right contacts for your niche.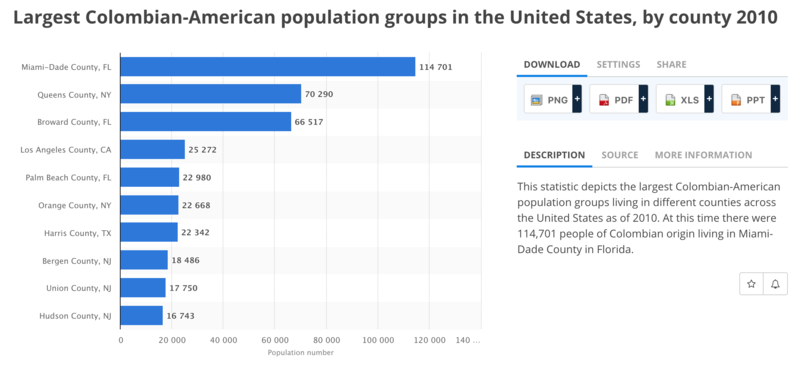 @Ryan Cox  Thank you for your answer. It's good advice and I should definitely refine my search just as you explained. Colombians living in the US would definitely be an ideal audience to target. 
Samuel Awosolu

Real Estate Agent

from

Fort Lauderdale,

FL
replied about 1 year ago
Hello @Daniel Achury ,
I have actually been to Medellin. I was there last year in 2017. Beautiful city! I plan on returning to explore it some more. The food and the endless Spring weather was amazing!

I did notice a lot of new development happening on my way from the airport. From luxury high-rises to modern homes on the mountain side. It was amazing to see. 
As far as marketing there is a growing expat community living in Columbia. I've met them. They range from retirees, entrepreneurs, and small business owners. Some have plans to stay long term. Others are starting businesses and servicing the local communities.  I know of one that lived in Texas and recently purchased a condo there because his digital marketing firm started seeing some growth.  I would target local expat communities living in Columbia through social media. Specifically Facebook. There are many groups on Facebook that you can reach out to the admin and present your properties with permission. 
If you are going to target Columbian nationals living in the U.S. You will need to know what their motivation would be to purchase a home back in Columbia. The ones that I have sold homes to here in South Florida. Sold their homes in Columbia to buy here. 

Also, I'm not sure about the Airbnb laws in Columbia but if the buyer has the option to rent out the property or do Airbnb as an investment. I would pitch that in the presentation as well. 
So to answer your original question about marketing to an international audience. I would focus on targeted Social Media groups on Facebook and Instagram influencers that can bring the right attention to your properties.  
Hello everyone,
Yes Medellin is an awesome city that has completely turned around in recent years (and Colombia is an awesome country). A lot of foreigners retire there and might want to buy a home. Airbnb is allowed, depending on the rules of the building. In a condo building, 70% of the owners have to agree to allow it and most of the time they don't.
I'm planning to visit shortly and I would buy there as an investment if only I could get some decent financing. That's the main problem. Because the investor can't leverage the property, his/her returns will be less than at home and he will be taking much more risk.
Andrew Lenis

Real Estate Agent

from

Queens,

NY
replied about 1 year ago
Hello @Daniel Achury
Colombia is one of my favorite places to vacation. Such a beautiful country.
I would have to agree with @Mike Lambert and @Samuel Awosolu that being able to Airbnb the properties  will be very important in attracting foreign buyers. 
But as Mike mentioned one of the biggest challenges with buying real estate in Colombia is getting financing. My suggestion for you is to try and structure it in  a way where they can do seller financing. 
Good Luck!
@Samuel Awosolu Yes weather is awesome here, City of Eternal Spring! The area you saw on your way down from the airport is Alto de las Palmas and Llanogrande, that's where the most amazing houses (mansions) are being built. It's the new rich neighborhood. 
I will definitely look for these expat groups on facebook and offer them this property. Laws have been getting more strict regarding short term stays at any residential area. There was a time where we had foreigners come and have a 3 day party with all excess that you can possibly imagine. Afterwards, by law, Airbnb apartments must have a special permit called Registro Nacional de Turismo - RNT. Most owners wont consider renting for less than a month (some will rent for less time but they are exposing themselves to a heavy fine).  Fortunately this property I want to offer is commercial so Airbnb wont be a problem.
I like the idea of using facebook and instagram, I'll focus on both of them.  Thank you for your ideas!
Seller financing is a great idea but it doesn't seem to be used. In any case, the bank deposit rate is around 7% so the rate you would have to pay the seller would have to be high anyway.
@Mike Lambert I agree, Medellin is a beautiful city! Airbnb has been extremely regulated after many incidents. Some popular projects among foreigners who like to rent properties are residential buildings that operate as hotels known as apartment hotels. These kind of projects aren't very common here though, I'm guessing this is more frequent in Cartagena or Barranquilla. 
Yes, lending is somewhat diffferent here than in the US. For example, lenders (both private and banks) won't consider 30 years at all. Maximum loan time is 15 years in some very special cases. More years are possible however there is a different credit unit for these loans known as UVR which can be risky and that's why people wont usually take them. Apart from that we have 12% per year interest rates  while in the US it's somewhere around 5-6%. In most cases it's best to find financing in the US and then buy here. I'm curious though about seller financing on some properties as @Andrew Lenis suggested, there might be a way to make this possible. I'll definitely talk to some Colombian finance experts on this subject. 
@Andrew Lenis Colombia is great for vacations! 
Airbnb is locally changing from 3-5 days stays to 1 month+ because of all these new regulations, unless of course the owner has a special permit known as RNT. Your idea of having seller financing is good, I'll have a look at it with the owner. In this case, the property I'm offering is commercial and generates a considerable monthly rent $35,000+ USD approx. This can be attractive to many buyers. 
Thank you for your suggestion!
Ken Breeze

Rental Property Investor

from

Phoenix,

AZ
replied 12 months ago
@Daniel Achury if seller financing doesn't play out, perhaps the owner will work on a master lease solution with you. Peter Harris from Commercial Property Advisorshas a great video on that topic.
Create Lasting Wealth Through Real Estate
Join the millions of people achieving financial freedom through the power of real estate investing