What would you do with this kitchen?
16 Replies
Brent Paul

Renter

from

Chaska,

Minnesota
posted over 2 years ago
The layout is a little goofy and not a lot of light.  I think it needs a window put in and things rearranged.  Penny for your thoughts?
Chris T.

Investor

from

Downers Grove,

Illinois
replied over 2 years ago
Wow, a fridge basically in the middle of all the cabinets.
If your ARV and budget allows, gut it and put in a more friendly layout. You could put lipstick on a pig by painting the cabinets, changing the countertops , and get new SS appliances, and new flooring. But your layout is going to put off some people.
I wouldn't waste money putting in a window if it's a flip. 
This will be turned into a rental and likely not a flip.  But it will be a few years because of the other projects I have to finish as well.
My budget is 10k max which will allow me a lot of wiggle room.
My realtor said based on comps I definitely won't lose money on this house.  But I am not interested in selling at this point.   I will be doing all the work with help from my dad.  He is a carpenter by trade.   
Brian Pulaski

Flipper/Rehabber

from

Montgomery,

NY
replied over 2 years ago
That is a goofy layout. Are you spending $10k on just the kitchen, or the entire renovation? For $10k I could have the layout changed, window in and new cabinets and counters.
Definitely a stupid layout, but I'd do nothing. 
The hip thing is to have the sink or stove in the island with barstools around it. 
If you are deadset on a window. Put the sink where the fridge is with a window there. Put fridge where stove is and put stove either in island or where sink is. 
If sink is currently on an exterior wall, just cut in a window, and flip-flop stove and fridge and add cabinets in the empty space.
That on wouldn't require as much money.

Just because you have the money and comps can support a remodel, that doesn't mean you should do it.
If it helps find an awsome tenant, or the rental comps have a better kitchen, do it.
If not, leave it as-is.  


Mark Radford

Investor

from

Indianapolis,

Indiana
replied over 2 years ago
If it's a rental I'd do nothing.
10k is the max I would go.  But I don't think I would be spending that much considering I have a good cabinet maker that is cutting me a deal on cabinets and I am getting counters with a wholesale discount.  It's tough to tell from the pictures but the cabinets in the kitchen are very cheap and not well constructed.  A few cracked tiles on the floor as well. That's why I will be replacing them with new.  I will also be living in the property as I do the updates so it will take me time to complete everything.  
  All the rentals in the area have updated kitchens.  Definitely not going too crazy like granite counter tops.  Just curious on everyone's thoughts about the kitchen.  
My main goal is to rent this out.  Take my time and learn along the way.
I got really lucky on this one.  The seller accepted my offer and 2 more offers came in later that night as mine was already accepted  Almost every house I have looked at has been a multiple bidder situation.  Even ones that were in horrible condition.  I wasted a lot of time with a horrible realtor who made me lose a lot of properties.  Live and learn I guess.
Marcia Maynard

Investor

from

Vancouver,

Washington
replied over 2 years ago
Unless you are trying to appeal to A class tenants in an A class neighborhood, you don't need to do a remodel. Yes the layout is bad, but not intolerable.
At a minimum: Change out the range hood to SS. The refrigerator is oversized. Change out the refrigerator to SS and make sure it is counter depth or at least does not protrude too far past the edge of the counter. I would put some artwork on the wall next to the fridge and place a freestanding butcher block, wine rack or decorative cabinet on wheels in that space. The key is anything placed there needs to be easily moved to be able to access the cabinets. If the tenant has a highchair for a baby, that's where it would be placed when not in use. If you can get more of the same floor tile to match, extend the tiling to the edge of that room as defined by the casement that separates it from the room living area that is carpeted. If the tiles are broken or badly worn, then replace all the floor covering in the kitchen/dining area. If the counter top is badly worn or scratched up, replace it. If not just put a new end piece where it has come off. Add some decorative pendant lights above the island. For a little extra work, flip the placement of the range and refrigerator, then having a butcher block placed there next to the range will make sense.
David Dachtera

Rental Property Investor

from

Yorkville,

IL
replied over 2 years ago
For a rental, about the only thing I would consider is replacing the range hood with a microwave / hood. It's already on an outside wall so you can vent the fan directly to the outdoors. This reduces grease build up on the kitchen surfaces, if the tenants use the fan.
Otherwise, yeah - it's a bit goofy.
If you were doing a remodel, you could move the dishwasher to the other side of the sink, move the fridge to that end of that wall, and move the stove so it is centered between two cabinets.
Another option would be to do all that plus replace the stove with built-in oven(s) and place a cooktop on the island and a vent hood over it. That would be more of an up-scale remodel.
My $0.02 ...
Waylon Gates

Real Estate Investor

from

Lake Havasu City,

Arizona
replied over 2 years ago
Try this...   I would agree with a microwave combo for above the range.  A window could be nice, but it would most likely require moving the sink (and associated plumbing) to the exterior wall which may be a lot more work than you want.   If you want light in the kitchen you could do windows that are between the upper and lower cabinets, this is a nice touch but in my opinion is too much for a rental, and also leans toward a more modern look that doesn't appear to match the rest of the house.
Lydia S.

Real Estate Agent

from

Albuquerque,

New Mexico
replied over 2 years ago
As your concern is about darkness, I agree about some pendant lighting above the counter, as well as under-cabinet lighting such as LED lights or something inconspicuous but effective.
Wow I didn't expect this kind of response.  I appreciate everyone's input.  Thank you all.  Some really great ideas presented here.
Kim Bayless

Investor

from

Hiram,

Georgia
replied over 2 years ago
The main thing I noticed is black range, SS dishwasher, and white fridge lol. But yes the layout is wonky. For a rental though, not sure I'd do any demolition. You can usually pick up a used newer matching set of appliances off Craigslist.
If you're strictly using it as a rental, I wouldn't touch it. Best of luck to you.
Jim Adrian

Architect

from

Papillion,

NE
replied over 2 years ago
I grew up in a house with a kitchen similar to this.  A window is not needed. Flip the stove and frig.  Infill with cabinets in the corner.  
Johann Jells

Investor

from

Jersey City,

New Jersey
replied over 2 years ago
Originally posted by @Jim Adrian :


I grew up in a house with a kitchen similar to this.  A window is not needed. Flip the stove and frig.  Infill with cabinets in the corner.  
Agree, most bang for the buck, along with the MW hood suggestions. Few of my rentals have sink windows, but they're not SFH. What's with the soffit over the island? that's bizarre.
Oh yeah, if you're handy like you say, I preach DIY granite 12x12 tile counters. Look great and wear as well as slab with the benefit of repairability if the worst happens.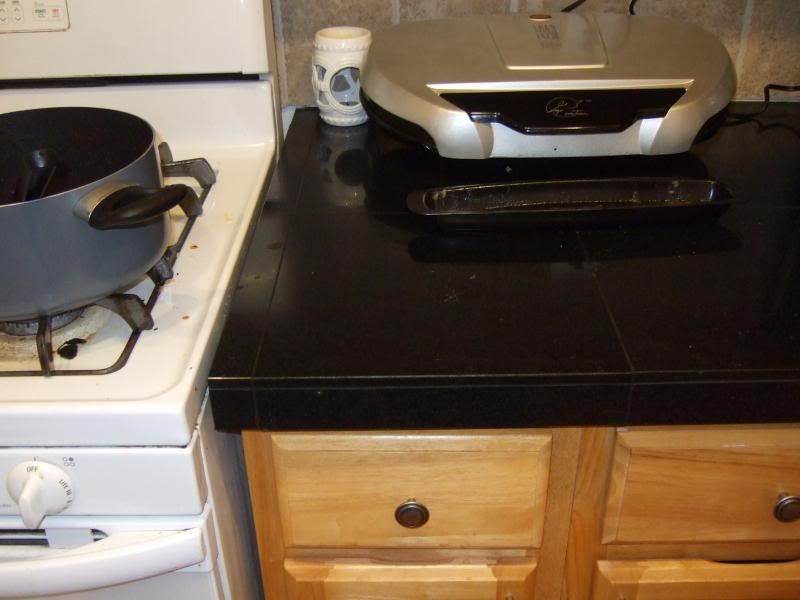 As a mother I would not want the stove next to the dining room and patio door. Kids like to put their hands on the edge of counters and the placement of the stove just scares me. 
As a landlord I would not like to see a child or adult hurt by the placement of the stove.
Free eBook from BiggerPockets!
Join BiggerPockets and get The Ultimate Beginner's Guide to Real Estate Investing for FREE - read by more than 100,000 people - AND get exclusive real estate investing tips, tricks and techniques delivered straight to your inbox twice weekly!
Actionable advice for getting started,
Discover the 10 Most Lucrative Real Estate Niches,
Learn how to get started with or without money,
Explore Real-Life Strategies for Building Wealth,
And a LOT more.
Sign up below to download the eBook for FREE today!
We hate spam just as much as you
Create Lasting Wealth Through Real Estate
Join the millions of people achieving financial freedom through the power of real estate investing