My first buy & hold the turned into a turnkey sale
No Replies
Jose Perez

Investor

from

Stockbridge,

Georgia
posted over 2 years ago
Investment Info:
Small multi-family (2-4 units) buy & hold investment in East Point.
Purchase price: $98,500
Cash invested: $45,000
Sale price: $198,500
Purchased this rundown duplex in a quiet neighborhood of East Point, GA. I inherited tenants on both sides and each payed $600/mo (which was well under market). I kept them on for a few months and then I negotiated cash-for-keys in the form of returning their deposits plus $150 on top of that. One tenant needed help with a truck rental so I took care of that too.
We than proceeded to do a full cosmetic renovation. We put everything new except one iron-cast tub, one toilet and the floors in the living areas and rooms (we sanded and stained the floors). Renovations took a little longer but that was the holiday season held us back and the crew (all related) got sick.
We marketed the units at $975 and $950 per month and had a LOT of interest. Once I decided to sell, I renewed one side of the duplex and not the other. That way an investor could buy it, cover their expenses from day 1 and lease the empty unit through their Property Manager or against their criteria. It worked out well. Listing when public on the 5th of March and had multiple full price offers within 24hrs. Went under contract on the 7th and closed March 21st.
Why did I decide to exit? This was my first project and there were a few things the contractor didn't do right. I also felt that it was going to start requiring a lot of work/upgrades so I figured I would let another person take care of them.
I learned a lot about land lording, managing properties and working with tenants. I also found out the importance of properly vetting any prospective tenants and verifying incomes and places of employment.
What made you interested in investing in this type of deal?
It was a distressed duplex in a quiet neighborhood in ATL. Had tenants but I knew there was potential to add value to it.
How did you find this deal and how did you negotiate it?
My agent brought it to me.
How did you finance this deal?
Cash
How did you add value to the deal?
Did a full cosmetic rehab (Spent around $45K on BOTH sides of the duplex). I'm now sure that I over paid... but at least I survived to tell the story.
What was the outcome?
Negotiated with inherited tenants (cash-for-keys); did a full cosmetic rehab on the property (two identical 2/1 units); placed two new tenants after raising rents from $600 to $950; sold the property with one unit strategically vacant and the other with a renewed lease.
Lessons learned? Challenges?
Learned a lot. Never trust a contractor that says "we don't need to pull permits" especially if you have never worked with them before. If you ever don't pull permits... make sure it's with a crew that you have previous experience with and can vouch for their work.
Self-managing/Landlording isn't easy. It takes effort to screen and place good quality tenants. However, it is worth it 10x over.
I also learned that I enjoy doing this process more than flipping a property outright.
Did you work with any real estate professionals (agents, lenders, etc.) that you'd recommend to others?
I worked with Melissa Whitehouse and Roger Webb from The Webb Real Estate Team (http://www.webbrealestatega.com) to market the property. They were great.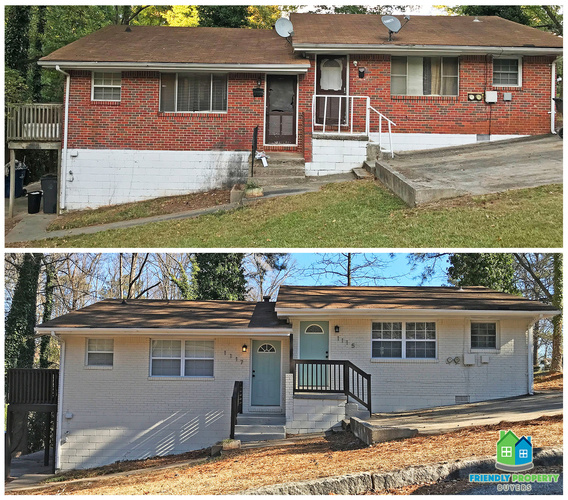 Free eBook from BiggerPockets!
Join BiggerPockets and get The Ultimate Beginner's Guide to Real Estate Investing for FREE - read by more than 100,000 people - AND get exclusive real estate investing tips, tricks and techniques delivered straight to your inbox twice weekly!
Actionable advice for getting started,
Discover the 10 Most Lucrative Real Estate Niches,
Learn how to get started with or without money,
Explore Real-Life Strategies for Building Wealth,
And a LOT more.
Sign up below to download the eBook for FREE today!
We hate spam just as much as you