Milwaukee Duplex Analysis
4 Replies
Jesse Curtis

from

Milwaukee,

Wisconsin
posted over 3 years ago
Hi, First time buyer of a rental property and this is my first run at the numbers for a duplex.
Property is a 2/2 Duplex (1 bath) with a 2 car garage. Currently occupied. Rents and taxes are actual. Asking price is 145,000.
I know a 100%/mo. per unit cash flow is a common goal I see, is that number calculated before taxes?
Any advice or things that look out of the ordinary would be appreciated.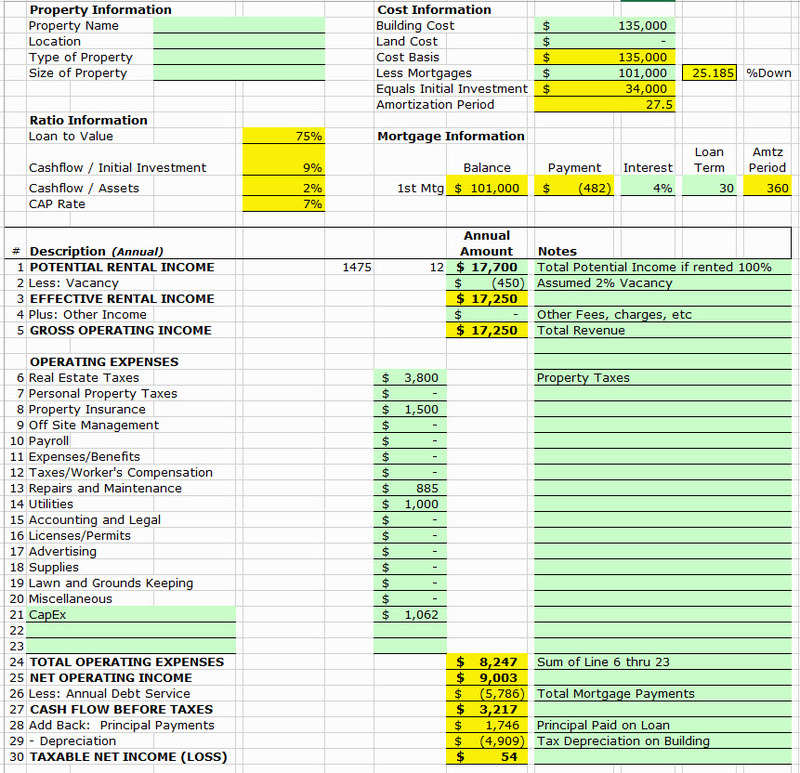 This seems to be a good analysis, Jesse. Some items I would explore further are as follows.
First, when doing your due diligence always use actuals - not pro-formas or any estimates provided by the seller. Those can serve as a benchmark or starting point but make sure to run your own numbers. For example, I see it has projected rents listed. I'd recommend confirming what the actual rents are currently as when you purchase the property you will need to honor the existing leases until the leases expire. So if you have the potential to raise the rents by $100 a unit just know unless they're month to month it may be some time before you can do so. A great resource is rentometer.com to identify what fair market rent would be. There's no better time to raise rents than when you first buy a property and leases expire. The Tenants expect you to raise rents - so good time to do so depending on where the rents currently are.
Vacancy: Typical underwriting is about 5%. If you really want to play it safe you can use 8% as that would represent each unit being vacant for one month. However, in Milwaukee I believe vacancy is at about 3% - which I could be mistaken. Ultimately, Milwaukee is an easy market to fill vacancies in with the caveat of winter move outs.
Repairs and Maintenance: To play it safe 10% gross income. You'll find some years you won't come close to this figure but then there will be years that a furnace or maybe two go down and repairs and maintenance sky rockets. 10% is a conservative figure to play it safe. On those years with no large Capital Expenses then it's just gravy. I do see you have a CapEx number in your evaluation so between that and repairs and maintenance looks close to that 10% number.
Utilities: I'm not sure if you're considering water/sewer at utilities. If so, you can ignore the statement below. However, if utilities means electric and heat depending on where you're properties are located and your tenant base you can pass those costs off to the tenant and have them pay for the utilities as they're typically separately metered. I'd recommend doing so if possible.
Water/Sewer: I didn't see a line item for water and sewer. It's rare to find duplexes that are individually metered for water and sewer which means you'll need to pay for that. I've seen average bills for water/sewer to be about $45 a month per unit. So that's an additional $1,080 in expenses unaccounted for. Also, once you own the property and begin receiving the water bills every quarter keep an eye out for any spikes in usage. A leaking toilet can cost you close to $500 in a year. You'll want to get on that right away. The city has a website where you can compare the water usage to historical averages for the property so you'll know quickly if there's a leak or issue.
Lawn/Grounds Keeping: Similar to Utilities if you do have a lawn that needs to be mowed. Give the tenant a break on rent and have them mow it. Also, if there are sidewalks those will have to be shoveled in the winter. Another item to put in your lease that the tenant is responsible for shoveling the snow.
So based on your numbers (keeping everything as is and saying utilities is water/sewer and tenants pay for heat and electric) you're showing $3,217 return on a $33,750 investment which is a 9.5% return I'd say that's a fair deal. I personally have a hard fast rule that I'm looking for a minimum of 10% Cash on Cash return as one of my criteria and this gets it pretty darn close. Including principal paydown you're closer to 15% return, looks good. If you have the opportunity to raise rents based on what you find on rentometer as soon as the leases expire the deal only gets sweeter.
Good job on the evaluation and looks like a good deal in my opinion. As you proceed feel free to reach out if you have questions, happy to help any time.
Marcus Auerbach

Real Estate Agent

from

Milwaukee - Mequon,

WI
replied over 3 years ago
@Jesse Curtis you already got great comments from Pat, let me ad a few considerations.
The big wildcard in your math is capex. Depending on where you set the capex number you can go from great to poor very quickly. It's probably the biggest pitfall for new investors and most agents are not much help here. Unfortunatley you cannot just use a general percentage to calculate capex for a particular property, you have to assess the actual condition of your the property.
In a nutshell: think of it as a list of systems and components like roof, windows, plumbing, flooring, driveway etc. They all have a certain life expectations they are designed for. The design life depends a little bit on the quality of the materials used, but for the big picture you can use averages. The design life of plumbing is about 60 years, a roof 20-25 (for cheaper shingles typically used on a duplex), carpet anywhere from 3 to 10 years depending on the tenants. When you evaluate a property some people find it easier to determine if a system is in it's first, second or last thrid of it's life.
Pay special attention to everything that needs to be done in the next 5 years. If you are not sure then consider it to be necessary. Then you can assign cost to every item and calculate an estimated total. You then have two choices: you can divide it by 60 months and then spend the money over the course of 5 years. Or you put the number next to your down payment and fix everything before you rent out the property. The later has the advanatage that you can rent out an already improved unit and it's obviousley a lot easier to get contractors in and get everything done at once when it's vacant (or after you have cycled existing tennants out).
Hope this helps a little, feel free to reach out if you have questions!
Jesse Curtis

from

Milwaukee,

Wisconsin
replied over 3 years ago
@Pat Parrillo : Thanks for the reply. Read it about four times to soak it all up. Sorry to confuse on the rent numbers, they are actual and are month to month according to the listing. Rentometer says the rents are "reasonable" and a bit on the Green side, if that matters. Good note to know on the Milwaukee market being a bit easier to fill.
Utilities: The units are separately metered and I had 1000 for water/sewer/trash so I will raise that up a bit.
The MLS listing says the property had a tear off roof replacement in 2014 and new furnace and AC in 2006. Floors are all hardwood. Low maintenance exterior.
Question on the AC and furnace: How are they metering the AC separately if there is only one condenser?
For snow removal and grounds keeping I'd like to do that myself at least for a while just to save a bit more and 'keep my eye on the place'. Does that sound reasonable to do?
One thing that sticks out is that it has been on the MLS for over a year- they lowered the price but does that scream that something could be wrong? At one point they had the listing 13k lower than their asking price now.
@Marcus Auerbach: Thanks for the note on CapEx. I have been a bit confused on how you factor in CapEx vs regular Repairs and Maintenance. With Pat's estimate of 10% of gross rents it looks like that is both Cap expenditures and maintenance, so am I doubling down with having 10% for Repairs and another line item for 6% CapEx? Everywhere I read people underestimate repairs and maintenance so I want to get this portion right.
Thanks again for the replies. I'll drive by the property and see how it looks.
If they had it previously listed at $13K less than at some point they were comfortable accepting an offer at that price. I'd want to know what changed.
Being on the market over a year would play into your offer price and may mean they're getting motivated to sell and will accept an aggressive offer, or it sat on the market for so long because they're unwilling to negotiate. There could be many different things going on, but ultimately best way to get that information is to make contact and ask the questions.