House Hacking Analysis/Plan In Boston: Seeking Feedback
No Replies
posted almost 3 years ago
Hi Biggerpockets,
I am reaching out here to further validate my house hacking plan in the current Boston market, and seeking feedback/criticism from experienced individuals who have more insight and knowledge than myself. My goals involve building long-term wealth through buying and holding rental properties, however, my largest barrier to entry is obtaining down payment a such a hot market.
Since graduating in 2016, I have been working as a digital marketing consultant and paying $850/mo in rent living with 3 others. I fully understand rent is a cost of living, and it may not be the best time to jump into a hot market. However, I feel house hacking would be the perfect entry into real estate, and holding off would only delay my long-term goals.
Why do I feel house hacking would be a good fit for me? I am a single, 24-year-old, creative individual with previous handyman experience. My like-minded roommate that I would be house hacking with also works as a property manager. I understand it's difficult to house hack a cash flowing property, however, my intention here is to reduce my monthly living costs and get my first deal under my belt.
Below, you can find my initial house hacking analysis for a property in the Boston area. Please note, I am not an expert investment property analyzer (yet), nor have I settled on a specific location/property. Don't be afraid to rip apart my analysis and provide as much criticism as you'd like, as I am here to learn!
House Hacking Analysis:
Financing: FHA or FHA 203K (depending on the condition of the property and the deal)
Due to the flexible qualifying guidelines and low down payment requirements, I feel a 30 year FHA or FHA 203K loan would make the most sense in my situation.
My partner and I would split the 3.5% down payment and would have both of our names on the loan. We both have 700+ credit and will have worked at our W2 jobs for 2+ years.
Location: Lynn, MA, or North Shore Boston. I am considering Lynn, MA for the following reasons:
I am interested in the North Shore community since prices are fairly reasonable and it would be ideal for my commute to work.
Lynn also has a solid price-to-rent ratio and is considered an upcoming area by many.
I am open to any recommendations in the greater Boston area!
Property: 2 or 3 unit Multi-Family Property
Ideally, we are looking to find an off-market property that requires work. I understand finding off-market deals is difficult however were willing to put in the work. Our price range is $250,000 - $300,000.
My analysis is based off a property that is currently listed in Lynn, MA for $270,000.
Purchase Price: $270,000

Property Taxes: $270,000 x 1.218% = $3,288 Annually
Purchase Closing Costs: 2%, ~$5,400 (Credit Scores 700+)
Property Details: 2 Units, 5 Beds, 2,086 sq ft
FHA Loan: 3.5% Down. $9,450.

30-year fixed, Interest Rate: 5%
Rental Income: $3,900

We will be living in one of the units, but for the sake of the analysis I am going to calculate both units as rental income and factor in my costs at the end.
2 Unit: $1,600 + 3 Unit: $2,300 = $3,900/mo

Total Expenses: $2,832

Operating Expenses: $1,434/mo
Mortgage Expenses: $1,398/mo
Results
Monthly Cash Flow: $1,067/mo
My Unit's Rent: - $1,600/mo
Our Cost of Living: -$533 / 2 house hackers = $266/mo
.
Biggerpockets Property Rental Analysis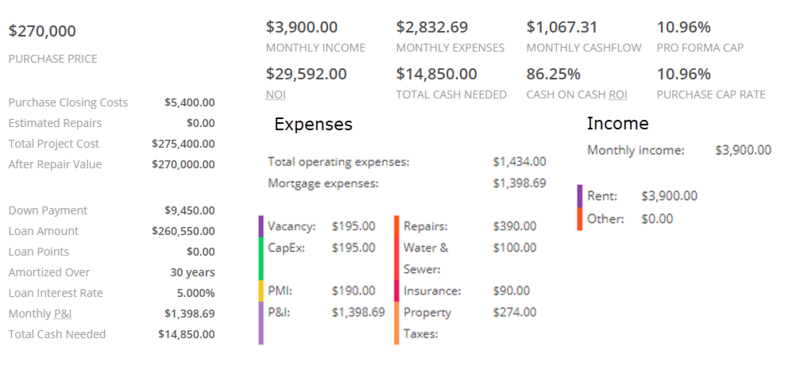 In conclusion, if this house hacking plan is accurate and realistic, I would cut my monthly living costs from $850/mo to $233 (excluding utilities), and would have purchased my first rental property. Please provide feedback on any part of my analysis or overall plan. If anyone is interested in chatting, please reach out. Looking forward to the feedback!

Thanks,
John