CASHFLOW VS EQUITY
5 Replies
If your purchase earned you 20-30k In equity. Would you still consider purchase with a 6 percent return cash on cash. would be buy and hold property. just starting out here and not too much experience figuring out the number's. Many variables to consider Down payment amount. Length of loan. Interest rate. Taxes. Maybe just hold a couple of years? 
Jay Hinrichs

Developer, Real Estate Broker,

from

Lake Oswego OR Summerlin,

NV
replied over 3 years ago
  depends on the asset and were it is.. many assets that are buy and hold will appraise or comp for higher than you pay for them giving the illusion of instant equity.. the issue is you will generally never be able to sell and capture that equity... its phantom.
But if you buy 30% below market of todays ARV in say Vegas or SF or Manhantan or even my little portlandia then your equity is real and can be captured. and in my mind 6% would be great.. but not if your buying in one of the areas were all you hear is appreciation is icing on the cake those areas generally never move in value.. so you need higher cash flow to substantiate the purchase or the reason to invest there in the first place.
Chris K.

Investor

from

Baltimore,

MD
replied over 3 years ago
I probably wouldn't care too much about the equity unless I were gonna flip it immediately. As a buy and hold investor the returns are what Id focus on. That equity can disappear as quickly as the newspaper can print "City Plans to Build Maximum Security Prison in 2016".
Thanks guys  appreciate your input. The asset was single family reo for 150k and needs 20k material(cash) and sweat equity. Comps are 200-210k
Eric Fernwood

Realtor

from

Las Vegas,

NV
replied over 3 years ago
I agree with Jay, equity is at best, unrealized gain. Plus, if you were to sell a property, the transaction cost is likely to be in the 6% to 8% range.
On buying a property for $150,000 which needs $20,000 in materials + labor, it may not be as good a deal as you might think. Below is a comparison between buying a property for $150,000 + $20,000 in materials if all your labor is "free" and it takes you 3 months to get it market ready. Also, I will assume that you can rent the property immediately (zero days) once the work is complete. I will also assume a 2% property tax rate and $1,000/Yr. landlord insurance and $150/Mo. in utilities (I needed some numbers so I pulled these out of thin air).
Scenario 1: $150,000 plus $20,000 and three months to make it market ready assuming 20% down, 4% interest rate, 30 year fixed.
Remember that it will take you 3 months to make it market ready so you will lose 3 months of rent in this scenario.
Scenario 2: $200,000 and ready to rent immediately with financing terms as shown above.
The above is an over simplification in many ways but I believe the basic concept is correct. From the above numbers, you may be better off buying a property in better condition for more. You will have some advantage in that your monthly debt service will be lower in Scenario 1 but the time to recover the difference is estimated as follows:
Payment Savings
Cost to Market Ready
Rent loss while making the property market ready: $1000x3=$3000
Rental Period to recover additional cost if the rent is $1000/Mo.:
Recovery Period (Mo.) = (10000+3000) / 191 = 68 Mo. or 5.6 Yrs.
In summary, when you are comparing buying a property that needs a lot of rehab, you have to consider the total costs involved when compared to buying a property in better condition. In Las Vegas, we typically reject any property that requires more than $5,000 in rehab unless there are special circumstances.
On buying properties for future gain (equity), I created a cartoon that I send to clients considering this path.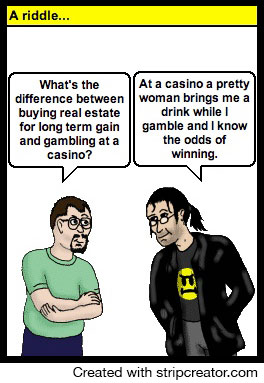 Eric thank you so much for your time and Input I will be analyzing further. Comic strip was great! Hopefully catch up with you again wish you luck In your journeys
Free eBook from BiggerPockets!
Join BiggerPockets and get The Ultimate Beginner's Guide to Real Estate Investing for FREE - read by more than 100,000 people - AND get exclusive real estate investing tips, tricks and techniques delivered straight to your inbox twice weekly!
Actionable advice for getting started,
Discover the 10 Most Lucrative Real Estate Niches,
Learn how to get started with or without money,
Explore Real-Life Strategies for Building Wealth,
And a LOT more.
Sign up below to download the eBook for FREE today!
We hate spam just as much as you
Create Lasting Wealth Through Real Estate
Join the millions of people achieving financial freedom through the power of real estate investing