Moving To Boston Soon
16 Replies
My wife and I recently got into Real Estate. We purchased our first home here in Germany and are getting ready to PCS to Boston (military). I'll be working at FEMA and am looking for a reasonable suburb to commute from. We're looking to use the VA Home Loan Guarantee for this purchase (so no money down). Initially, we're looking for a LIVABLE SFH or MFH that we can renovate while living in it. Ultimately, we're looking for an up and coming neighborhood with good schools. We just don't know enough about the city to make a solid decision. If anyone has experience in the Boston market, we're happy to hear your input.
Where is the FEMA office building located? What kind of time commute do you want? Do you want to bike, drive or take the train (either commuter rail or subway)? As a longtime resident of Massachusetts I can't stress enough how important it is to consider distance in time rather than miles.
@Sam Magina The office located right downtown at 99 High St, Boston, MA 02109, USA.  Any commute between 30-45 mins would be tolerable.  I have a car, but wouldn't mind taking the train (rail or subway).  Thank you, looking forward to the lobster rolls!
Steve Bracero

Real Estate Agent

from

Westboro,

MA
replied about 1 year ago
@Mark Pijanowski Kets find time for a phone call.  I can give you some guidance on the various options regarding towns and commuting.
Mark, I sent you an email. I love the Financial District and spent many years right down the street at 125 High St. You are probably going to want to focus your search either in the Boston area easily accessed by the subway or look south of Boston as the main commuter rail hub South Station is  a stop for all train lines south of the city. Anything North of the city goes to North station so you'd have to change trains or walk a decent distance to get to work. 
South and west of the city is generally a little more affordable. I do not know your particular situation, but the area north of the city is generally more expensive.
If you're going to need to drive into the city, do not live south. The traffic is absolutely horrific nothing like you've ever seen before. 
Thanks for all the great info.  I'll be in touch with the agents that listed their contact info.  Really excited about this opportunity.  We're still not sure if I'll drive or train, but generally speaking the Train seems like the best bet from the South and driving is slightly better from the North.  
Colleen F.

Investor

from

Narragansett,

Rhode Island
replied about 1 year ago
I vote TRAIN... even if you have to go further out to do it. Boston is not a good driving city. Both the weather and new england style roads make it more challenging. Volume is high at commuting times slow and congested. I also agree for that location center your search on locations that go into south station.
@Mark Pijanowski The other thing to know about the real estate market here is that it's HOT.  It has been a strong seller's market for quite some time and it's getting stronger.
Strategically, that means that you need to be ready to offer on a home at a moment's notice.  
Keep a blank check in your possession at all times.  When a target property hits the market, I'll get you notified within 15 minutes.  We should try to drop whatever we're doing and go to see it.  If we like it, we submit an offer on the spot.
These are the Q4 2017 sales stats in both Plymouth and Bristol counties as compared to 1 year prior.  Both show fewer homes for sale and those that are on the market are selling at higher prices and in less time.
The two things to remember about the Days on Market stats of 60 and 63 days are 1. That includes REO and short sales, which are very slow to sell, and 2. that most lenders take 30-45 days to close, so you can see that homes are going under agreement very quickly.
That's going to make buying from afar tricky, but I have a couple of ways to help.  Let's talk when you can.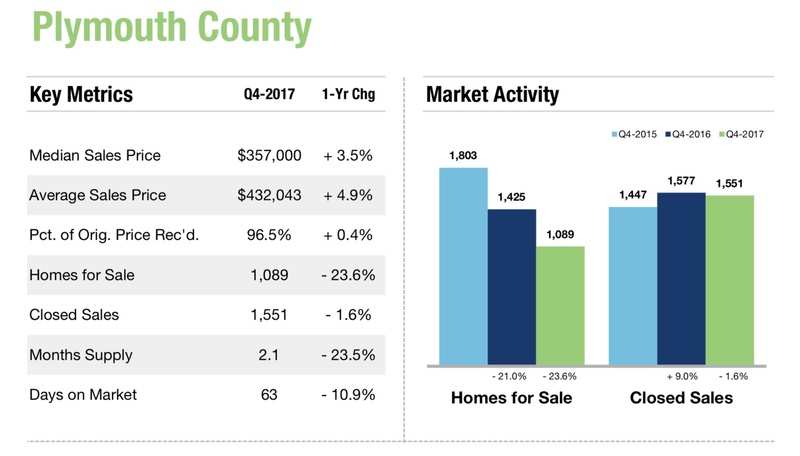 Kyle Joseph

Rental Property Investor

from

Wakefield,

MA
replied about 1 year ago
@Mark Pijanowski Welcome to Boston.  I'm making an effort to start a monthly Boston meetup/networking event in downtown Boston that you may like to attend.  In the forums, search for "Downtown Boston Meet Up".  We'll be creating a calendar event soon, but the next networking event is currently set for Tues March 20 at 7pm at Gather in the Seaport neighborhood.
Thanks and feel free to reach out.
Hi @Mark Pijanowski , Welcome to Boston! I just sent you an email to say hello and I would be happy to talk more to you about some options!
@Michael Pallotta My commute into Boston is about 90 minutes each way which includes taking the train and walking. That's 3 hours each day, however, I was able to purchase a 4-family property at a reasonable price because I chose to invest outside of the city.
My suggestion for you is to take a look at the various means of transportation (Commuter Rail, Subway, Bus) and make a decision based on that. Everett would be a great choice as it is still less expensive than surrounding areas such as Malden, Medford, Somerville but still right near the city and near different stops.
Revere is another great option as well as Chelsea. They both have reasonable prices still and have public transportation available right in your wheelhouse of 30-45 minutes, they are considered up and coming.
Cheers, good luck and PM with any questions.
BP Family,
Thanks for the great info.
Charlie MacPherson, we appreciate the info, but we're looking to stay within the greater Boston area.  Once we move back to the States, we'll have lodging for at least 60 days.  So we'll certainly need to move fast.
Steve DellaPelle, Thanks for the insight, we're looking at Lynn (not sure how far that commute is, but certainly the price range we're looking for. We're using the VA Home Loan, so we're not looking to put any money down. In order to make the numbers work, we're looking for a house between $350-375K. We'll renovate while we live in the unit to force appreciation. Since we're moving in two years, our hope is to build some equity in the house before we move.
Kyle Joseph, this is absolutely something we're interested in.  I wont arrive stateside until May, but I'll be sure to swing by.
@Mark Pijanowski I used to live in Lynn, where we bought our first home in 1982.  It's not someplace I'd ever consider going back to.  The old saying was "Lynn, Lynn the city of sin.  You never go out the way you come in."
Beside which, south of the city is generally a lot more affordable than north or west - unless you go very far west.
The other factor is that roughly speaking, north of the Mass Pike (I-90) and west of RT 128 (aka I-95) puts you in the Worcester Hills.  That part of the state typically get a lot more snow than south of the city due to their elevation, which is roughly 1,000 feet.
If you're to the east (Plymouth and Barnstable (Cape) counties) we fairly often get rain or a mix where Middlesex and Essex counties get clobbered with snow.
Free eBook from BiggerPockets!
Join BiggerPockets and get The Ultimate Beginner's Guide to Real Estate Investing for FREE - read by more than 100,000 people - AND get exclusive real estate investing tips, tricks and techniques delivered straight to your inbox twice weekly!
Actionable advice for getting started,
Discover the 10 Most Lucrative Real Estate Niches,
Learn how to get started with or without money,
Explore Real-Life Strategies for Building Wealth,
And a LOT more.
Sign up below to download the eBook for FREE today!
We hate spam just as much as you
Create Lasting Wealth Through Real Estate
Join the millions of people achieving financial freedom through the power of real estate investing