yard signs vs the internets
12 Replies | Memphis, Tennessee
Property management peoples- what percentage of your renters came through yard signs? We did them for the first couple of years and did not get a single qualified tenant through them It was a big waste of time. But I've got a good friend who runs properties here who swears by them... I hate doing stuff "just because that is how it is done" and like to focus on results- I no longer feel like the answer is clear on this.
Cameron Tope

Property Manager

from

Katy,

TX
replied 3 months ago
Hey Jackson,
It really depends on what part of town the property is in but for the most part, the leads from signs are extremely unqualified.
We'll always put a sign in the yard to identify the house and build a brand. We just haven't found it useful for qualified leads.
Cherie Ganesh

Commercial Real Estate Broker

from

memphis,

TN
replied 3 months ago
Our houses are in same area and we get most tenants from existing tenant referrals. We give them a $50 rent credit if their referral qualifies and moves in. Demand is high now and I'm more and more people posting in FB groups for the area where they're looking for a place and on Next Door groups for those areas.
Drew Sygit

Property Manager

from

Birmingham,

MI
replied 3 months ago
Years ago we tracked our leads frm signs vs online and found that we got very few quality leads from signs. Most of the sign leads didn't even set a showing, they just wanted info. So, signs were a waste of time for us and we stopped using them.
This applies to properties in Class A, B & C areas.
Depends on the traffic by the signs.

@Jackson Long I am not in front of my laptop, but I want to say 70% of our leads came from internet and the other 30% was referrals and yard signs. We do a lot of SEO for rental leads, thus ours may be higher then other locals landlords and PM companies. We actually get more tenant placements from our "Coming Soon" rental sign that we place 30 days before a vacancy then we do the "For Rent" sign when the home is vacant. My view is, even if 10% of your leads come from signs, the cost to print a sign is small, thus make sense to place the yard sign.

@Alex Craig Sound analysis. I used the same thinking and drove around with a big "I buy houses" magnet on my truck for like 2 years. I was like "if just one person..." but I felt like a douche and eventually pulled them off hahah

@Jackson Long to funny. I once told my family I was going to put the We Buy Houses on the side of my car and my kids pretty much told me that I would no longer be able to take them to school if I did. Instead I had my leasing agent put it on his car. Prior to the past 2 years, I would say it was good for one deal a year.

Don't tease us Alex- what about during the last two years?
@Jackson Long nothing the last 2 years. Just way to many "We Buy Houses" signs on every corner. 2 summers ago, some dude held a we buy houses sign outside of Starbucks on White Station. The amount of phone calls, text and mailers I get pretty much made the car sign invisible. I have even heard of some wholesellers going door to door; I do not have that type of energy or time to track deals at that level. All those guys are going to do is wholesale to people like me. We did a billboard sign for 9 months in Little Rock 3 years ago, well before any other wholesellers were operating in that market. Spend $7,000 on 3 or so signs, got one house that we made $9,000 on. Total traffic count going by the sign was something like 30,000 a day. Was surprised that did not work in that market.
Mark Shaver

Wholesaler

from

Moscow,

Russia
replied 2 months ago
Teaser: "How to increase the flow of visitors from the Internet in 5-6 times." ==
@Alex Craig wrote: "I want to say 70% of our leads came from internet and the other 30% was referrals and yard signs. We do a lot of SEO for rental leads."
Alex, these are good results from your SEO. In addition, you have an excellent potential to increase the return of the website by another 5-6 times. Let's ask Google PageSpeed to test your website: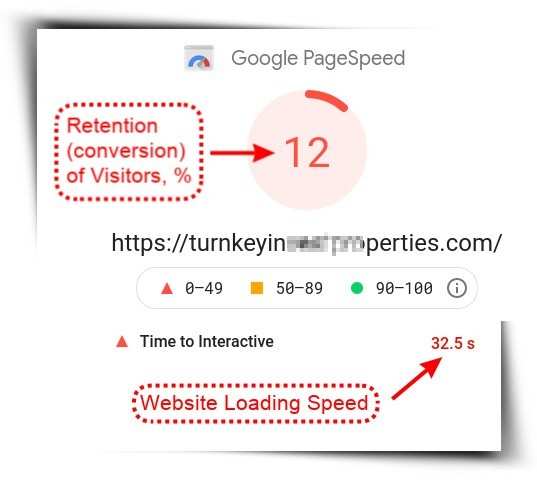 The test shows that only 12% of visitors wait until the end of loading your website, because it lasts a long half a minute.
Tip. Speed up the loading speed of the website to the recommended Google 3 seconds. Then 90+% of visitors will wait until the end of the loading of the website and will explore it. This will increase the return on the Internet in 5-6 times. You might even stop putting a sign in your yard.
I used Zillow and a yard sign. I did get a lot of calls from the sign, but nobody that qualified. Zillow seemed easiest as it also let people apply online and get the details.
Michael Ablan

Real Estate Broker

from

Watertown,

NY
replied 2 months ago
@Jackson Long - Facebook marketplace or Zillow. That's all you really need