Please help me analyze my first potential multi
7 Replies
Mayer M.

Investor

from

Cherry Hill,

New Jersey
posted about 3 years ago
*This link comes directly from our calculators, based on information input by the member who posted.
Hey All!!!
I am hoping to pickup my first multi family property and need some of your help on the analysis. Basically, my plan is to pay cash and do a cash out refi after three months of ownership for 100% of the money i put into the property resulting in 100% financing and only a few dollars out of pocket.
I have never done a 30 year mortgage before, all current mortgages are 10-20 year. The rents in this report are about $100-150 below market value per unit. The property is in a C+/B- area and i would be getting this with a partner
Any advice would be extremely helpful and greatly appreciated.
Thanks!
Oh and they are all two bedroom one bath apartments
@Mayer M. congrats on working towards purchasing your first MFR! So I've built a financial model that I help investors like yourself analyze anything from the smaller SFR to multi million dollar apartment complexes. So according to your purchase price and metrics provided I have come up with the following below. Based on the following purchase price, this wouldn't be a good deal and would negatively cashflow per the assumptions provided below. The last two charts show at what purchase price this deal would make sense at ($160k). I personally invest in apartment complex and this is the reason I leave the smaller deals alone because the economies of scale at only 4 units. I look for 10% COC returns as you can see in the model and per my analysis, you would reach that by lowering your offer.
Assumptions
Downpayment: 20%
Closing Cost: 6%
Amortization: 25 yrs
Int Rate: 5.3%
Occupancy: 90%
Purchase price: $240k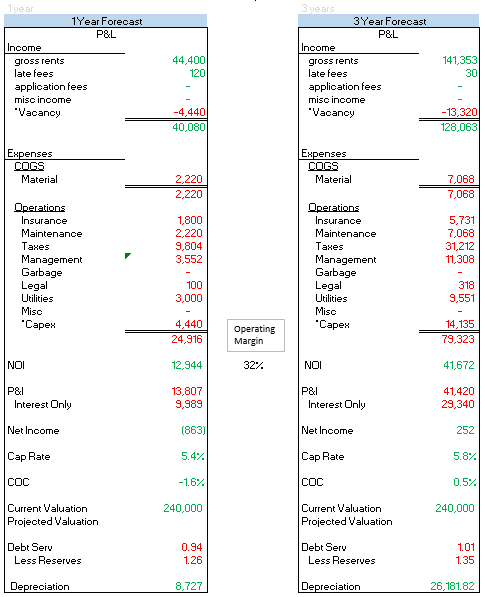 Purchase Price: $160k
* I hope this helps and makes sense. This is a sample and part of the full analysis that I do when preparing executive summaries for raising private money, so if you need more detail than what's provided just let me know. Please let me know if I can be of any additional assistance or if you have another deal I can help you analyze! The BP community has tremendously helped ignite building my portfolio so I love giving back. Best of Luck!
Dulce Beltran

Real Estate Agent

from

San Diego,

CA
replied about 3 years ago
@Curtis Rouse Thank you for sharing your calculations, there are line items I did not account for in my calculations and will employ these! We're on the hunt for a MFR as well, how long have you been investing in MFR?
Thank you for your response. At the end I am essentially doing 100% financing through by in cash and doing a cash out refi and only leaving $7000 in the property. Does that change anything?
Alina Trigub

Rental Property Investor

from

Glen Rock,

NJ
replied about 3 years ago
@Mayer M. Congrats on buying your first multi. Since you didn't mention the size, I'm assuming it is a residential MFH (2-4 units). You can use BP calculator to do your analysis.
Best!
Any additional advice would be greatly appreciated
Thanks
@Dulce Beltran You're very welcome and if you need any help I would love to help out. I started investing at the beginning of 2016 with a SFR, then purchased at 19 unit that same year and then a 16 unit last year. Looking for a 30 - 50 unit in the $1mm - 3mm range because I'm getting a lot of buddies/investors wanting to get into real estate, but I don't want to present them with just any deal. It's getting tougher with compressing cap rates, but I'm staying optimistic and looking daily. Best of luck with your search and let me know if I can help :)!